How much does child care cost?
The first things most visitors to CareforKids.com.au want to know is where they can get child care and how much it will cost. As much as we would like to be able to provide a definitive answer to the cost question it is impossible.
Child care costs vary from provider to provider and from state to state and they are not regulated by the Government. Most child care providers charge a minimum daily rate or an hourly rate. Some places include everything in the price, such as food and nappies, while others, such as family day care, require parents to provide everything.
The table below provides a very rough guide of current costs for child care, it should be used as an indication only, as prices vary significantly.
Our unique cost widget is another way to check prices for centre based care, simply type in your postcode and the cost widget averages out the prices of providers in your area. For the exact costs of care in your area you will need to contact the providers directly.
While a breakdown of the costs of every type of care in each state and territory is beyond the scope of this article, we have sourced some information from the Australian Bureau of Statistics (ABS) which will hopefully give you a little more information about what prices to expect as you look for care.
Every three years the ABS conducts a nationwide Child Care Survey which presents information about the use of, and demand for, child care for children aged 0-12 years. The last survey was completed in 2014 and the findings provide some useful information on average child care costs across Australia.
It is worth pointing out that the costs reported here are the costs to parents before the Child Care Benefit and the Child Care Rebate have been taken into account.
The ABS survey showed that in June 2014, more than 1.8 million (48 per cent) children aged up to 12 years usually attended some kind of early childhood education and care service.
As with previous survey years long day care was the most commonly used type of formal care (14 per cent) and this was followed by before and/or after school care programs (8 per cent).
For the majority of children who usually attended formal care (56 per cent or 515,100), the usual net cost was less than $100 per week.
Long day care costs were typically higher than for other forms of care, with a median cost at $102 per week, see graph below.
A large majority of children (91 per cent or 1.1 million) who usually attended informal care (such as care provided by family members or friends) did so at no cost.
Children who usually attended formal care, median cost per week by type of care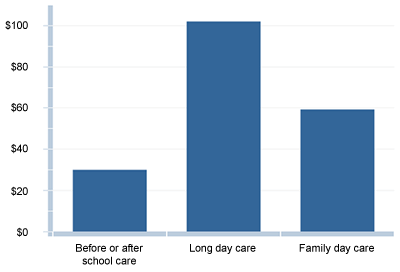 The best way to determine the cost of child care in your area is to contact a few of the child care services and chat to them directly. Think about whether you would prefer to have everything provided for your child or whether you would prefer to send your child off each day with nappies and food. This decision alone will help you determine the best type of child care for your family and will directly affect the cost.
When comparing costs it is also important to think about peripheral expenses such as the price of travelling to and from the child care service in terms of petrol, public transport and/or convenience. These factors can have a considerable effect on the total price you end up paying for your child care.