A new quality rating system for NSW child care centres
Published on Wednesday, 18 March 2020
A new quality rating system for NSW child care centres
Published on Wednesday, 18 March 2020
Sick of searching for child care? Then stop! Sign up for Vacancy Alert It's quick, easy and freeGet Started
Every parent wants the best for their child, and when it comes to early education and care, the NSW government is making it easy for families to judge a service by its star rating.
From 1 July, 2020 all child care providers in NSW will be required to display their National Quality Standard (NQS) rating in a colourful four-star format.
Here, we explore the rating system in more detail and see how you can reach for the stars when choosing child care.
What is the National Quality Standard rating?
All education and care services in Australia are assessed and rated under the National Quality Framework, which ensures that the highest safety standards are in place for children enrolled in care.
In practice, this means that every service is rated on seven key Quality Areas:
Educational program and practice
Children's health and safety
Physical environment
Staffing arrangements
Relationships with children
Collaborative partnerships with families and communities
Governance and leadership
Each service's regulatory authority (e.g. the Department of Education in NSW) then provides an overall rating based on their results in the seven areas.
The overall NQS quality ratings are:
Exceeding National Quality Standard, which means that the service goes beyond the requirements of the National Quality Standard in at least four of the seven Quality Areas.
Meeting National Quality Standard, which means that the service meets the National Quality Standard and provides quality education and care in all seven Quality Areas.
Working Towards National Quality Standard, which means that the service provides a safe education and care program, but there are one or more areas identified for improvement.
Significant Improvement Required, which means that the service doesn't meet one of the seven Quality Areas, or a section of legislation, and there is a significant risk to the safety, health and wellbeing of children. In this case, the regulatory authority will take immediate action.
Excellent, which means that the service is rated Exceeding National Quality Standard in all seven Quality Areas and can apply for an Excellent rating. This rating is awarded by the Australian Children's Education and Care Quality Authority (ACECQA) and it shows that the service promotes exceptional education and care, demonstrates sector leadership and is committed to continually improving.
Provisional, which means that the service hasn't been assessed yet.
The effect of all this, is that services are held to account for the quality of education and care they provide.
Services must display their NQS quality rating for families to see, and although quality ratings aren't a 'pass or fail' system, the NSW Government says they're, 'Designed to provide information about all aspects of the service and to promote continuous improvement.'
Where does the star rating system fit it?
The NSW Government's new four-star format is a bright and clear way to show what NQS quality rating each service holds.
From 1 July, 2020, all child care providers will be required to display their NQS quality rating as a coloured star graphic where:
Exceeding NQS = 4th blue star
Meeting NQS = 3rd green star
Working towards NQS = 2nd yellow star
Significant Improvement Required = 1st red star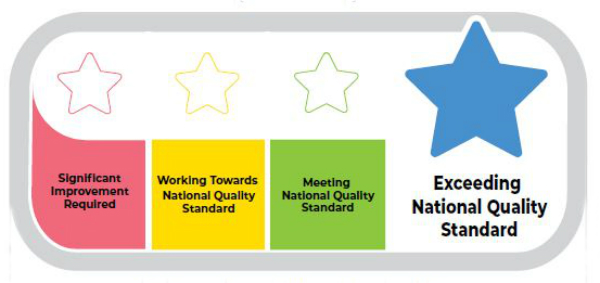 When it comes to Excellent-rated services, a fifth gold star can be obtained by applying to ACECQA.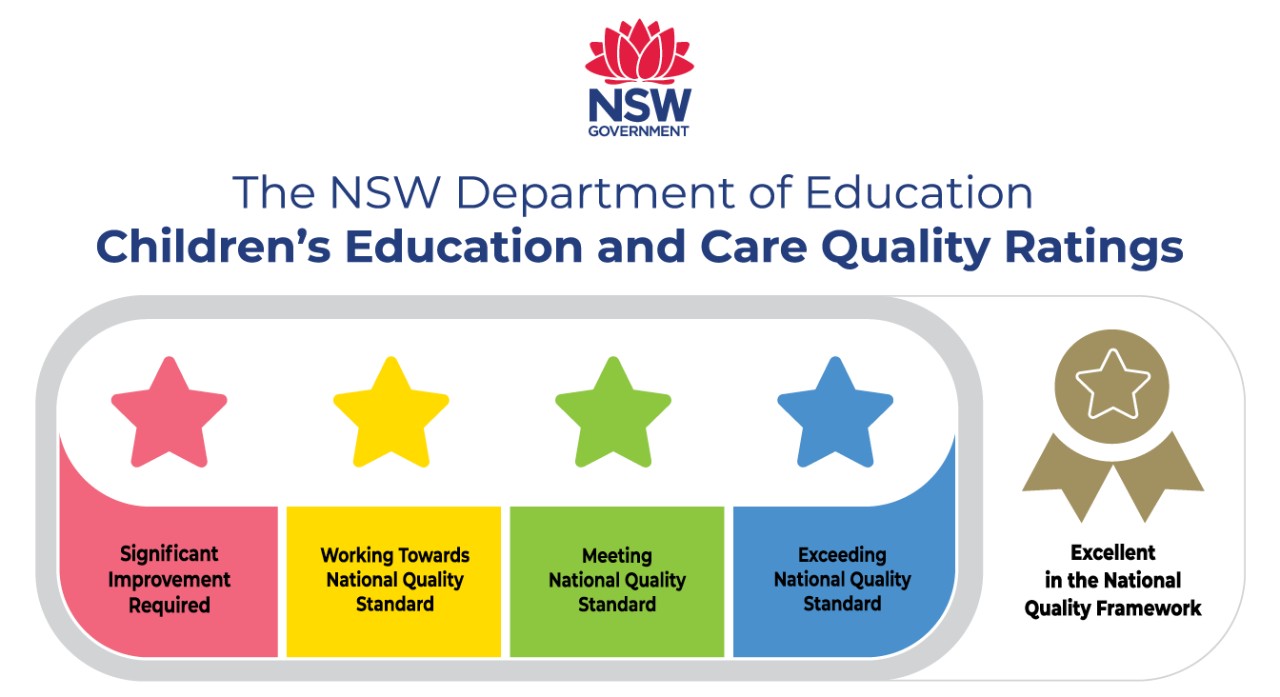 Each service must display their stars where parents can clearly see them, and providers will also need to give more detailed rating information to parents and families during enrolment.
Why is the star rating system coming in?
The NSW Minister for Education and Early Childhood Learning, Sarah Mitchell says that parents and services have been calling for the change, and that it resulted from the Government working with the early learning sector and families to, 'Find a better way for promoting and understanding the quality ratings.'
The coloured star graphic provides concise 'at-a-glance' information, and the Government says this, 'Clearer and simpler rating system' will make it easier for families to understand how their early childhood service rates under the National Quality Framework.
There's the idea that the star rating system will open up discussions with services about quality, and help parents make choices about their child's education and care.
Has there been criticism of the star-rating system?
Yes. According to The Sector, concerns have been raised by early childhood education and care professionals about this the star rating system.
Some are worried that it 'devalues' the work of educators by putting them in the same category as hotel or food ratings. While others have questioned how much consultation the Government actually did before deciding on the star system.
The Australian Childcare Alliance has expressed 'disillusionment' and says the, 'New star rating system will not have majority support from child care service providers or educators.'
Only time will tell if the new star rating system earns a gold star from NSW families, but it's definitely worth considering a service's NQS quality rating when you're choosing an early childhood education and care service for your child.
CareforKids.com.au can also help you secure high quality child care, and our Child Care Guide is a great place to start.
---
References
NSW Government: A clearer and simpler early childhood rating system
NSW Government: safety and quality
This child care article was last reviewed or updated on Thursday, 12 March 2020
LET'S GET SOCIAL
WANT MORE? SIGN UP TO OUR NEWSLETTER TODAY!
NEED MORE INFO? CHECK OUT OUR OTHER CATEGORIES
The CareforKids.com.au Child Care Guide covers everything you need to know about early childhood education and care no matter what stage of the process you are at.