What are your obligations when you employ a nanny?
What are your obligations when you employ a nanny?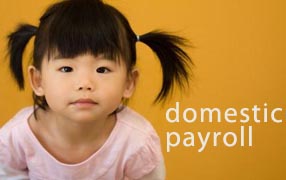 Sponsored by
Domestic Payroll
Domestic Payroll provides an Australian nanny tax service, specialising in assisting parents with nannies or au pairs – providing tax, wages, employment contracts, insurance, super and general administration services for families organising their own child care. Click here to see the range of services offered to suit varying budgets and assistance or ring 0438 422 169.
At CareforKids.com.au we receive many questions from families about the best way to employ a nanny.
The guide below offers information on your key responsibilities and includes a sample employment contract and a Nanny/Parent Diary which you may find helpful for keeping the lines of communication open.
Hiring a nanny
We recommend that you take a business approach to the hiring of a nanny, at the core of which is establishing a contract of employment. Such an agreement should limit misunderstandings regarding employment conditions, making sure that all parties are on the same page now and in the future.
According to the Fairwork Ombudsman your obligations and responsibilities as the employer of a nanny depends on the relationship between you. Nannies can either be engaged as employees or independent contractors.
If you're unsure of the difference or which arrangement will work best for you then it might be a good idea to think about your situation and refer to the Fairwork Ombudsman's Independent contractors page and/or this page which talks about the difference between independent contractors and employees.
Remember, nannies are not covered by an award, however, they are entitled to the national minimum wage and the National Employment Standards.
Employment contract
Areas covered in the employment contract between you and your nanny can include salary, benefits, hours of work, main duties and responsibilities, sickness and holiday entitlements, notice period and performance reviews.
Salary
Set down the agreed salary including $___ pay per week/month/hour
What is the pay period and when will your nanny be paid?
What is the method of payment for example cheque, cash or into a nominated bank account?
What is the overtime rate that will apply?
As mentioned above nannies are entitled to the national minimum wage, which as of 1 July 2017 was $18.29 per hour for full-time and part-time workers or $22.86 an hour for casual workers.
Hours of Work
Set out the expected hours of work. Days and times for example Monday to Thursday 7:30am to 6:00pm
Agree on public holiday entitlements. If the nanny is expected to work on public holidays agree on the rate of pay or whether it is time off in lieu
Reference and Background Checks
We strongly recommend you conduct a background check on any prospective nanny to ensure he/she is suitable to provide care for your child.
For further information please see our article Working with children checks which outlines the various legal requirements and resources available to you in each state and territory.
The decision and responsibility of hiring any carer rests with you. Be sure you have the facts regarding previous employment, criminal records, driving records, immigration and visa status so that you can make the most informed decision possible.
Duties / Parenting Philosophy
Ensure you are specific about the nanny's responsibilities. Provide clear information about your family's routines, including nap and feeding times, weekly activities and so on.
Include plenty of information about your parenting philosophy, including information on disciplinary measures, TV time, sleeping methods, nutrition, hygiene and safety. Spelling it out beforehand will minimise the potential for misunderstandings and disagreements down the track. Ensure you are available to discuss any changes with your nanny as they come up.
Leave Entitlements
Determine the annual leave entitlement. All full time employees are entitled to a minimum of 20 days annual leave or pro-rata for the hours/days worked. Part time employees receive the same entitlement on a pro-rata basis
The standard sick leave entitlement is eight days sick leave in the first year or pro-rata for the hours/days worked
Set down notification times for when the nanny is to contact you by if they are sick and conversely set down a procedure in the event of you being delayed
Income Tax
Depending on the nature of your employment contract you may need to register with the ATO to allow for income tax deductions. For further information visit ATO.gov.au. Nannies hired as independent contractors will be responsible for maintaining their own tax affairs.
Superannuation
If the nanny works over 30 hours per week and is paid over $450 gross in wages per month they are entitled to superannuation. The current rate of superannuation is 9.5 per cent of the employee's gross wage. For more information visit the ATO or contact the ATO's Superannuation Hotline 13 10 20.
Payroll Services
If you are unclear how payroll works, consider using an external service to help you pay your nanny's salary. There are many available in the market. Here are a few you may wish to consider Domestic Payroll, Easypayroll.com.au or Epayroll.com.au
Domestic Work Cover Insurance
Insurance to cover your nanny in the event of an accident is a further consideration. Legislation on insurance requirements varies between the different states and territories.
For information on the insurance requirements in your area click on the links below:
New South Wales
Queensland
South Australia
Tasmania
Victoria
Western Australia
Australian Capital Territory
Northern Territory
Automobile and other insurance
If the nanny has use of your car, make arrangements to include them under your policy. Check to ensure that compulsory third party insurance also covers third party property damage and if your nanny is under 25 years of age, you should check what additional provisions need to be made to cover them under your policy.
You may also wish to request that your nanny have additional insurance. Policies available for nannies can be obtained from Nannysure.
Additional Expenses
Any additional out of pocket expenses should be agreed upon. It's a good idea to set aside an additional cash amount each week to cover outings, snacks, excursions, swimming classes etc.
If the nanny will be using their own car for work related tasks then an allowance to cover fuel costs and additional wear and tear on the car should also be set down.
A log book should be established to record kilometres travelled in the course of their duty.
Ask your nanny to check their insurance policy to ensure appropriate cover for transportation of your children.
Notice Period
Agree on a notice period including any arrangement for payment in lieu of notice. The standard notice period is generally two to four weeks.
Probation Salary & Performance Reviews
Conduct regular salary and performance reviews. Set down the times for a performance review. For example after the 3 month probation period, have another review at 6 months followed by a 12 month salary and performance review.
Consider a mediation procedure for any issues or grievances that need to be raised throughout the period of employment.
Contract Review and/or Amendments
In the event of the birth of another child, both parties should discuss the continued employment arrangements, including a review of the current employment contract.
Communication
Many nannies cite poor communication as the reason for leaving a family, so take time at the beginning and the end of each day to debrief with the nanny. If this isn't possible, introduce a diary system, which allows the nanny to record the events of the day including appointments, meals, social outings, sleep times and medications as well as the child's developmental steps.
Consider a weekly review which involves an informal discussion allowing both parties to give and receive feedback.
Provide positive feedback and praise for a job well done; conversely, if you are unhappy in any way with the nanny's performance, discuss this immediately.
Click here for an example of a diary system you could introduce.
Confidentiality
It is also important to consider a confidentiality agreement to ensure that the affairs of the household are kept private.
Here is an example:
The employee shall keep the affairs and concerns of the household and it's transactions and business confidential. It is a condition of employment that except as required by Law, the employee shall not disclose confidential information to any persons whatsoever without the consent in writing of the employer. This provision shall apply for all time and survives expiration or earlier termination of this Agreement. The operation of this clause shall not apply to information disclosed to medical or other health professionals in the course of obtaining treatment for the child(ren).
Other Benefits
Look at longer-term benefits to make the job as attractive and enjoyable as possible.
Benefits you may wish to consider include:
Good living quarters (if applicable)
Use of a car
Occasional late starts and early finishes
Cash Bonuses
Health cover
The occasional token of gratitude such as night out, movie tickets, pamper pack
All of the research about early care and education leads to one overriding conclusion - quality matters.
To get started and put your Nanny Employment Contract together click here for an example contract you can use as a guide.
If your nanny is a trusted and valued employee whom you wish to retain, then these incentives can go a long way in improving staff retention.
A Note About Cost
People who use nannies are not automatically eligible to receive the Child Care Rebate (CCR) or the Child Care Benefit (CCB) the two government payments available to help families manage the cost of child care.
To be eligible to receive both the CCR and the CCB you must meet certain eligibility requirements and use approved care such as a long day care centre or a family day care service.
The other type of care is registered care which can be provided by preschools, kindergartens, outside school hours care services and in some instances nannies. Registered care providers are not considered CCR approved providers by the government as they choose not to, or don't meet the minimum operating hours or participate in the government's National Quality Framework.
However, families who use registered care may, in some instances, be eligible to receive the CCB as long as they meet certain eligibility requirements.
In order to receive CCB your nanny must apply to the Department of Human Services to become a registered provider.
To become a registered child care provider a nanny needs to:
apply to the Department of Human Services using a Registered Child Care Provider Application form
be 18 or have a recognised qualification that makes them eligible for approval as a registered child carer. This includes evidence of a recognised qualification such as; nanny, child care or home based care certificate
have a tax file number
meet and maintain state/territory licensing requirements
meet any requirements set by the Minister for Early Childhood and Child Care.
To receive the CCB you will need to take your nanny's child care receipts to the Department of Human Service and complete the Claim for Child Care Benefit for Registered Care form.
Your nanny cannot claim the CCB on your behalf. The government will pay the CCB straight into your bank account.
Eligibility Requirements for Child Care Benefit
Families who satisfy eligibility requirements for Child Care Benefit may receive payments if they use registered child care, such as a preschool, registered nanny or kindergarten.
To be eligible for Child Care Benefit for registered child care you need to meet these requirements:
Eligibility - you or your partner (if you have one) meet residency requirements or have an exemption.
Immunisation - Children under the age of 7 must meet the Australian Government's immunisation requirements or have an exemption.
Responsibility for child care payments - You or your partner (f you have one) must have paid your child care costs.
Work, training, study test - You (and your partner, if you have one) must pass the work, training, study test, or have an exemption. For registered child care, you only have to participate in work related commitments at some time during a week or have an exemption. No minimum number of hours is required.
The work, training, study test looks at whether you and your partner need child care for a work-related commitment. A work-related commitment is one or more of the following activities:
paid work
self-employment
setting up a business
looking for work, study or training
voluntary work to improve your work skills.
If you meet these requirements, you may be eligible for the registered care rate of a maximum of 50 hours of Child Care Benefit per child, per week. Your income does not affect the amount of Child Care Benefit you receive for registered care.
Other Useful information from CareforKids.com.au:
Help to keep lines of communication open with your Nanny - print out this useful Nanny/Parent Diary.
This child care article was last updated on Monday, 30 October 2017
Share this article
---
Leave a comment