Wet and Wild Water Play Fun For Kids
Published on Tuesday, 01 February 2022
Last updated on Thursday, 20 October 2022

Now that the longer, warmer days are here, it's time to break out the water tables and bring some wet and wild water activities back into your daily routine.
Water play can keep children entertained for hours, whether that involves custom-made water playgrounds or a simple, shallow tray full of water for little hands to splash about in.
It's also excellent for children's development of hand-eye coordination and motor skills, as they learn to scoop it, tip it, splash it, stir it, and squeeze soaked sponges.
Help children learn to explore their senses with the addition of different materials such as sand, soap, and ice. They'll be learning all about temperature and texture while having fun!
There are so many ways to keep kids cool and content with water play but we've put together some of our favourite ideas to help get you started.
Basic discovery
Gather a collection of tubs filled with a small amount of water. Pop some receptacles on a trolley and let the kids explore for themselves how water can be picked up, soaked up, squeezed out, poured, sieved through holes and, of course, spilt all over the place.
A few receptacle ideas of many include bottles, sponges, cups,funnels, sieves and colanders.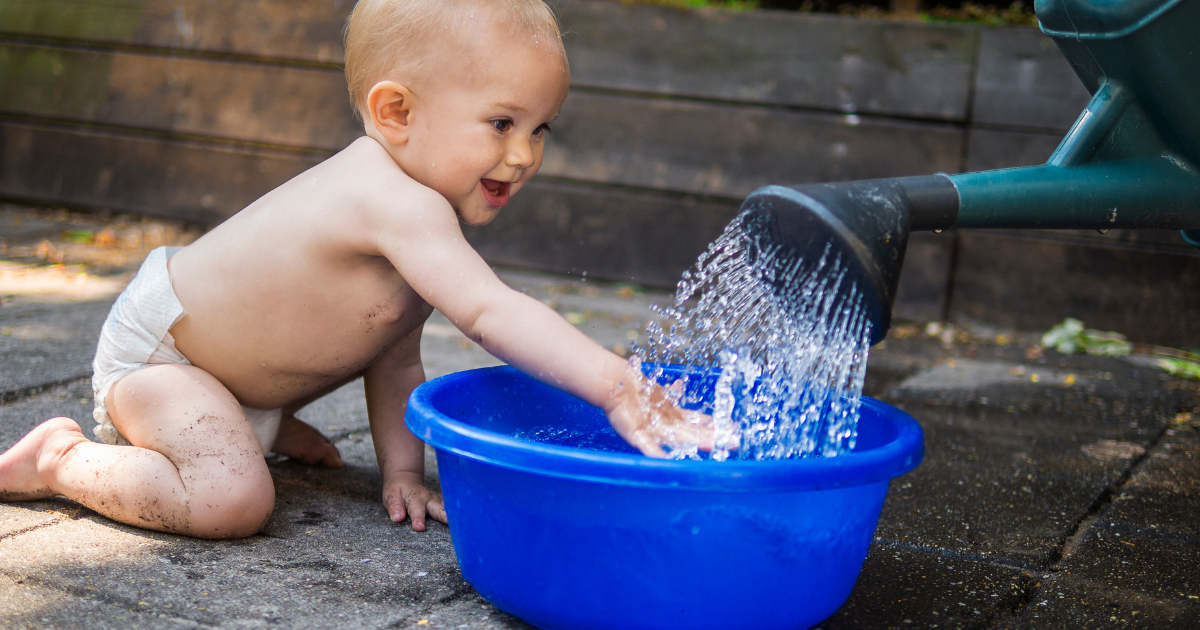 It's a small world after all
Combine water with 'small world play' for a creative, cooperative experience. Fill a few large but shallow trays with a centimetre or two of water and place them on the ground outside or on tables with a few chairs around each one. Provide a variety of toys and materials such as pebbles and shells, small toys such as marine animals, boats, blocks and even cars. Anything you think might work in an underwater world. Put children into small groups and let them create their own small worlds together to play out some splashy scenarios.
Scoop and splash
Take two containers, one with a few centimetres of water in it and one empty. Give the children a few items they can use to scoop the water up. Show them how to transfer the water from one container to the other and watch as they slowly move the water back and forth. Not only will children build the fine motor skills required to grip the scoops and jugs and tip them out they'll also be building hand strength and hand-eye coordination.
You can even talk to them about how different sized containers can hold different volumes of water. Watch as they begin to understand the concept through their own practise.
Spray & Play
Spray bottles filled with just plain water can be a fun and creative toy for young children, while also helping them to develop gross motor skills. Holding a half-filled spray bottle helps to build hand and arm strength. Aiming the spray and squeezing the trigger helps to teach babies and toddlers how to grip and squeeze while also encouraging hand-eye coordination. Children can have all kinds of fun chasing each other around with spray bottles, or they can be shown how to water small plants to help around the classroom.
Paint play
Using buckets of water and paint brushes to paint fences, walls or the ground can be another way to develop motor skills, encourage creativity and help children engage in social-emotional activities as they work together in a pretend play scenario. Whether the children are emulating their parents or carers in real world tasks such as painting walls or fences at home, or drawing pictures with water out of their imaginations, this is a fun developmental activity for all ages.
Row your boat
Make boats from leaves and twigs or avocado skins and watch them float in a shallow tub of water. Gather some materials such as bits of bark and large leaves and twigs, or if you have them some hollowed out avocado skins, paddle pop sticks and triangles of coloured paper, and make some small sailboats that the children can float in a shallow tub or tray of water, learning about buoyancy as they play.
Ice, Ice, Babies
If you have a bit of time to plan ahead, fill up an ice cube tray and add a different colour of food dye to each one to make rainbow ice. Tip them out onto a tray and let the children touch and play with the coloured cubes. This is a great way to teach kids about colours, temperature and how water can go from a liquid to a solid and back again. Then, when you're done teaching you can add some water to the tray and watch the colours melt and mix together.
Splish-Splash
No, don't bath the kids, clean the toys with bubbles! Set up a tub of water with either some bubble bath or a squirt of dish soap, add sponges, loofahs and face washers and let the children play about either bathing a baby doll or scrubbing clean a variety of car and truck toys. This pretend play activity is loads of fun as kids splash and play with suds and teaches them real world skills such as cleaning up and caring for others.
Hot tips!
It's always a good idea to remind parents to pack extra clothes for their children if you're going to be introducing any water play activities to their day.
Always keep a close eye on kids around water, even if it's only a small amount in a shallow tray.
Related Articles

Water safety for under fives.

Maximise the learning and developmental opportunities of water play while keeping children safe.

With the warmer weather upon us, now is a great time to try some interesting, fun and STEM filled water-play ideas with your children.