Be more than a Centre Manager with Guardian
Published on Tuesday, 28 July 2020
Be more than a Centre Manager with Guardian
Published on Tuesday, 28 July 2020
Sponsored by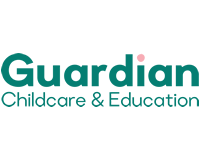 Guardian Childcare and Education
Guardian owns and operates 120+ high-quality Childcare and Early Learning Centres around Australia. Recognised for its world-class Curriculum, 92% of Guardian centres meet or exceed the National Quality Standard (the industry average is 79%). This is the result of ongoing investment in industry-leading experts, environments and the training of awesome Educators to deliver high-quality early learning for Australian families and children.
Visit our website to find your closest centre
Be more than a Centre Manager with Guardian
"Guardian looks after the best interests of not only the children and their families but their employees as well. I feel proud of my team and the supportive company I work for," Kirbie Metcalfe, Guardian Centre Manager (Queensland).
If the children are the heart of Guardian Childcare Centres, their Centre Managers are the soul.
Kirbie Metcalfe went from Early Childhood Teacher to Centre Manager with Guardian, after being in childcare sector for 30 years. Her story is one of finding her place with a childcare organisation that inspired and supported her to take the challenging – and sometimes daunting - step into centre management.
Kirbie joined Guardian in July 2016. She says that in her three decades in the industry she has never felt the pride she now experiences working for Guardian and the incredible network of educators around her.
Why were you able to take the step to being a Centre Manager after so long in the industry?
"Simply, I felt supported. I have been a 2IC for the majority of my career. So many people tried to push me into being a Centre Manager, but it wasn't until I joined Guardian that I knew I was ready. I finally had the support behind me to progress into that position.
"I have found a company that truly looks after its people. I have built a support network across Guardian centres and feel like I can call for help from other Centre Managers, my Operational Manger and the variety of departments such as IT, HR, Enrolments and Recruitment, whenever I need to.
"In return, I mentor my entire team and provide support and feedback in areas that I know will help people develop further. My Educators know that I have their backs and I will coach them through any problems so they can grow and develop to be the best they can be."
What surprised you most about working at Guardian?
"Again, the support – particularly from 'above'. As a new Centre Manager it was great having a supportive Operations Manager who was always there if I need advice or direction. I was also impressed at how supportive the network of other Guardian centres were. Before Everton Hills I worked at Queen Street and I still have close connections there, which has been a great resource for sharing ideas and programs. We're always looking for new and unique ways to present our Curriculum to the children, as well as initiatives to help us connect with our families and local communities, and the network at Guardian really facilitates that."
What's your fondest memory about working in childcare?
"What I love about children is that they're just so honest. I love nothing more than having a child from my centre run up to give me a hug, tell me a story or just yell out my name across the playground. Children engage with you because they genuinely want to. I love walking through our spaces and stopping to have little chats with the children along the way.
"I'm not normally a teary person but there have also been many times over the last few months that I've felt so touched by the parents' gratitude for what we do every day. It really is those little things that I cherish. Just as children give us hugs and have conversations when they feel safe and supported, parents also show us gratitude in a really genuine way. That's why I love my job."
Why childcare? What is it that makes you feel passionate about this industry?
I always knew I wanted to be a teacher. I did work experience at a school when I was younger because I was initially interested in Primary Teaching. But I found that I actually felt more connected to the younger children, so I also undertook work experience at a childcare centre. From the first day I instantly knew I had discovered my passion. Seeing children grow, reach milestones and be able to share in those special conversations – and cuddles - each day is so rewarding. It's why I've been in the industry for 30 years!
Why would you recommend Guardian as a great choice for Centre Managers or for ECTs aiming to become CMs?
"Guardian is a company that really has your back, which is so important. Because I was so comfortable in a 2IC position, I initially struggled with feelings of self-doubt. But I have never before worked for a company that supports and trusts its team of Educators the way Guardian does. They aren't just there for the children and families, but for us as well. And the support we've had through COVID in particular, has shown this over and over again."
Learn more about why being a Centre Manager at Guardian is the best move you can make for your childcare career.
This child care article was last reviewed or updated on Wednesday, 21 October 2020
LET'S GET SOCIAL
WANT MORE? SIGN UP TO OUR NEWSLETTER TODAY!
NEED MORE INFO? CHECK OUT OUR OTHER CATEGORIES