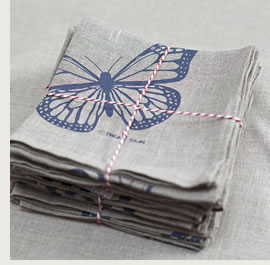 Thea & Sami is one of Australia's most creative fabric designers. Established in December 2006 by designer Thea Samios, the mother and daughter team designs beautiful, original, eco–friendly fabrics and homewares from their studio in Brisbane, Queensland.
Thea & Sami is an ethical creative studio, and uses only water–based and non–toxic inks. Made in Eastern Europe and hand-printed in Australia using water-based inks, they print exclusively onto linen, a sustainable material manufactured from the flax plant. The entire flax crop is used, so no waste is created during harvesting. Linen has natural antibacterial and antifungal properties and offers UV protection as well as having great absorption – so it's perfect for table and kitchen linen.
As well as a boutique range of homewares, Thea & Sami also make custom-made soft furnishings using their own fabrics and local resources. They manufacture in small batches using local and fair labour, so not only are their products ethical, but also not mass-produced.
This month we have five sets of Thea & Sami's beautiful 'Butterfly' napkins to give away. Designed by Thea Samios they feature a Monarch butterfly in the right bottom corner of each. Napkins are sold as a Set of 4 and gift-wrapped with cotton Baker's Twine. Each napkin measures 34 x 34 cm (13.3 square inches) and are machine washable RRP $35.00.
For more information visit Thea & Sami