| | |
| --- | --- |
| | July 17, 2013 |
child care news

for

parents

Hello,
Australia is in OOSH Crisis. What's that you ask? Well it's the lack of places for before and after school care. We look at the alternatives if you haven't got a place. The Australian Women Chamber of Commerce & Industry is urging working mums to help get child care at the top of the pre-election campaign agenda. See our article to find out how to register your voice. Our mum in profile this month is Rebecca Mugridge, author of The Pram diet and a horticulturalist who's an expert in getting kids into gardening and growing their own veggies.
Can't get into out of school hours care?
An au pair or nanny share could be the answer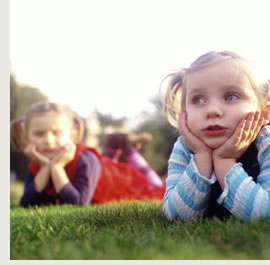 According to the newspapers over the last week or so, Australia is in acute Out Of School Care Crisis. There simply aren't enough places for parents with children in school who need to drop off early and pick up late.
For the first time ever, some Out Of School Hours Care (before and after school, aka "OOSH") centres are actually having to ask parents for proof of employment to give priority to those who are working, rather than to those who use the centres for personal convenience or to juggle their different children's after school activities.
Out Of School Hours Care (before and after school) is generally offered by centres on the premises or nearby to the school. Centres in populated areas with high demand have always urged parents to enrol their children at the earliest opportunity, even if they think you're only going to need it on a casual basis. Parents are usually urged to enrol kids when they attend their orientation days the term before starting school properly.
OOSH centres are hugely popular, because they're generally on-site, they're relatively cheap, well run and qualify for the child care rebate. They often also offer Vacation Care.
continued…
Get childcare to top of political agenda
Deborah Hutton and AWCCI launch pre-election campaign
The Australian Women Chamber of Commerce & Industry (AWCCI), has initiated a campaign to get the key issues of child care, namely availability and cost, at the top of the political agenda in the lead up to the Federal Election and is asking parents to sign a petition.
According to the AWCCI, just $160 is left in the average weekly pay packet of Australian working mums after the cost of childcare is taken out.
The AWCCI's campaign is led by its ambassador, Deborah Hutton and urges our political leaders to address childcare affordability in the lead up to the federal election.
The campaign petition states that as parents we need access to affordable and accessible childcare options; options we can obtain when our child is ill, on holidays as well as before and after school.
It asks for the government, whoever that may be, to instigate the changes desperately needed to ensure child care is accessible and affordable to everyone and that affordable in-home care is one of the options we can access.
After all, as the campaign states, this is in the interest of the future of Australia and the changes will help build a productive, prosperous and stable national economy.
Parent Ratings
& Testimonials
check out the latest child care ratings + reviews…
Right Here »
Need to know your child care options fast?
Get a report of child care services that have vacancies now and receive alerts whenever services change their vacancies
Find Out More »

Mum in Profile - Rebecca Mugridge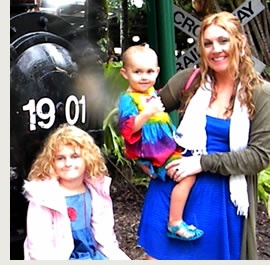 Rebecca Mugridge is an author, horticulturalist and presenter. She is a single mum and lives in Mapleton in the Sunshine Coast Hinterland of Queensland with her two girls, Lily and Violet.
C4K: Describe your general day-to-day life and schedule.
RM: Mornings are all about routine. I have to be organised as a single mum. It's all about breakfast and then getting ready for school and then going to school. Then my morning involves about an hour of work emails, writing, photography shoots, promotional work, networking or follow-ups. Followed by housework, watering gardens if needed and play time with my 2 yr old. Some days we will go shopping after this, to the library, to her swimming lessons or I will go to the gym.
During her nap time I work for 1-2 hours, this could be working on new recipes, writing etc.
In the afternoon we spend time together, collect my oldest from school and then go for a big family walk or pram jog together on the afternoons my oldest doesn't have an activity on and we usually spend a little bit of time in the garden. Some days I do another hour of work from about 4-5pm if the kids are playing well together and then it is dinner which we have early at about 5.30/6pm. Then bath, wind down, story time and bed. For me, this is usually followed by housework and probably more work.
continued…