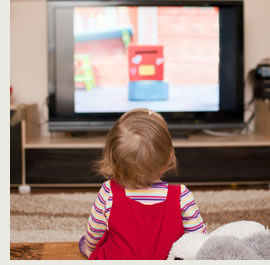 It's no surprise that parents are increasingly resorting to the TV to entertain the kids while they work at home, do the chores, make dinner, relax after work etc etc. And despite calls to limit TV time and go back to old school children's activity such as reading, playing games or playing in the garden, it seems kids are watching more TV than ever before, and the quality is not good.
The prevalence of DSs, iPads, computers, Playstations and other interactive gaming devices also mean that children are increasingly watching TV shows on other devices as well as the family TV and are now exposed and interacting with content that is most likely well beyond their years.
As with everything it seems, children are no longer satisfied with programs designed for their age, preferring programs for kids much older than they are. This is of course particularly likely in households with a number of children of different ages, when the smaller ones just end up watching what the older ones are watching.
Has it always been so? Yes, most likely, but in previous generations, you basically watched what you watched on TV in the living room within earshot of your parents and if anything dodgy came on, you were told to turn it over or turn it off. There weren't all these other gadgets with Internet capability for hours of watching TV shows, music videos and strange enactments of Barbie stories on YouTube.
continued…