Has your Nanny Flown North for the Winter?
We can help find a new one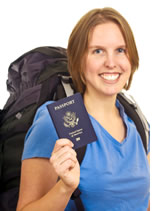 With the onset of winter many nannies have flown North to find warmer nesting places in Europe, so if you need some extra help with child care, don't forget to make use of our fantastic Babysitter Booking Service and Nanny Search.

These are easy online search services where you can select and book your nanny or babysitter online directly through an agency.

And if you're unsure and haven't used this service before, remember that CareforKids.com.au only uses reputable agencies who have police-checked, vetted and referenced their carers and we provide you with all the resources you need from interviewing a nanny to a babysitter checklist.

Click here to book a babysitter through our easy online booking service or search for your new nanny right here.

Little Nippers
Biting in child care and what to do about it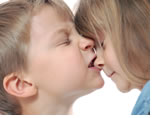 One of the most prevalent issues in child care and an issue which still generates some of the most emails to CareforKids.com.au is biting in child care and how to deal with it. And don't worry, if your child has been the victim or the perpetrator of biting in child care, you are definitely not alone.

In fact statistics reckon around one in 10 children bite. The other nine either haven't been caught red-handed or are too busy kicking, pinching, punching, shouting, screaming etc to have time to bite. At the end of the day, these are just things that young children do out of frustration and an inability to communicate effectively in another way.

If you haven't seen it already or even if you have and need a bit of a laugh today, Google the hilarious treatment of Lily's new biting fad on Modern Family, which of course leads to a disagreement between Mitch and Cam over how to deal with it.

Mitchell Googles how to deal with biting and finds a variety of responses including "putting a pinch of pepper in the child's mouth J" Cam: "Oh, so the smiley face makes it ok? Look I just waterboarded our toddler, LOL".

And who can forget Cam's song to Lily, "People aren't food, people aren't food, your friends will run away if they're scared of being chewed…" A YouTube must.

View the Modern Family song or if you can bear to watch Yo Gabba Gabba – here's their song about not biting your friends.

» Read the rest of the article here…

Counting the Cost of Child Care
and how to reduce your outgoings
It's a new tax year and the cost of child care (and everything else) is still going up. Parents are under increasing financial pressure and employers are starting to worry about the impact that the cost of child care is having on their employees who are struggling, even on relatively good salaries.

So, we thought we'd put together a few cost-saving measures that you may or may not have considered. These can include things like switching to Family Day Care as an alternative to centre-based care; looking for child care close to home as opposed to close to work, particularly if you work in the CBD as centre-based care is cheaper in the suburbs due to lower rents etc; Nanny Sharing; setting up a care share amongst friends and family and asking for greater flexibility at work (see separate article below on your rights to flexible work arrangements).

Nanny /Au Pair Sharing
Nanny sharing is becoming very popular in many metropolitan areas of Australia and hopefully with the proposed changes for the recognition of nannies as approved child care, this may get even more popular and cost effective, particularly with families with more than one child.

» Read the rest of the article here…

How Flexible are you and your Employer?
Would you benefit from a more flexible arrangement?
Going back to work after having a baby and time off is always a difficult time for parents – not just for the mother guilt and separation anxiety, but also for the worry of how you'll cope with the demands of work and children and manage to juggle it all successfully without falling to pieces.

If you are concerned about how your days will work out and whether you will have any quality time with your baby, then you could consider asking your employer for a more flexible working arrangement.

Flexibility in the work place is one of the most effective ways of managing kids and work, getting around awkward or inconvenient child care hours and even allowing part-time or home-based work, which can also help reduce child care costs.

But when you've been out of work for a while and are feeling a bit insecure in your position, it's not always easy to feel you can speak up and ask for what you want.

Did you know that since January 2010 eligible working parents in Australia have had the right to request their employer for flexible working arrangements to enable them to care for their child?

This is a significant improvement for working parents so make sure you know what you are entitled to and how to ask for it.

» Read the rest of the article here…

Give a Gonski…
to get more funding for Australian education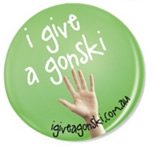 by Sophie Cross

This month we're urging parents to "Give a Gonski" and get behind funding for Australian schools (that's funding by the government not by parents who already spend half their cash and spare time doing fund-raising events at their kids' schools), because Australia is way behind on our future generations' education.

When you travel to other countries, particularly some of the European ones, even the recession-ravaged Spain and France, you realize just how backwards and stingy we are in terms of investing in our children's education in Australia.

Small example, but very significant one: I've recently moved to southern Spain with my seven year old daughter and have enrolled her to start in September at our local village school.

These rural schools have classes of no more than 16, free text books, free bus service, all the technical and other equipment you'd expect in a modern school and plenty of teachers.

» Read the rest of the article here…

Mum in Profile
Camille Nuttall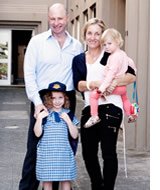 Camille Nuttall is a commercial photographer who specialises in photographing kids. Originally from Melbourne she now lives in Sydney with her two girls Frankie (3) and Claudia (6). See her kids work at www.camillenuttall.com or www.camandco.com.au for her non-kids work.

» Read about Camille…
Are you a Mum or Dad and want to share your child care experience with others? Tell us your story and receive a special gift from CareforKids.com.au.

Download the questionnaire here and submit to us via email including a photo.

Q&A - Carla Northam
CEO - Family Day Care Australia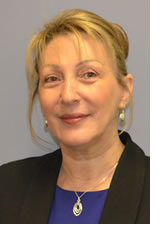 We are running a series of profiles designed to further educate our readers about Australia's most important government departments, community and industry organisations and how they work to support the child care industry, and also to put a face to the names of these organisations.

This month we feature a Q&A with Carla Northam - CEO - Family Day Care Australia.

What is your role within FDCA, what does this entail and what is your professional background?

Family Day Care Australia is the national peak body for the family day care sector. Our role is to promote and advocate on behalf of the family day care sector. I am so passionate about early childhood education and care and to be able to work for an organisation where all that we do is directed towards providing excellent outcomes for children is both an honour and a privilege.

Prior to joining Family Day Care Australia, I was Chief Operating Officer of the Victor Chang Cardiac Institute. I have more than 20 years experience working in roles across management and human resources and hold a Bachelor of Arts (Majoring in Industrial Relations), a Diploma in Business Management, a Certificate IV in Assessment and Workplace Training and a Diploma in Professional Counselling.

Please tell us a little about FDCA's background and history. What was FDCA formed to do?

Family Day Care Australia was established in 1988 in a small beachside cottage on the Central Coast of NSW. Since then it has grown into a thriving not for profit organisation with more than 13,500 members across Australia. FDCA was established to promote, advocate and support the family day care sector to ensure its continued growth and sustainability. A particular focus has always been to provide a single and united voice to the federal government and this is an area in which we have made significant headway of late.

» Read the rest of the article here…

Giveaway
Mohdoh Aromatherapy putties restore calm to your life
Mohdoh, the amazing mouldable aromatherapy product that has taken the European market by storm launched in Australia earlier this year.

Mohdoh is a range of non toxic, vibrantly coloured mouldable doughs infused with organic essential oils that harness the benefits of play therapy, colour therapy and aromatherapy, which may help both children and adults relieve the symptoms of common lifestyle-related ailments.

Simon Palfreyman, creator of Mohdoh credits his mother for the original Mohdoh concept. "I was an extremely hyperactive child so my mother used to add a drop of lavender essence to my modelling clay to help calm me down", he explains.

Now, as the father of two equally excitable boys, Simon wanted a way of helping them cope with everyday ailments such as travel-sickness, blocked noses and anxiety without exposing them to the chemicals, dyes and sugars (not to mention numerous side effects) that accompany conventional medication.

So his thoughts returned to the modelling clay his mum used to infuse with essentials oils and Mohdoh was born.

Mohdoh works on the principles of aromatherapy, colour therapy and play therapy. Just mould the dough in your hands for 5-10 minutes at a time and sit back and enjoy the aroma of the unique essential oil combinations.

All of the essential oils used in Mohdoh are certified organic by Ecocert and are pure essential oils, not synthetically fragranced oils. Mohdoh is not tested on animals and is 100% non-toxic. World renowned aromatherapy specialist Penny Price blends all of the essential oils used in Mohdoh.

There are nine Mohdoh variants, all designed to assist with the symptoms of common conditions such as insomnia, travel sickness, worry and anxiety, lack of focus, hyperactivity, headaches and tension and may even help those trying to lose weight or quit smoking.

Find out more about Mohdoh and where to get it at www.mohdoh.com.au.


We have an entire set of nine Mohdoh variants to give away, RRP $14.95 each (total $134.50).

Simply email us and let us know in less than 25 words, why you could do with some Mohdoh Therapy.

Terms & Conditions

Child Care People in the Spotlight–
Child care professionals share a commitment to improving society by creating dynamic and nurturing care environments for Australia's youngest learners.

Meet some of them here…

Joanna O'Brien and Nichola McLean (pictured)
Directors of the Platinum Pre School - Randwick, NSW

Lee Sadler
Lead Educator & Assistant Director Star of the Sea Catholic Child Care Centre Hervey Bay QLD

Lynn Afotey-Out (pictured)
Director - Little Legends Early Learning Centre Dakabin QLD

Jayanthi Balendra or "Aunty Bala"
Owner/Director of four centres in Western Sydney NSW

Lucette van Someren Boyd Director of Montessori By-The-Bay in Monterey NSW

Rebecca Ackroyd
Nirimba Community Children's Centre in Quakers Hill NSW

Shiralee Nicholls
Pelicans Child Care Centre in Atherton QLD

Anmol Lohia
Centre Director at Bambini of Lilyfield (NSW)

Leah Kruger & Simone Gee
Ladybug Early Learning Centre and Kindergarten - Kilsyth Victoria.

Tiffany Wylde
Stratton Out of School Care Service - Stratton WA

Rebekkah Figura
Nipperville Early Learning Centre - Watson ACT

CareforKids Social
Check out the hottest child care topics of the day

Got Some Time Out…
Catch up on back issues of Child Care News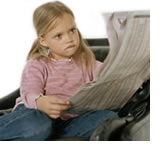 June 2012
May 2012
April 2012
March 2012
More…