Entertaining Kids
…a true Olympic sport
by Sophie Cross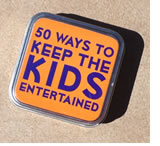 With Olympic saturation of everything over and done with for another four years, well no, three years if you count the lead up to the next one, even if you are not a fan of the games and all the so-called Olympic sports that now have a place in the schedule, we'd like to draw attention to something that actually deserves to be the biggest Olympic sport of all time: Entertaining Kids. Without the same fanfare, this happens pretty much 24/7 every month, year, without the huge advertising and sponsorship deals or the four year break.

Entertaining Kids, a high velocity, multi-faceted and ball-juggling endurance sport is as knackering as the marathon event, as strategic as chess, requires patience, training and teamwork, nerves of steel, an ability to think on your feet and boundless energy. A multi-dimensional sport that requires you to be as fit as any Olympic athlete. Have you ever seen a fat Wiggle?

In fact one Olympic athlete, I forget who, but I swear I'm not making it up, once spent a month when, instead of training, he simply did what his young kids did. Ran when they did, jumped when they did, spun around, skipped, played, fought etc. He said it was the most tiring month of his life and at the end of it he was fitter than ever.

» Read the rest of the article here…

Did you know…
Paid Parental Leave Scheme & Baby Bonus are mutually exclusive?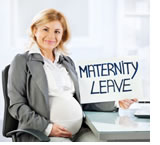 In January 2011, the Paid Parental Leave scheme was instigated to provide financial support to eligible working parents of children born or adopted from 1 January 2011. From January 2012 the Baby Bonus (*means tested) allowed parents of babies born or adopted from that date to claim $5,437 to go towards that crucial first year, and is paid in 13 fortnightly installments.

However, what many families may not realise is that the Baby Bonus and the Paid Parental Scheme are mutually exclusive – you cannot claim both for the same child.

It's also worth noting that the rates are changing. For anyone claiming the Baby Bonus up until 31 August 2012, the current rate of $5,437 applies, but for anyone claiming from 1 September 2012, the rate drops to $5,000. So if you're eligible to claim, get in quick.

» Read the rest of the article here…
*Baby Bonus is payable if your family's estimated combined adjusted taxable income is $75,000 or less in the six months after your child is born or enters your care.

Let's Just Cut the "Can We/Should We Have It All" Debate
…and work out how to practically help the work-life juggle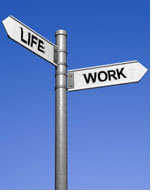 There's been an on-going debate since Anne Marie Slaughter's article published last month in The Atlantic on her decision to leave her high ranking US government post in order to spend more time with her children and work at the local "Ivy League" university instead"

This seemed to be saying that no, as a working mum you may not have it all, and so the debate goes on as to whether working mums can or indeed should have it all, whether being a high level executive means you simply cannot have a family life and that's simply a choice you have to make.

An article in the Australian Financial Review suggests that "if the general culture is hostile to mothers, including at the highest professional echelons, why not cherry pick from the French, who do not demand maternal perfection?" i.e. can't we just accept that women have babies and they also have a great part to play in our economies as well?

According to the article, French women, who have more children than most in other developed countries, are encouraged to return to work, at a scaled back rate, when their babies are small. They can therefore maintain their working status without having to take large chunks of time off. And most importantly, this is not frowned upon, does not lead to career stalling or the perception that mums returning to work on a part time basis just aren't serious about their career or are just a pain in the backside of employers and colleagues.

France counts one of the highest percentages of women in full-time work in the developed world and currently has as many women as men in governmental positions. It values family, home life and holidays as much as work and deals with it on and like Norway, believes men should be just as involved in parenting as women.

The French system ensures affordable crèches, preschool, after-school care and holiday care, and tax deductibility of nannies, combined with workplace flexibility for parents (that's both mums and dads on an equal footing).

» Read the rest of the article here…

Fancy This?
Having your children come home from school already fed, watered and with homework done.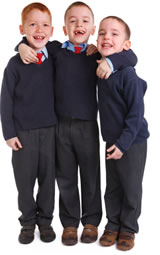 Not such a trick question actually, as there is some support developing for the idea of trying to better match school hours to parents' working hours, by allowing kids to stay at school until around 5/5.30pm.

This is all part of the discussion on how to make work and parenthood get on a bit better and ties in with the likes of more flexible child care options, tax deductible child care of all forms and a more realistic and positive attitude to returning mums needing to start off part-time.

One of the hardest parts of juggling work and child care or school hours for parents is that the hours don't match up. School and child care generally finishes before work does, unless you're on a flexi hours or part time arrangement. So parents often find they have to fill the gap with additional child care such as after school hours care, or more flexible forms of day care like Family Day Care or nannies.

Of course many parents think this is completely nuts, irresponsible and bad parenting and is forcing children into more and more work or stress and tiredness… But what if the additional time was structured like out of school hours care or an after school club, with structured activities, homework time and tea. Kids could be picked up from school already fed and watered, with their homework done and dusted so that when they get home it's nothing but family time?

When kids get home from school what do they generally do? Watch TV, do an out of school activity like additional sports or drama, hang around playing on some gadget or other? Half of them are at school anyway, doing some sort of extra curricula activity. Would it really be that bad if they were to extend the official hours for another hour or so?
We want to know what you think so post on our Facebook page or on the CareforKids.com.au Social forum.

Overnight Child Care
…seriously, it's catching on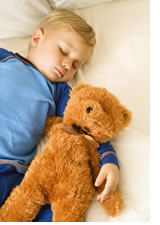 Yes it might seem rather extreme to you but the fact is that more and more parents are working less and less sociable hours. With the increase of call centres, and other 24-hour services such as emergency services, shift work and simply longer working hours are meaning that for some parents there simply isn't the option of standard child care hours.

According to the Australian Bureau of Statistics, the number of people working non-business hours is up 15 per cent. More than one in three work extra hours or overtime, and almost 60 per cent have no say in their start and finish times.

So some services are stepping up to the plate and providing flexible opening hours, which even include overnight stays and weekends in order to cater for this group of parents who have unsociable working hours but don't qualify for "In Home" care.

A recent survey by Family Day Care Australia of more than 300 providers found 12 per cent provided overnight care, while 14.4 per cent had weekend care.

Family Day Care services only take a limited number of children and are provided in carers' homes and therefore more easily flexible, as well as more economical and provide a family style environment, which is less formal and therefore easier for children to be in for longer hours of time.

Some child care centres are also starting to provide 24 hour care in city hubs, but these tend to be used by parents more for longer hours such as 7am-7pm as opposed to overnight and weekends.

While it has to be said that most parents would not relish the idea of leaving their children for 12 hours or overnight in child care, most would be more likely to start later and finish later or start and finish early.

The alternative is for In Home care eligibility to be broadened to help out families with non-business hour working schedules (see May's newsletter), but in the meantime, Family Day Care and other child care services offering alternative care hours, are throwing many working families a lifeline in terms of keeping their jobs and their heads above water.

And Now A Nod In The Right Direction For Australia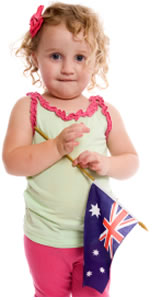 OK, so we're not perfect in the working parents stakes (nor are we terrible either), but at least we have modern contraception, low maternal death rate and good healthcare when it comes to having babies, even though we do have one of the highest caesarean rates in the world.

A recent list compiled by international aid organization Save The Children has put Australia in fifth place on its list of countries best for mothers and children.

The list looked at factors like the danger of dying during childbirth, the number of women using modern contraception and the number of births attended by educated health care personnel.

Norwegian mothers also enjoy lengthy, fully paid maternity leave, generous child care leave and subsidised day care, in addition to a high literacy rate and a large proportion of women in governmental positions.

Norway was followed by Iceland, Sweden, New Zealand, Denmark, Finland, Australia, Belgium, Ireland and The Netherlands/England (tied for 10th place).

And a Bit of Encouragement
…for parents who have children in care from an early age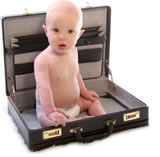 It's always a real dilemma going back to work after your baby is born. The Paid Parental Leave Scheme should make it a bit easier on those parents who otherwise would have to go back to work as soon as possible and thankfully this month a research paper was released that showed that putting children into child care before the age of one has no adverse side effects.

The study by Associate Professor Linda Harrison Charles Sturt University presented at the Australian Institute of Australian Studies, tracked around 5,000 children from birth to the age of eight or nine.

Linda Harrison said on an interview with the ABC:

"Starting child care in whatever type of care as babies was not a factor in terms of how these children were doing in these sort of social and emotional areas of development at age two to three in child care. There were other important factors about the child's personality or features of the childcare centre they were currently attending. But there was no difference based on what kind of care they had attended. So I felt that was pretty good news for parents because it's quite a struggle making decisions about the kind of child care that suits parents when they are placing their very young children into some sort of care arrangement".

Read/Listen to the full interview on ABC Radio's AM program.

To Share Or Not To Share, That Is The Question…
We're talking sharing nannies of course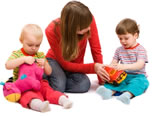 It's something we've spoken about before as a great way to share the cost of a nanny while getting all the benefits and with families feeling the pinch, it's now starting to get a lot more popular.

Nanny sharing has great benefits, being of course flexible hours, home environment, no commute worries, a social atmosphere but with one on one attention and fewer illnesses to be passed around.

It's a simple process and one that various agencies offer, and generally speaking it's pretty easy to organize with either one home used all the time or children alternating between families.

Louise Dunham, Managing Director of approved government in-home-child-care provider Placement Solutions says: "Nanny sharing is quite simple. It involves one nanny caring for the children of two families at once – up to four children in total; our agency's ratio of one to four ensures children receive the attention and care they require."

Of course you can easily go into a private arrangement when hiring a nanny but if you go down the agency route, most will make sure they do as much as possible to make sure the families are compatible with each other, not just with the nanny.

"At the start we interview parents from both families together, and we select potential nannies based on the families' joint needs", says Dunham. "Later, client liaison visits are also held jointly, which presents an opportunity for any issues – including between families – to be ironed out quickly".

Dunham's advice on the main areas where families need to be in sync in order to make an arrangement work is as follows:

Before considering nanny sharing, aspects that potential 'share parents' should discuss are consistency in:
Matters of discipline;
Nutrition, such as sugar 'allowances';
Education, for example reading expectations; and
Screen time, including what can and cannot be viewed or played on televisions and computers.
Families may be eligible for the Federal Government's Child Care Benefit or Child Care Rebate, but to check on eligibility go to www.humanservices.gov.au or ask the recruiting agency.

To discuss nanny sharing and check out the agencies on our site who provide the service, click here or just post if you are looking for a family to share with.



Mum in Profile
Minette Ansell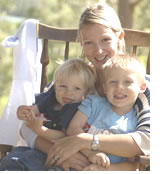 Minette Ansell (36), originally from the UK but now living in Sydney runs Swish Little Fish, a babywear company specialising in bamboo bath wear for children.

» Read about Minette…
Are you a Mum or Dad and want to share your child care experience with others? Tell us your story and receive a special gift from CareforKids.com.au.

Download the questionnaire here and submit to us via email including a photo.

Q&A - Julia Davison
CEO - Goodstart Early Learning
We are running a series of profiles designed to introduce our readers to the movers and shakers of Australia's child care industry.

This month we feature a Q&A with with Julia Davison - CEO - Goodstart Early Learning.

What is your role within Goodstart and what is your professional background?

My name is Julia Davison and I am the CEO of Goodstart Early Learning. I have had extensive senior management experience in the health sector in Australia and the UK. Between 1999 and 2004 I was CEO at Flinders Medical Centre, a large teaching hospital in Adelaide. Most recently I held the position of CEO at WorkCover SA. I am also the Chair of Catherine House, a not-for-profit working to solve women's homelessness with sustainable long-term solutions in SA and a Director of Territory Insurance Office, NT.

How and when was Goodstart Early Learning formed?

Goodstart Early Learning is a not-for-profit organisation operating over 650 former ABC Learning centres across Australia with more than 14,000 staff serving some 70,000 children from birth to five years. Goodstart was created in 2009 by a partnership of organisations - Mission Australia, Social Ventures Australia, The Brotherhood of St Laurence and The Benevolent Society – who saw the potential of early learning to transform Australia.

» Read the rest of the article here…

Giveaway
Swish Little Fish bamboo towelling bathrobe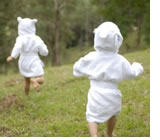 Swish Little Fish was born from a desire to create stylish bath wear that is made from sustainable, eco-friendly natural fibres, which have a minimum negative impact on the environment.

All of the company's products are really gentle to both the environment and your little babes. Products are exquisitely handcrafted, giving them the attention to detail and uniqueness that you just can't get with mass production.

Bamboo's organic qualities, luxurious feel, superior absorbency and naturally hypoallergenic properties provide the perfect natural fibre to comfort the most sensitive skin, all year round.

The Yellow Monkey and Purple Giraffe bathrobes are luxuriously soft bamboo hooded bathrobes made from deep pile towelling, complete with very cute ears.

Edged with the Swish Little Fish signature vintage trim in tones of purple and a giraffe motif or green and yellow trim with monkey motif.

Available sizes: 6-18mths RRP $60 AUD (plain trim is $55). More products at Swish Little Fish



We have two Swish Little Fish bamboo bathrobes to give away – either Green & Yellow Monkey or Purple Giraffe RRP $60 each. To enter be quick and just head over to Facebook and Like us to go into the draw.

Terms & Conditions

Child Care People in the Spotlight–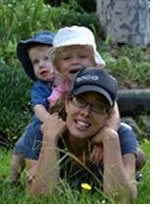 Child care professionals share a commitment to improving society by creating dynamic and nurturing care environments for Australia's youngest learners.

Meet some of them here…

Kerry Hennessy (pictured)
2012 Early Childhood Educator of the Year
Coastwide Child & Family Services
Central Coast NSW

Joanna O'Brien and Nichola McLean
Directors of the Platinum Pre School - Randwick, NSW

Lee Sadler
Lead Educator & Assistant Director Star of the Sea Catholic Child Care Centre Hervey Bay QLD

Lynn Afotey-Out (pictured)
Director - Little Legends Early Learning Centre Dakabin QLD

Jayanthi Balendra or "Aunty Bala"
Owner/Director of four centres in Western Sydney NSW

Lucette van Someren Boyd Director of Montessori By-The-Bay in Monterey NSW

Rebecca Ackroyd
Nirimba Community Children's Centre in Quakers Hill NSW

Shiralee Nicholls
Pelicans Child Care Centre in Atherton QLD

Anmol Lohia
Centre Director at Bambini of Lilyfield (NSW)

Leah Kruger & Simone Gee
Ladybug Early Learning Centre and Kindergarten - Kilsyth Victoria.

Tiffany Wylde
Stratton Out of School Care Service - Stratton WA

CareforKids Social
Check out the hottest child care topics of the day

Got Some Time Out…
Catch up on back issues of Child Care News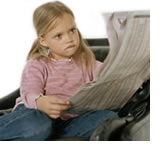 June 2012
May 2012
April 2012
March 2012
More…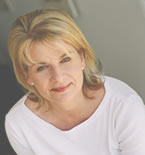 Welcome to the August issue of our parent newsletter.

We hope you had a great July and enjoyed the winter holidays, whatever you were doing.

The Olympics have given us a few ideas for kids' entertainment, so we've got an article on Entertaining Kids as an Olympic Sport and some ideas for hosting your own Olympics at home.

We also give you a steer on choosing between the Baby Bonus or Paid Parental Leave – did you know you can't have both? We look at the growing demand for overnight and weekend child care and the movement towards getting school hours in sync with working hours.

Our Mum in Profile this month is Minette Ansell, mum of two boys (and another on the way) and owner/operator of bamboo bath wear company Swish Little Fish. Minette has also provided two of her gorgeous little bamboo bathrobes for this month's competition.

Also this month we are delighted to introduce you to the CEO of Goodstart Early Learning, Julia Davison. Julia's candid views on child care in Australia and her vision for the vast network of services under her watchful eye make for great reading.

Until next time,

Roxanne Elliott
CareforKids.com.au®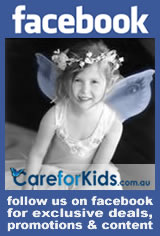 Most Popular Articles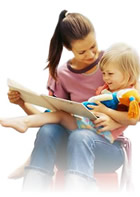 This month's most popular articles, checklists, links & tips:
Nanny Sharing
Comparing child care options
Helping your child adjust to child care
Keeping your child healthy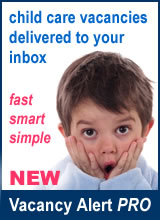 Child Care Related News Articles

Keep up-to-date with the latest child care news articles from here and around the world.

Updated daily.
» Latest news

Privacy
---
Your Privacy is assured. We will never give, lease or sell your personal information. Period.

Privacy Policy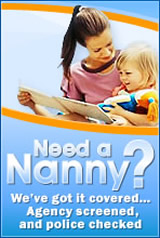 Feedback
---
Please contact us with any questions or comments. Suggestions you may have for future issues are most welcome.

Email our editor

Child care search made easy…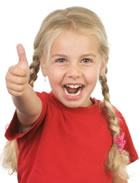 » Child care centres
» Family Day Care
» Pre-schools
» Before school care
» After school care
» Vacation care
» Agencies
» Nannies
» Babysitters
» Au Pairs
There's 14,000+ services waiting to hear from you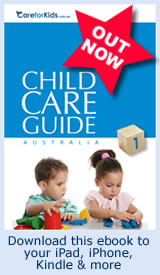 Looking for a great place to work?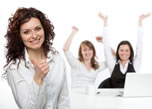 Looking for family friendly organisations to work for that have a supportive management style and understand the needs of their employees?

Click here to find out who they are…


Nanny Sharing
Want to Nanny share and looking for a family to share with?

Here are just some of the areas families are looking to nanny share:
» Frankston East
» Crows Nest
» Cronulla
» Glebe
» Little Bay
» Randwick
It's simple post here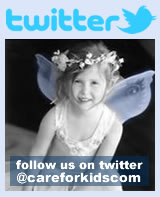 Parent Toolkits

Our parent toolkits make finding and choosing child care easy.
» First Time Parents
» Special Needs Care
» Choosing a Service
» Work/Life Balance
» Cost of Child Care
» Quality Child Care
» Babysitter Toolkit
» Nanny Toolkit
» Health Tool Kit