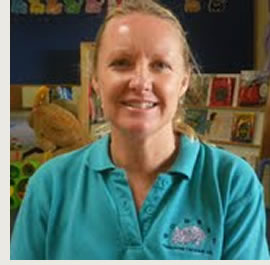 Child care professionals share a commitment to improving society by creating dynamic and nurturing care environments for Australia's youngest learners. This month we feature an interview with Jennine Blackburn.
What is your name?
My name is Jennine Blackburn and I am aged 50.
Which centre do you work in? How many staff and children are in the centre?
I am the Nominated Supervisor of Wombat Occasional Childcare Inc. in Miranda (NSW). Wombat is a community based, non-profit organisation, licensed for 29 children from birth to five years.
We have a flexible license and care for up to 15 children from 0-2 years each day. There is a strong need for this age group in our area and we often have 15 babies (who come on an occasional basis, so it can be a little crazy -but lots of fun- at our centre). There are 11 educators, two kitchen hands and a bookkeeper and we all work on a permanent, part time basis.
I am also the President of Occasional Child Care Australia Inc. (OCCA). OCCA is a national association run by volunteers whose aim is to promote and advocate for occasional care centres Australia wide. I have been in this role for two years and prior to that I was Treasurer and on the general committee. I contacted OCCA seven years ago seeking advice and guidance in managing an occasional care centre and now I am the President…