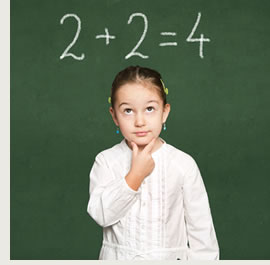 Figures from the Longitudinal Study of Australian Children show that one third of preschool aged children cannot count to 20 and do not know basic numbers and while many kids have strong skills there are kids under-performing in every age category.
The analysis of numeracy skills in 11,000 children aged four to nine used National Assessment Program - Literacy and Numeracy (NAPLAN) data and also looked at child development across various social, economic and cultural environments.
The numeracy findings were presented by lead researcher Dr Galina Daraganova at a Social Policy Research Centre seminar who revealed that most children aged four-five are doing well but one in three struggled to do simple addition or count to 20.
The research also showed that kids from single parent families, poorer backgrounds and homes with three or more siblings struggle more at every level than kids from smaller two parent families. However the researchers also revealed that the effects of socio economic disadvantage lessen as children grow older.
Speaking to News.com.au Dr Daraganova said the early years are crucial in setting a foundation for maths learning.
"Children who are school-ready with good numeracy skills and good verbal and non-verbal skills develop faster and perform better over time. Early numeracy shapes later understanding of maths" she said.
For more read our article (below) on how to increase maths based learning opportunities in your service.