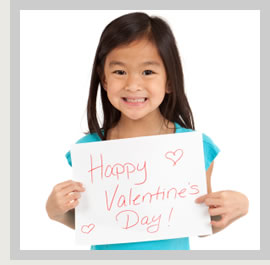 Going by the number of heart shaped chocolates in store at the moment it would seem we must be approaching Valentine's Day. Help the children in your service share their love by trying one of our simple craft ideas. We have a range of activities and you will find something to suit kids of any age in your service.
Butterfly Valentine - Turn a humble toilet roll into a cute Valentine's Day butterfly.
Love bugs - Kids will love creating a menagerie of cute little bugs to share their love.
Heart mouse - Suitable for the youngest children, this easy project results in a sweet little mouse.
Heart caterpillar - A variation on the mouse above, suitable for very young children.
Heart hats - The kids will enjoy making these thematic crowns to wear on Valentine's Day.
Heart glasses - This project results in an adjustable pair of glasses which the kids could also wear on Valentine's Day.
Stuffed hearts - Suitable for any age, this project results in pretty hearts that would look lovely hanging from the walls in your service.
Heart tree - Another activity which the kids can work on individually which results in a collective work of art.
Paper hearts - A great opportunity for younger kids to practice their fine motor skills.
Valentine's Day cup - This activity involves a number of stages which older kids will enjoy.
These craft ideas were originally sourced on dltk-holidays.com