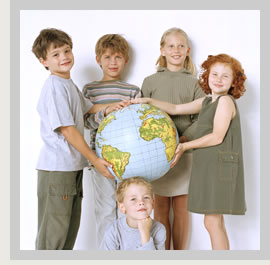 On Monday 22 April 2013 Australia joins 175 other countries to celebrate Earth Day.
Earth Day occurs every year and is marked by events designed to increase awareness and appreciation of the earth's natural environment. To promote Earth day in your service you might like to try some of our earth inspired craft ideas:
Planet Earth Coffee Filters – Quick and easy.
Mother Earth – An extension of the activity above which teaches kids how to turn their planet earth in to Mother Earth.
Earth Day Wreath – This idea is suitable for an individual project or a group activity.
Habitat – This activity offers some great teaching opportunities and is only limited by your imagination.
Earth – Suitable for very young children this simple project will help kids refine their small motor skills.
Papier Mache Globe – This is a big project which would make an ideal group activity.
Leaf Rubbings – A quick and easy way to share the magic of the natural environment with young children.
Earth Day Rainbow – This lovely activity combines snipping, sorting and gluing.
Happy Earth – These cute little chaps can be personalised to look like their creators.