Q&A - Trish Brown

Director - UnitingCare Children's Services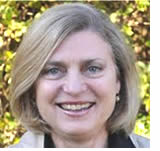 As a part of our monthly newsletter for child care providers we are running a series of profiles designed to further educate our readers about Australia's most important government departments, community and industry organisations and how they work to support the child care industry, and also to put a face to the names of these organisations.

This month we feature a Q&A with Trish Brown – Director, UnitingCare Children's Services.



What is your role within UnitingCare Children's Services (UCCS) and what is your professional background?


Hi I'm Trish Brown, Director of UnitingCare Children's Services. We're the third largest provider of children's services in NSW and also have services in the ACT.

As Director, I lead UCCS' professional management team, which supports 52 education and care services, including long day care, preschool, occasional care, outside school hours care and integrated child and family centres. With over 5,000 children and families who use our services each year, we are influencing and impacting on so many lives and take pride in this responsibility.

I have worked in the education and care sector for more than 30 years in a variety of leadership roles. I am an active advocate for community based education and care, having held executive positions in the National Investment in the Early Years (NIFTeY NSW) and the Australian Community Children's Services (ACCS). I have also co-authored and presented key reports on responding to disadvantage within universal and integrated child and family centres. I am passionate about giving all children the best start in life.


»
Read the rest of the article here…

Keeping Parents in the Loop

Kinderloop mobile app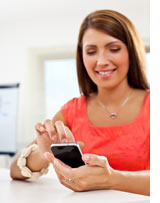 In an effort to bridge the communication gap between child care services and parents, a dad and a mobile applications guru have created a software program which will enable providers to securely stay in touch with parents in real time.

Kinderloop will launch globally in December and is the brain child of Dan Day and Daniel Walker who say they want to make the world a better place through easier communication and great ideas.

The software will enable child care providers to record the day's events and activities as they happen and then share them with parents via a personalised, secure news feed which parents are invited to join.

Kinderloop founder Dan Day says the system makes it easy for carers to generate monthly or yearly reports for a child or group.

"Anything that is pushed through to Kinderloop is stored securely and is instantly accessible. With a few taps, photos, video, news, messages and events can be sent through to and at the end of the day we'll automatically create a beautiful personalised report for each parent," said Mr Day.

Mr Day said Kinderloop was designed with the NQF in mind and that they are working closely with child care providers to ensure the system can be used to fulfil some of the reporting requirements of the NQF.

"We understand that child care providers are time poor. We are making use of mobile technology to allow carers to carry Kinderloop in their pocket and use it on-the-run. We've recruited several child carers to assist us with the design of our software and they have helped make it quick and extremely simple to use."

Kinderloop is looking for child care providers to trial the software for free so they can gain a better understanding how it will be used and how it should be improved. For more information email Dan at Kinderloop on hello@kinderloop.com

Review of CSP Reveals Short Falls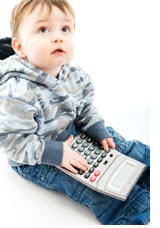 Child care funding in remote areas has been the target of a review by the Australian National Audit Office which has found that DEEWR needs to evaluate the effectiveness of its Community Support Program (CSP).

The CSP was established in 2004 to improve access to child care in areas where the market would otherwise fail to provide services. Under the program the federal government has provided $104 million to establish and operate 1700 formal child care services in areas where there would otherwise have been a shortage.

While the Audit Office report found that administration of the program was generally sound, it has suggested that DEEWR conducts an evaluation of the effectiveness of the program's design given how much demand for child care has changed since the CSP program as introduced in 2007.

The report found that 71 per cent of money in 2011-12 had been allocated to support family day care which was only used by 10 per cent of children in care. This is in comparison to just 21 per cent used to support long day care and outside hours school care which are used by around 90 per cent of all children in care.

Owing to the fact that CSP funding is only available to 12 per cent of formal child care services the report says it is very important to ensure the money is allocated appropriately so it does actually improve access to child care.

The Audit Office's report makes two recommendations to DEEWR, both of which DEEWR has agreed to do:
Analyse the provision of child care including areas where the market would fail to provide service and review current eligibility criteria for CSP and payment rates in light of that analysis
To monitor the effectiveness of CSP funding and develop performance measures that directly address the program objective.
To read the Audit Office review click here.

Union Calls for Wage Increase

Tell us what you think about child care wages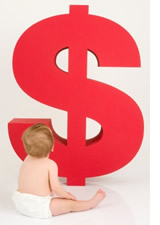 United Voice, the union for child care workers is asking the federal government for an extra $1.4 billion annually to boost wages for child care workers without increasing fees for parents and reduce the number of people leaving the industry.

Child care workers are currently paid between $18-$20 per hour and the union is seeking to increase wages to around $26 per hour.

According to United Voice National Secretary Louise Tarrant the underlying crisis in child care is its inability to attract and retain staff due to low wages and she says the crisis will continue until wages are increased.

"How can centres keep staff when the wages are so low that workers won't consider or can't afford to do the work? This crisis cannot and will not go away until the sector has enough qualified, professionally paid workers to provide families with the quality education and care that is every child's right.

"Until wages improve the crisis will continue but neither parents nor providers can afford to pay more. We believe the only viable solution is for an injection of funds by the Government to fund the gap between the current inadequate pay and professional wages," said Ms Tarrant.


»
Leave your comments here

Interview

Narrelle Cahill
Phoenix Street Children's Centre
North Sunshine VIC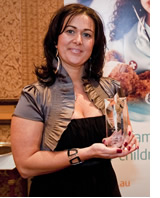 Child care professionals share a commitment to improving society by creating dynamic and nurturing care environments for Australia's youngest learners.

This month we are pleased to introduce you to Narrelle Cahill, Director of the Phoenix Street Children's Centre in North Sunshine, VIC and Director of the Year (national) in the recent Australian Family Early Education and Care Awards.

Narrelle's extensive experience in early childhood education and her commitment to teaching about environmental awareness and sustainability make for inspirational reading.


»
Read about Narrelle…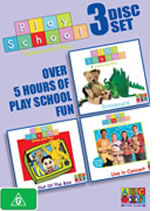 If you or someone you know deserves to be featured in this section drop us a line at editor@careforkids.com.au.

Each child care person we profile will receive a selection of DVD's for their service courtesy of Roadshow Entertainment.

Nurturing a Love for Reading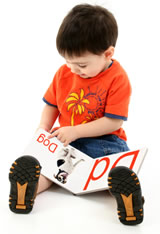 Early childhood educators are well aware of the wide variety of benefits to be gained from exposing children of all ages to the wonderful world of books. This article looks at the best ways to introduce infants and toddlers to books.

Infants
Brain research has revealed that two year old children have twice as many synapses, the connections between neurons, as adults and reading to babies helps "wire in" those synapses, so that babies gain an early intellectual boost. Early reading promotes early literacy.

How to begin
Even before infants are talking, you can help them begin a lifelong love of reading. Snuggle comfortably with baby on your lap and share books with bright, colourful pictures. Make sure you choose books which will survive sessions with teething babies!

Very young babies stare hard at black-and-white circles or simple face illustrations and by eight to 12 months, they listen attentively as you chant nursery rhymes, especially when the poem corresponds to the picture. A homemade book filled with family photos can provide comfort to babies of all ages. Ask parents to provide an album for their child and take the time to go through it with the baby and talk about the people on each page.


»
Read the rest of the article here…

Are there any Benefits from Pretend Play?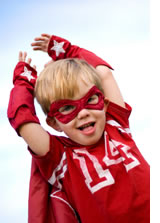 Pretend play can be great fun for preschoolers but new research from the University of Virginia has shown that it may not be as crucial to a child's development as was previously thought.

The research, published online in the most recent issue of Psychological Bulletin, was based on a review of more than 150 studies and looked for the contributions to a child's development to be derived from pretend play. The review found little or no correlation between pretend play and child development.

Pretend play for the purposes of the review was any play a child engages in alone or with friends or adults that involves using their imagination to create a fantasy world or situation such as making toy animals come alive, acting out scenes with figurines and making dolls talk.

According to the lead author of the study Professor Angeline Lillard much of the previously presented evidence on the importance of pretend play in the development of a child was based on flawed methodology. She suggested testers may have been biased by knowledge that they were testing children who had engaged in adult-directed pretend play prior to testing.


»
Read the rest of the article here…

Summer Craft Ideas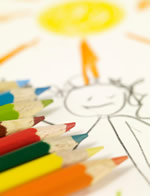 With blossoms blooming and the recent reappearance of the sun we thought it might be fun to try some craft activities inspired by summer this month. Hopefully these projects will help you turn the walls of your service into a crazy and colourful art gallery.

Paper plate flowers These gorgeous flowers are fun to make and will quickly brighten your day.

Thumb print caterpillars Use a large piece of paper and encourage all the kids to contribute to create a glorious collage.

Ladybugs - Convert a humble egg carton into a cute little ladybird.

Muffin flowers - A quick and easy activity, especially good for younger kids.

Milk carton flowers - Ask parents to save the colourful plastic lids from milk cartons to help create these little beauties.

Handprint tulips  - Quick, messy and fun, what more could you ask for in a craft project?

Marble painting - A great activity for young kids who will enjoy watching the marble roll around and leaving a bright and colourful trail.

Coloured carnations - More of a science project than a craft activity, but magical all the same.

Watermelons - Who doesn't love a slice of melon on a hot day?

Bubble stamping - Another messy but fun activity which the kids will enjoy.


These craft ideas were originally sourced on dltk-holidays.com, dltk-kids.com, dltk-teach.com, kidzone.ws, busybeekidscrafts.com

National Quality Framework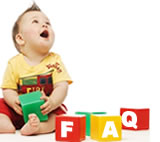 NQF fact sheet
Guide to the NQF
Guide to the National Quality Standard
Guide to Developing a Quality Improvement Plan
Guide to National Law & National Regulations

CareforKids Social

Join the conversation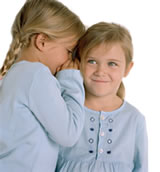 Facebook
Twitter
CareforKids Social
Latest Events

Got Some Time Out…
Catch up on back issues of Child Care News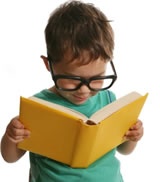 October 2012
September 2012
August 2012
July 2012
June 2012
more…