Functions of ACECQA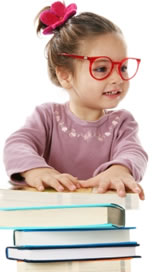 The Australian Children's Education and Quality Care Authority (ACECQA) is the new national body set up to oversee implementation of the National Quality Framework (NQF) come 1 January 2012.

The NQF replaces Quality Assurance Systems formerly managed by the National Childcare Accreditation Council and the NCAC is winding down many of its former functions in preparation for transition to the NQF.

The NCAC was established in 1993 to improve quality standards in Australian child care and through quality assurance systems, validation visits and accreditation decisions. With the establishment of ACECQA, the NCAC is being closed down.

ACECQA is an independent statutory authority which will work with state and territory governments to ensure the NQF is applied consistently. We introduced you to the new board of ACECQA last month and now we have a little more information about what its functions will be.

According to the website ACECQA's other responsibilities are to: According to the website ACECQA's other responsibilities are to:

» Read the full article…

Will Your Costs Go Up Under The NQF?
According to many recent news reports child care centres are going to have to significantly raise prices to cover costs incurred by new staff requirements necessary under the NQF.

Government calculations have shown that prices will increase 57 cents a week in 2012 rising to $8.67 by 2014 however child care providers are saying otherwise.

According to an article in The Australian Australia's biggest child care provider, Goodstart Early Learning which runs 659 centres, is planning to increase fees by as much as $7 per day next year.

Goodstart chairman Robin Crawford says the average price increase will be in the $3-$5 range and some centres in poorer suburbs will be spared an increase.

Mr Crawford supports the changes being introduced through the NQF but is calling on the government to provide more funding to pay for the quality reforms.

"Child care is a huge expense and there isn't much flexibility for parents to pay more, so either we put up with an inadequate system, or we have to drag more money out of the government," he said.

How will the NQF reforms affect costs in your service? Complete our Mini Poll and we'll let you know the results in the New Year.

» Complete the poll…

Australian Family Early Education & Care Awards
2012 nominations are now open
Take the opportunity to recognise and reward an inspiring early childhood practitioner – they deserve it.

Every nominee deserves recognition so they will all receive a certificate of congratulations.

Award recipients will share in over $70,000 in prizes including $38,000 in training and professional development grants to help them reach their goals.

Nominate an outstanding educator, carer or service team now and you have the opportunity to receive one of six $100 gift vouchers from Educational Experience.

There is one gift voucher on offer each month between October 2011 and March 2012. The earlier you nominate, the more opportunities you have.

Nominations open now until 11th March 2012.

Categories:
Early Childhood Educator of the Year
Early Childhood Director of the Year
Early Childhood Service of the Year
Rising Star Award (25 years and under)
Nominate now at www.earlyeducationandcareawards.com.au

This Much
water is all it takes for a child to drown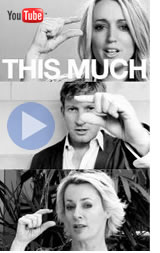 Help stop babies, toddlers and young children from drowning at home.

Tragically, it happens more easily & more often than you'd think. Children's Hospital at Westmead dealt with almost as many infant deaths through drowning last year as through car accidents, major falls, assault and other accidents put together.

So, please watch the video clip and pass it on to all parents at your child care service.

» Share the video clip…

Nannies, Babysitters, Home Based Carers, Mothers Helpers
Why do you need Public Liability Insurance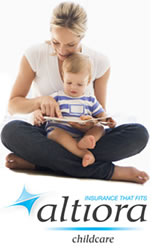 As a nanny or home based carer, babysitter, mothercraft nurse, mother's helper or house keeper/ nanny you could be held liable for personal injury or property damage. With Public Liability Insurance you have the peace of mind of knowing that you are protected in the event that you are held legally liable for the injury or property damage.

Imagine if a child was injured whilst in your care and became a paraplegic. The amount of this claim could be millions of dollars as the child would need to be compensated for the permanent effect such an injury will have on the rest of their lives. Without Public Liability Insurance, the carer is left to pay the claim out of their own pocket and is likely to be in debt for the rest of their life.

Even with the best of intentions and the most diligent care, accidents can happen. Here are some scenarios you may wish to consider.

» Read the full article…
Altiora Childcare has more than 20 year's experience working with the childcare sector.

If you would like to work with an experienced and dedicated insurance partner that shares your passion for childcare, contact our childcare insurance team on:

We may recommend Altiora Insurance Solutions Pty Ltd (AIS) as an insurance provider. AIS act as an underwriting agency and Altiora Childcare may use AIS to obtain insurance. As members of the same corporate group we may benefit from this recommendation as it improves the profit of the group. Any recommendations we make about this insurance is general advice only and doesn't take into account your particular needs and circumstances.

Interview
Shiralee Nicholls
Pelicans Child Care Centre in Atherton QLD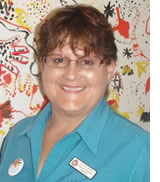 Child care professionals share a commitment to improving society by creating dynamic and nurturing care environments for Australia's youngest learners.

This month we are proud to introduce you to Shiralee Nicholls from Pelicans Child Care Centre in Atherton. Shiralee's manager Jess Whykes says Shiralee is a shining star in the child care sector who has built a community in her centre through her genuine warmth and support towards families and staff.

"Shiralee genuinely touches the hearts of not only each child but staff member, family member and the community. She is one of those old fashioned people in child care, one in which you just want to clone." says Jess.

» Read about Shiralee…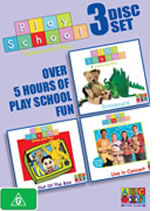 If you or someone you know deserves to be featured in this section drop us a line at editor@careforkids.com.au.

Each child care person we profile will receive a selection of DVD's for their service courtesy of Roadshow Entertainment.

Successful Sleep Strategies in Child Care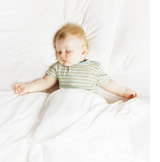 Across the world people sleep in different ways, some people sleep in beds while others use hammocks or mats on the floor. Some people sleep alone, some with a spouse or children or both. Some people only sleep at night while others value an afternoon nap. How and when people sleep has a lot to do with their culture and customs. This may include where they live, how their family sleeps, even how big the house is or how many bedrooms it has.

Child care providers have a role in providing a sleep environment that is comfortable and safe for the children in their care. Ensuring children have enough sleep is as important as feeding them healthy food and ensuring they receive plenty of fresh air and exercise.

Sleep environments in a child care setting can be very different to those in the home for example:
A child care service is likely to be more or less active than a child's home environment. Many children share rooms with a sibling or may sleep in noisy houses, others have complete silence. Learning about the home sleep environment of the children in your service will improve your chances of successful sleep in the child care setting.
Babies who are nursed to sleep, held or put in a sling may find a crib lonely and frightening. Parents who use a sling may bring one into the centre for you to use. Babies used to being held may benefit from being swaddled.
A toddler used to two daytime naps may have trouble adjusting to a new afternoon nap schedule. If the toddler can't sleep in the morning consider setting up a quiet corner where sleepy toddlers can retreat for quiet time.
What can providers do to help children feel more at home during nap time?

» Read the full article…

Christmas Craft Ideas
Don't forget our Colouring Competition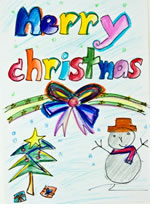 Children adore Christmas and we thought it might be fun to put together a list of simple Christmas inspired craft ideas to decorate the walls of your service and really help kids get into holiday mode.

Plus we've got a Christmas themed colouring competition for you to print and hand out to the kids in your service. We have a stack of DVDs from Roadshow Entertainment to give away. (further details below)

Christmas placemats - Use these to decorate the table for your Christmas feast. This project is suitable for kids of all ages.

Paper bag Rudolph - A cost effective project which uses paper hand prints cutouts for Rudolf's antlers.

Hand print gift tags - Another hand print cut out project, this one is suitable for even the youngest children with adult supervision.

Paper garland - An easy threading project which makes a great Christmas tree decoration.

Hand print wreath - A pretty Christmas wreath which parents will enjoy hanging up.

Spaghetti decorations - A fun activity with lots of opportunities for exploring texture and colour.

Handprint Christmas trees - Another wonderful activity for small children.

Cone Christmas trees - Kids will love decorating these cute little stand up trees with beads and glitter.

Clothes peg Rudolph - This super gorgeous reindeer is made from wooden clothes pegs.

Hands and feet reindeer - Hand and foot prints form the basis for this reindeer which will look great on the walls of your service.

These craft ideas were sourced from busybeekidscrafts.com
Christmas Colouring Competition
Grab all of Santa's helpers and get them colouring in, we have a stack of pre-schooler friendly DVDs to give away* courtesy of Roadshow Entertainment.

Just print off any of the Christmas themed colouring pages below have the kids colour them in and then send them back to us by Friday December 16, 2011. The ten (10) best will be chosen by our expert panel of elves.

Santa Claus

Elf & Reindeer

Christmas Tree

Christmas Ornament

Post your entries to:

CareforKids.com.au
PO Box 543
BALMAIN NSW 2041

OR scan & email entries to competition@careforkids.com.au

Don't forget to include your contact details.

Happy Christmas.

* Terms & Conditions

National Quality Framework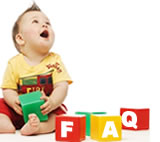 NQF fact sheet
Guide to the NQF
Guide to the National Quality Standard
Guide to Developing a Quality Improvement Plan

Featured posts
CareforKids Social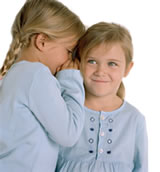 Facebook
Twitter
CareforKids Social
Latest Events

Got Some Time Out…
Catch up on back issues of Child Care News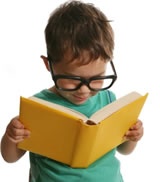 November 2011
October 2011
September 2011
August 2011
July 2011
more…