Experience Counts: Survey Results
84 per cent support for policy change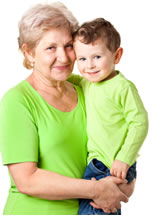 In the February edition of Child Care News we ran an article and survey on the Government's change in approach to the experience held by child care workers.

In brief the article talked about the Government's plan to lift the ban on child care centres employing unqualified people in 2014 and recognise the experience of long standing child care workers.

Speaking to The Australian Childcare Minister Ms Kate Ellis said, "we value the existing workforce, and need to make sure we have in place a rigorous system of recognising the skills that already exist for those who are really qualified, but not so on paper."

"We are very keen to look at maintaining the quality staff already in centres. We recognise that it is a passionate and committed workforce - the workers do it because of their dedication and their love for the children, and we don't want to be losing that."

This news was embraced by child care professionals and the results of our survey overwhelmingly support the Ministers about turn.

84 per cent of readers who responded to our survey agree that experience should count for long time child care workers while 16 per cent thought all child care workers should hold a qualification.

» Read the full article & survey comments…


Australian Child Care Snapshot
Read the latest statistics on child care


DEEWR has just released some new statistics on child care in Australia we thought you might find interesting:



| | |
| --- | --- |
| • | In the June quarter 2010 there were 869,770 Australian children in approved child care, up 8.7 per cent on the June quarter 2009. |
| • | Almost one in four children aged 0 to 12 years attended child care in the June quarter 2010. |
| • | During the June quarter 2010, the total estimated expenditure on Child Care Benefit and Child Care Rebate was $812.6 million. |
More than 28 per cent of children attending child care are in regional and remote areas of Australia.


Child care subsidies have reduced the cost of child care: In the June quarter 2010, a family earning $75,000 per year would have used 23 per cent of their disposable income on child care without the subsidies, compared with 7 per cent after the subsidies.


Since 2004, out-of-pocket costs for families earning $75,000 have reduced


Obtain Your Qualification While You Work
Special offer for Certificate III and Diploma in Children's Services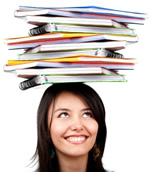 If you are interested in furthering your child care qualifications but concerned about the cost and/or balancing your work and study commitments then stop worrying!

According to Australian Training Professionals, one of Australia's leading Registered Training Organisations, many child care workers already have the skills and evidence necessary to obtain a higher qualification through recognition of prior learning.

Australian Training Professionals enables employed and job competent child care professionals to fast track a qualification through recognising the capabilities and experience gained through simply working in the child care industry

As long as you can demonstrate you have the required skills and knowledge and can provide evidence to support your claims then Australian Training Professionals can provide accelerated learning options to assist you in obtaining your qualification.

Here are some examples of evidence you can produce for your portfolio:
Third party reports from your supervisor
Testimonials from parents of the children you care for
Examples of programming you developed
Policies and procedures of your workplace
Daily reflective journals of children you care for
Certificates and professional development and/or In-service training
Menus and food handling documentation
Performance reviews/staff appraisals and many more…
With Australian Training Professionals there are no deadlines and lectures to attend and you can work and obtain your qualification at the same time. Australian Training Professionals operates across the country and you can access phone or email support whenever you need it.

Australian Training Professionals is currently offering Child Care News readers a great discount:
Certificate III Children's Services – $550
(usually $1,500)


Diploma in Children's Services – $900
(usually $2,000)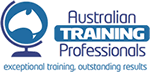 For more information call (08) 9330 3881, for course details or to download an application form click here.


Community Child Care Analysis of Draft Regulations
Review the regulations and make your submission by April 14th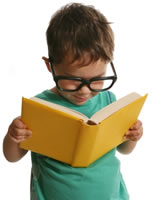 DEEWR has released the draft Education and Care Services National Regulations and you can download a copy here.

These national regulations will replace state based regulations and all services covered by the National Quality Framework will need to operate under them.

Community Child Care (CCC) is urging child care providers to review the regulations and if necessary make a submission to DEEWR.

Submissions need to be made by Thursday 14 April and should be sent to ECECQuality@deewr.gov.au

» Read the full article…


Child Care Quality
Read the latest NCAC report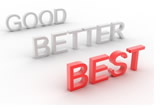 The National Childcare Accreditation Council (NCAC) has just released its latest report into the quality of Australian child care services.

The NCAC data reports on the 1102 Australian child care services, which received an accreditation decision between 1 July and 31 December 2010 and shows that:
25 per cent failed to ensure that potentially dangerous products, plants and objects are inaccessible to children


29 per cent failed to implement effective and current food, safety and hygiene practices


28 per cent failed to ensure toileting and nappy changing procedures were positive experiences; and


22 per cent failed to document children's learning and use a planning program


20 per cent did not act to control the spread of infectious diseases and maintain records of immunisations.
Minister for Employment Participation and Child Care Kate Ellis said that although the data showed that many child care services were doing well, far too many are failing to meet basic standards of hygiene, safety and education.

"The more than 800,000 Australian parents who place their children in care each week deserve to know that they are safe and well looked after Many parents would be horrified by these statistics," she said.

Ms Ellis says the Government's National Quality Framework would work to address some of these issues by boosting staff ratios, improving training and qualifications and by making the child care sector more transparent.

"Under the National Quality Framework, child care services will receive a rating from high quality, through to unsatisfactory and this rating will be made public on the My Child website," she said.

» Read the full article…


» Take our mini poll – tell us if you think the government's new rating system will have a positive impact on the child care sector.

We will report on the results of this mini poll next month, in the meantime go to CareforKids Social to talk about the new ratings system with other child care professionals and share your views.


Public Liability Insurance
The "big stick" – but is it?
Is Public Liability the bully it's made out to be?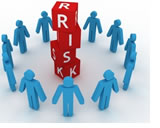 In most States, if you operate an approved or licensed childcare service you are required to comply with State Government Regulations. Fundamentally, the Regulations set out what standards you are required to meet in order to provide a safe environment for the children in care. The problem is that the Regulations don't tell you exactly how to meet those requirements. Consequently, you have to develop, implement and review risk management plans that provide the detail about how, on a day-to-day basis, you are going to meet those requirements.

Public Liability Insurance is actually an intrinsic part of your risk management plan and is the protector that could step in if, despite your best efforts, your risk management plan fails. An example would be if a child in your care suffers Personal Injury as a result of your negligence and you are held to be Legally Liable. This would be a claim under your Public Liability Insurance Policy. Without Public Liability Insurance you would be left having to pay any claims for Personal Injury or Property Damage out of your own pocket.

A normal condition of a Childcare Public Liability Insurance Policy is that you must comply with any statutory requirements such as Regulations, but other than that, the Public Liability Insurance does not prescribe what childcare activities you can or can't do. As such, it is not the Public Liability Insurance that is the "big stick" but rather the Regulations and other statutory requirements you must comply with.

Altiora Childcare has more than 20 year's experience working with the childcare sector.

If you would like to work with an experienced and dedicated insurance partner that shares your passion for childcare, contact our childcare insurance team or download the proposal and apply now!





Interview
Monique Atack
Owner/Director of Hunny Pots Early Learning Centre – Glenwood NSW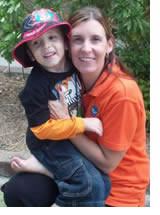 Child care professionals share a commitment to improving society by creating dynamic nurturing care environments for Australia's youngest learners.

In this month's Child Care People we speak to Monique Atack, owner/director of Hunny Pots Early Learning Centre in Glenwood NSW

» Read about Monique…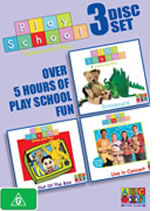 If you or someone you know deserves to be featured in this section drop us a line at editor@careforkids.com.au.

Each child care person we profile will receive a copy of Play School Collection (3 DVD set) for their service.

Courtesy of ABC Kids and Roadshow Entertainment.


Teaching Kids How & Why To Eat Well
You can influence good eating habits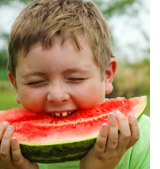 Child care service professionals are in a unique position to influence the eating habits of preschool aged children.

Harnessing the natural curiosity children have about the world is a great way to teach them about the importance of eating properly and incorporating a few simple teaching ideas into your program can help to set them on the right track for life.
Teach kids about the food pyramid and the importance of eating the correct amount of food from each level of the pyramid. Food pyramids are great for colouring and decorating and can be used by children at all ages. This pyramid is from the USA but should give you an idea what to look for.


Talk to children about where fruit and vegetables come from and how they grow. Many child care centres have wonderful gardens which the children can be involved in, don't worry if your service doesn't have the space, simply fill a pot with dirt and plant some seeds or use egg trays.


Cooking with kids promotes great interest in food and children are often more likely to eat food they wouldn't normally try if they had a hand in making it. Simple, colourful fruit salads and raw vegetable dipping plates are an easy way to teach kids about the importance of eating a wide variety of fresh foods.


Use positive modeling in your play kitchen and/or shop areas by ensuring all of the food which can be bought and/or cooked is healthy and part of the balanced food pyramid. Remove all the ice creams, pizza slices and cupcakes and replace them with fruit, vegetables, wholegrain bread/pasta/noodle products and healthy proteins.


Use picture books, songs and stories to instill knowledge about the importance of good nutrition and about the wide variety of healthy food choices available to us in Australia. Alphabet games where children think of healthy food to match a letter of the alphabet is another good way to educate kids about healthy food options.
How do you teach the kids in your service about good nutrition and the importance of eating well? Go to CareforKids Social to share your tricks and tips.


Easter Crafts
Get hopping with these fun craft ideas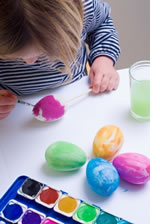 With shops starting to display their Easter wares already (it feels like this happens earlier every year!) we thought it might be fun to help you get in the spirit and stir those creative juices with some simple Easter craft ideas to try with the children in your service.

Pompom Easter Chick - a super cute and super easy pompom chick even the smallest kids can make.

Egg Carton Easter Bunny - the cups at the back of this bunny can be used as treat holders!

Speckled Easter Eggs - messy but fun activity which uses boiled eggs.

Easter Bunny Bracelet - this requires a little preparation but your kids will enjoy wearing the final product.

Boiled Egg Bunnies - this craft activity doubles as a healthy snack!

Easter Chicks on a Stick - your kids will love these adorable feathery chicks made with feathers and popsicle sticks.

Easter Egg Tree -this activity could be turned into a group project and displayed on the wall.

Easter Basket - this project uses a paper plate as a basket for displaying Easter eggs.

Easy Easter Chick -even the youngest children will enjoy decorating this cute chick with crayons and sparkles.

Easter Bunny Ears - use paper, tape and scissors to turn the kids in your service into a gang of Easter bunnies.


These ideas were sourced from www.allfreecrafts.com and www.dtk-holidays.com


Featured posts
CareforKids Social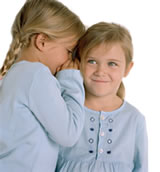 Experience now counts for child care professionals
Draft regulations – have your say
What do you think about the new child care rating system?
Latest Events


Got Some Time Out…
Catch up on back issues of Child Care News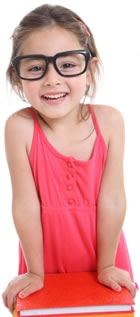 March 2011
February 2011
December 2010
November 2010
October 2010
September 2010
August 2010
July 2010
June 2010
May 2010
April 2010