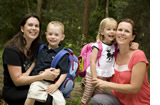 Playtime Hometime – Helping your child adjust to child care – 8 copies to give away

Playtime Hometime is jointly produced by Sydney mothers, Sarah Smith and Claire Gordon. Both have pre-school aged children. Sarah is a UK qualified childcare professional and Claire has a Marketing background.

This colourful book is designed to reduce separation anxiety for children aged 2 to 5 who are starting pre-school or childcare for the first time.

It aims to do this by walking children through the day "at kindy" ahead. Through the morning routine at home, to the moment that they are picked up later that day and all the stages of this new experience in between - play time, lunch time, rest time, home time!

Playtime Hometime aims to bridge the gap between home and childcare/preschool. It can be read both; in advance of, or the early stages of starting childcare or pre-school, to help children understand the sequence of events, between being dropped off at kindy and returning home again.

The idea for the book arose when Claire's own daughter started childcare for the first time, aged 2 and a half. She had not been in anyone else's care - other than a family member, before. Claire sketched a one page story board to help her understand how this new day would unfold.

The storyboard helped us both. As well as putting my daughter at ease, the storyboard helped me to feel at ease and to feel satisfied, having seen a degree of understanding from her about how the day would pan out. This made me feel more comfortable about setting off for my day at work. That the parent is comfortable and at ease can only be a positive and reassuring influence on the child.

To win a copy of Playtime Hometime simply contribute to our Mum in Profile segment by downloading the questionnaire here and submit to us via email including a photo (Jpeg – less than 1mb).