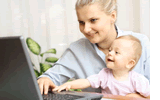 Everyday Mum's in Profile
Tell us your story and receive a special gift

CareforKids.com.au is the country's leading online child care search service and has helped hundreds of thousands of Australian parents find child care (short and long term) since it began in 2003 and connects thousands of Australian parents directly with child care services all over the country.

The Mum in Profile interview is a monthly interview on the website and via the e-newsletter that talks to a celebrity or everyday mum per month (with children of pre-school age) about her experiences about juggling child care with returning to work, study or just hectic lives with multiple children or other community and family responsibilities!

We require a recent digital (jpg – 72dpi +) close up photograph of you on your own or with your children… whichever you prefer.

Many thanks for your time.

Questions


Please provide a short general overview of your family (partner, number of children, ages, names) and your work life (schedule, activity, travel etc)


Working / studying mums:



If you work in any capacity - full time, part time and including self employed or as a student etc - what does your work involve? If it's your own company how did you come up with the idea etc.?


When did you go back to work/study after having your child/children – or when did you go back after previous children?


What were your main motivations to return to work/study and what was the hardest thing about it?


Who looks after the (non school age) children when you're working? [Type of child care etc]



Stay At Home Mums



We know that staying at home doesn't mean not working! So how do you juggle child care and other duties at home/family/community?


Does your child attend child care/pre-school for social or developmental purposes?


If so, since when and why do you think that is important? What does child care/pre-school offer your child in your opinion?



If your child is in child care / pre-school for any reason (working or otherwise), what were you looking for in your child care arrangement (main priorities, requirements etc)


How did you find your child care and was it a difficult process?


What would you do differently if you were looking for child care again?


What are the main benefits of your child care arrangement?


Have you any amusing or heart-warming child care anecdotes? (e.g. what your child got up to in child care, particular praise for carers, funny stories etc)


Any other comments about child care in general/your experiences/gripes or praise?


Thank you for participating please email your responses to editor@careforkids.com.au.