Who's Making Toddlers Fat?
The Easter bunny's gone back to his burrow, so who is making toddlers fat?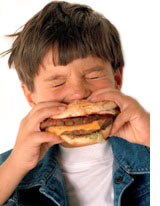 Easter's over and done with for another year and the dreaded bunny's gone back in his burrow, but how many kids still consume way too much sugar, salt and bad fats on a daily or weekly basis? How much is too much? How much should you worry about pre-school kids and what they eat?

Healthy eating is something that can be taught from a very early age and is learnt mainly in the home environment with the help of pre-school.

Around 3 years old children can easily get the basics of what's good for them and what's not. But they need to be taught. They won't necessarily pick it up by themselves and if there are loads of snacks and treats in the house, and their parents are picking at bad food constantly, then of course that's what they want to do… Kids form life long habits very early on, so it's imperative they learn good habits and they learn them from mum and dad.



»

Read the full article…




---
Maternity Leave
Australia's mums deserve innovative thinking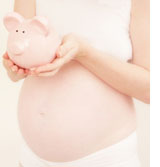 The results of the CareforKids.com.au survey show almost all parents think that a paid maternity leave scheme is crucial, with a marked preference towards six months paid leave (at 50% salary) with Government and employers jointly footing the bill.

With only a few weeks to make the decision before the new budget is laid out for 2009-10, it's crunch time for the Federal Government on the issue which is under threat of being put on the backburner 'due to the economic crisis'…

In order to help the Government in their decision making, Jo-anne Schofield, mother of two and Executive Director of Catalyst Australia (a not for profit network supported by trade unions and progressive researchers and individuals), has come up with some alternative thinking on how Australia might devise a way to afford paid maternity leave and thus avoid the embarrassment of remaining one of the very few developed nations without a mandated scheme.



»

Read the full article…




---
Great Places to Work in Australia
Work / life balance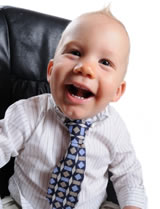 Balancing work/life commitments is a tricky business and all working parents can relate to the feelings of guilt attached to putting children in care.

Happily more and more Australian companies are coming to see the benefits of adopting a more family friendly approach to running their business through adopting flexible work practices, parental leave and so on.

In recognition of companies striving to improve conditions for employees every year BRW magazine, in collaboration with the Great Place to Work Institute, conducts a detailed study of workplace culture across a range of Australian organisations to identify and honour the Best Companies to Work For in Australia.

According to the Institute the primary purpose of the study is to facilitate the sharing of information and knowledge among all organisations that have a wish to improve the quality of their workplaces.

The results have now been finalised and the top 10 Great Places to Work in Australia are:
Google Australia
NetApp Australia
Russell Investments
Diageo
Dynamic Property Services
ETM Group
BMD Group
MRWED Training & Assessment
Red Balloon
OBS
Is your company a great place to work? Go to CareforKids.com.au Social to discuss your thoughts with other working parents.




---
Everyday Mum In Profile
Joanne Akkari
Joanne is 35 and lives with husband Tony and 3 children - Xander (5), Adrian (3) and Amelie (8 months). Tony works full-time and Joanne works from home on her own business. Xander started Kindergarten this year, Adrian is at day care twice a week and Amelie is enjoying being a baby.

After having Xander and then Adrian I left the corporate world of marketing to design invitations especially for children as I realised just how convenient it would be to order something so personal without having to leave your front door, especially as a busy mum. It's amazing how your children inspire you! I now run my own online business designing and producing invitations and cards for children (invitingkids.com.au) and have just launched another online store that specialises in wedding stationery (ohlamour.com.au).



»

Read the interview…

Are you an Everyday Mum and want to share your child care experience with others? Tell us your story and receive a special gift from CareforKids.com.au.

Download the questionnaire here and submit to us via email including a photo

---
ABC Learning's Online Forum
Parent feedback & comments essential part of the rebuilding process
In an effort to rebuild parental trust and confidence ABC Learning Centres have launched Childcare Chat a new website designed to provide parents with a forum for discussing their experiences with ABC child care centres.

The website is a vehicle for parents currently using, or thinking about using, an ABC centre to gain more information, ask questions/offer answers, discuss their experiences and make comments on ABC centres and child care more generally.

National Operations Manager Ms Nikki Miers says the company is shifting focus and that feedback and comments gained from the website will be an important part of the ABC's rebuilding process.

"We want to hear about your experiences with ABC Learning Centres the good, the bad and the 'could be better'. Your thoughts could be about child care in general, and the day to day aspects of finding the perfect centre, your experiences with waitlists or the dreaded first day!

You may like to share your ABC experience showing other families what really happens in your centre. You may just like to chat to other families about your child's individual needs and draw on their similar experiences.

To help us move forward and build a new ABC, we need to know the things that excite you, worry you, make you smile or make you frustrated. You can consider this forum the first step in opening our doors and sharing an honest conversation with you" Ms Miers says on the website.

Parents have the opportunity to submit a video, start a written discussion or comment on a discussion already underway.

For more information or to have your say on ABC Learning Centres click here.




---
Treat yourself for Mothers Day
Fabulous goodies for mums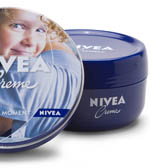 This month we have some fabulous goodies for mums in the form of pamper packs courtesy of NIVEA and Trilogy skin care labels. Treat yourself for Mothers' Day!

NIVEA is one of the world's most famous and favourite skin care brands has been around since the 1930s and now has products ranging from sun care to lip care to anti ageing face and body products, shower products and the best moisturisers and crèmes. Trilogy is a range of botanical skincare products made from active ingredients such as rosehip oil. The ingredients are 100 per cent derived from plant oils, extracts and natural sources.

Two top CareforKids.com.au mums will win a HUGE pack of goodies from Trilogy worth almost $200, including Trilogy Cream Cleanser, Trilogy Nourishing Body Lotion, Trilogy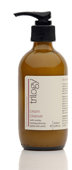 GentleFacial Exfoliant, Trilogy Vital Moisturiser, Trilogy Eye Contour Cream, Trilogy Intensive Lip Treatment.

Two runners up will each win a bumper NIVEA pack worth $36 which includes NIVEA Creme , NIVEA Lip Care Caregloss & Shine in Pink Shimmer, NIVEA body My Silhouette!, NIVEA Deodorant Energy Fresh Roll-On, and a NIVEA Hand SOS Intensive Balm.

For your chance to win, tell us about your pre-school child's eating habits / food intake?




---
CareforKids Social
Featured posts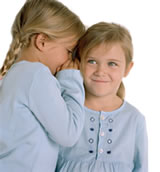 Is your company a great place to work?
Do parents expect too much from their Nanny
Is child care bad for my one year old
Nutrition in Child care
Innovative Thinking on Maternity leave
May 2009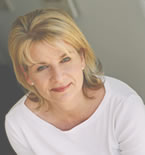 Welcome to the Mothers' Day issue of CareforKids.com.au.

This month we take a look at pre-school nutrition for kids… in the wake of the Easter chocolate bonanza, we have an article which looks at how to keep pre-school kids' eating habits under control!

The results of the BRW Best Places to Work in Australia is in and we pose the question is your company a great place to work? We also profile ABC's Childcare Chat a new website for parent feedback and comment.

With results of our survey showing the lack of maternity leave taken by most mums and with the paid maternity leave debate still a hot topic, we look at an innovative idea posed by Catalyst CEO, Jo-anne Schofield who talks about 'Leave Accounts'.

Our mum in profile this month is Joanna Akkari, founder of invitingkids.com.au and we have some bumper beauty packs to give away in our Mothers' day competition, courtesy of Trilogy natural skincare and NIVEA.

Happy Mothers' Day!

Roxanne
Parent Guide Library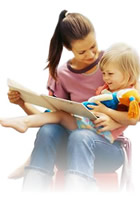 Your picks for this month's most popular articles, checklists, links & tips:

Security & Background Checks

How to use an Agency

Obligations when you employ a nanny

Babysitter checklist

Nanny Sharing


Feedback
---
Got questions, comments or ideas for us? We would like parents to take part in setting the agenda for this newsletter. Please send through any thoughts and suggestions regarding child care and related subjects that you would like us to explore.

Email our editor
Child Care News Bulletins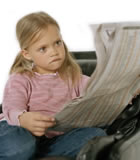 Keep up-to-date with the latest child care news articles from here and around the world.

Updated daily!



»

Read the latest news
Privacy
---
Your Privacy is Guaranteed. We will never give, lease or sell your personal information. Period!

Privacy Policy