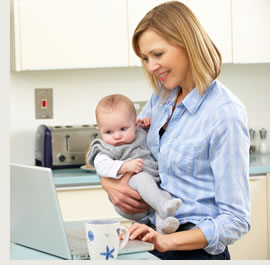 We'd all love a bit more flexibility in our lives and with child care shortages and the high costs associated with child care, flexible working arrangements are fast becoming a way of attempting to get around the work/child care juggle.
While the right to request employment flexibility has been in place for a few years, new legislation came into effect from July 1 to widen the eligibility to include victims of domestic violence, all carers, people who have a disability and people aged 55 and over.
Australia is one of the pioneers in workplace flexibility legislation, however, despite the open forum for requesting flexibility, many employees feel stigmatized as soon as they do.
This stigma has been coined "Flexibility Stigma" by Professor Joan C. Williams, founding director of the Center for Work-Life Law at the University of California, Hastings College of the Law. She says, referring to the array of flexible work arrangements some employers offer, that: "Many times these policies are on the books, but informally everyone knows you are penalized for using them".
Williams says she invented the term 'flexibility stigma' to describe that phenomenon. Recent studies have found that it is alive and well, and it functions quite differently for women than it does for men. No surprise there.
Williams believes that for some women, it gives employers a reason to view them through the lens of motherhood, prompting the strongest form of gender discrimination: Mothers are seen as less competent and less committed to their work, says Williams.
But more surprising is that men who seek work flexibility may be penalized more severely than women, because they're viewed as more feminine, deviating from their traditional role of fully committed breadwinners, and is seen as a reason in the USA anyway, why flexibility has been slow to catch on in the workplace, despite legislation in place. Seriously are we living in the stone age?
Recently studies published in The Journal of Social Issues, co-edited by Professor Williams, examined the effect of men taking leave after the birth of a child (they were more likely to be penalized and less likely to get promoted or receive raises), as well as the reasons some professional women decide to leave work after having children (working reduced hours resulted in less meaningful work assignments).
They also looked at how the perception of women using flexible arrangements differs across class lines: affluent women often receive the message that they should stay at home, while poor women are more likely to hear that they shouldn't have had children to begin with.
This is often seen in comments made at the bottom of online news stories in the media. A very common thread is from those who believe that "if you can't look after children or spend your time with them, then don't have them".
But in a country that needs women in the workforce, as well as a steadily increasing population, this argument is utterly ridiculous and ultimately ignorant. According to Ernst and Young advisory partner Amy Poynton, increased female workforce participation is the key to boosting Australia's productivity.
In EY's recent study, Untapped opportunity – The role of women in unlocking Australia's productivity potential, conducted in conjunction with Chief Executive Women (CEW), low female workforce participation is costing Australia millions we need to look at the opportunities for the country if we can increase representation of women across all industries and at all levels.
The report found that, by employing more productive female workers in flexible roles, Australia and New Zealand could collectively save at least $1.4 billion in wasted wages.
"At the heart of the issue is flexible work arrangements. Organisations need to introduce or expand their work options to better attract and retain women," Amy said.
"Our research shows that women in flexible roles waste only 11.1%, compared to an average 14.5% for the rest of the working population. When you consider that 43.2% of women in the workforce work part-time compared to 13.5% of men this translates into a significant productivity bonus that few employers are recognising," she said.
"Over the last decade, while there have been some gains in female workforce participation rate, a lot more needs to be done to ensure the waste doesn't continue."
"When you consider that female workforce participation has only increased by 4% over the past decade to 65%, while male participation is currently at 79%, and you look at that in the context of the return of investment in educating women and the potential shortfall of retirement savings for women, it's quite an alarming picture."
"What is concerning is the lost opportunity in Australia when organisations don't take advantage of the talent and productivity benefits available by employing, promoting and retaining women" said Christine Christian, President of CEW.
It's clear that enlightened organisations that adopt a variety of initiatives to build a diverse and flexible workforce, will be more successful than those organisations that let women leave the workforce just as they are reaching management level."
Lose the stigma Australia (and the rest of the world). Working women are needed and therefore so is flexibility in the workforce. Get over it.
For a factsheet or more information go to fairwork.gov.au