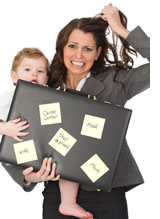 New Year, New Child Care Nightmare?




News Flash: It doesn't have to be that way



The New Year is the busiest time for child care services for new enrolments, as the majority of mums end up going back to work after the summer break.  It's also a key change time for kids leaving and going to big school, family moves to different areas and job changes.  And if grandparents aren't an option for your family, what are your options at this very stressful time of year?

Do You Know Your Child Care Options?

Many parents, particularly first time parents become like rabbits in headlights when it comes to looking for child care. And it's not really surprising. Media articles and scare stories from other parents, not to mention child care centres who publicise their huge waiting lists as a means of making themselves look more exclusive and therefore more in demand would have you believe that there is no child care out there within a 100km radius and inside of 2 years. But a lot of the time this simply isn't true. You just have to know how and where to look and to keep your options well and truly open.

There are all sorts of potential options for parents, including family day care, In Home Care, nannies, aupairs, long day care centres, pre-schools and occasional care centres.

Click here for our article that explains all the different types of child care on offer.

So, How Do You Go About Looking?


Word of mouth amongst other parents is always good. People like recommendations. But this method is very limiting and subjective. What works for one parent, doesn't necessarily work for another and you're relying on just a few people's knowledge of a limited range of child care options.
Going through the local yellow pages under child care is another, but it's laborious, hugely time consuming and doesn't offer any recommendations or knowledge as to whether that child care service has vacancies. And the size of the ad doesn't necessarily equate to the quality of care.
Treading the pavements and physically going to centres is also massively time consuming. And often means you end up joining waiting lists. Applying for places through multiple waiting lists is both time-consuming and expensive and most of the time, unnecessary too.
The Government's child care website is an option, but it's not comprehensive and can't tell you about pre-schools or if services have current long term vacancies or not.
With CareforKids.com.au Finding Child Care is Elementary

The CareforKids.com.au child care search service was the first of its kind and is still the most comprehensive in terms of its database of all different kinds of child care. Not only that, but it also shows those services that have current vacancies with its unique mapping system.


Our Vacancy Super Search allows parents to look for all types of child care and gives them the option of either doing a blanket search or narrowing down the fields to types of care considered, days needed, areas considered, qualifications required (for nannies etc) and much more.  The database is huge; the most comprehensive in Australia and so gives parents the best chance possible to find child care quickly and easily.

Once you have put in all your requirements, the search engine goes into action and will give you a list of child care options, contact details, option for testimonials, fees etc and will plot these on a map colour coded as to whether they have current vacancies or not. Red means services have Vacancies.
Melbourne City Postcode 3000

No More Waiting Lists

If however time is of the essence and you're starting to panic, then the Vacancy Alert system is a hugely beneficial too. The standard, free Vacancy Alert service (click here for more info), allows parents to plot in their requirements and be contacted directly by relevant services when vacancies arise.

Or for even more assurance and for a very small fee, the Vacancy Alert Pro service (click here for more info) only reports on services that have current vacancies and are not waitlisted. With unprecedented access to the child care options in your area, it's a very smart, convenient way to be notified of services that do have vacancies to match your requirements, straight to your inbox!

So forget all the scary stories. Think positive and jump on to CareforKids.com.au Start looking today from the comfort of your sofa. It's easy, stress free, super-efficient and with just a couple of minutes of input on your part, the rest is done by us!

Go to CareforKids.com.au for all the search options.

And while you're looking for child care, it's also important to get up to speed on where you stand on child care benefit and rebate. Don't forget that while Child Care Benefit is means tested, Child Care Rebate currently isn't, so as long as you register, even if you aren't eligible for child care benefit, you will more than likely be eligible for the 50% child care rebate (for "formal" child care). And that makes a huge difference to your pocket.

Click here for a useful article on Child Care Benefit, or go to Department of Human Services.





Leave your comments here



comments powered by