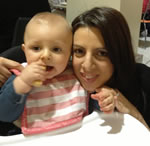 Anna Abignano has worked is a freelance Public Relations consultant specialising in the TV, film and stage, under the guise of All About PR. She lives in Sydney's North West with her photographer partner, Andrew and baby boy Aiden, 9 months.
Mum in Profile




Anna Abignano



C4K: You've worked in various areas of the media, how did you end up as a freelance PR?

AA: The opportunity to go freelance came in 2005 when, after a year's break (I travelled throughout Italy), I was offered the chance to be the PR and Marketing Manager for a comedian. I immediately registered my new business name, he became my first client, and my first gig was touring across Canada, promoting an 18-city tour. It all started from there, and now my freelance business has grown from strength to strength.

C4K: Aiden is only young, how are you managing to juggle the demands of new motherhood and work?

AA: I took six months maternity leave, and then started working from home, with just the one client. I would have loved to take more time off, but the part-time income comes in handy. Besides, I was beginning to miss using my brain! I set myself a weekly limit of a certain hours, the client was okay with that, and off I went, mostly working when Aidan slept. Easy, really! I promised myself only one client at a time – as PR is very busy and demanding – but I am currently working on two. I'm insane! But, both projects end at the end of November, and I am looking forward to taking December off to hang with my little man, then ready to work again in the New Year.

C4K: You both come from very family centric backgrounds, do you have a lot of family helping out with child care?

AA: No, I don't. I know my family would babysit in a heartbeat, but working from home, I really don't need them to at the moment. I live less than ten minutes away from my parents and two sisters and their families, so we see each other all the time. Also, I personally believe Aidan is still too little to be left with anyone else (not to mention, he's 11 kilos so my mother would struggle to lift him!), so when he's walking and older, I may just call on them.

C4K: What sort of formal child care are you hoping to use when he's older?

AA: I am hoping to get Aidan into childcare when he's about two-and-a-half to three years old. I want to socialise him and also give him a different environment to hang out in. I think that's really important. I don't want him to be sheltered. I'll start off with one or two days a week, then maybe increase to three. I know I'll get enough work in to cover the cost, but I'll miss him if it's even more than a day! I'll pick up more work when he's in childcare.

He's almost nine months old, and I think he's too young for child care at the moment. I'm not judging those who leave their infants in formal child care when babies are this young, though. Some families have no choice. They need a full, double income and there's no escaping child care. But I'm lucky in that I'm flexible at the moment so I can hold out a while longer. But I'll be straight onto CareforKids.com.au when I start looking!!!

C4K: Does your partner help out a lot or is he still getting used to the Dad thing?

AA: Aidan's Dad is an extremely hands-on Dad. He's amazing with Aidan and loves him like crazy! When he comes from work, he looks after Aidan by playing with him, feeding him dinner, giving him his bath, and settling down to sleep. It's their time and I know he loves it. I love seeing it, and it also allows me to get dinner cooked, do a load of washing, respond to work emails and do anything else that needs doing. So, it's really helpful for Aidan's Dad to do all that at night. On a weekend, we both spend equal amounts of time with Aidan. If I want to have some alone time, Andrew happily looks after Aidan, and vice versa.

C4K: You are gluten and dairy intolerant. Has your baby shown any signs of being the same yet or too early to tell? Are you developing any recipes or ideas for babies with food intolerances?

AA: No, thank goodness Aidan hasn't shown any signs of food intolerance. He had some eczema on his face, but that started well before he started solids. I ate a lot more dairy and gluten when I was pregnant, and I worried that eliminating it would cause my baby to develop sensitivity. I hope it's worked! What worries me more is that my nephew is severely allergic to egg and nuts so, because it runs in the family, I'll be having Aidan try these foods at the Children's Hospital. You know, just in case! My gut tells me he'll be ok, though.

C4K: What three things could you not do without as a working mum?

AA: First and foremost, Aidan's Dad! If it weren't for all his help, I think it'd have a melt-down! Secondly, my home office. We live in a two-and-a-half bedroom unit. The 'half' being a smaller room, which is my home office. Everything is in there, and I can hear Aidan from the office in case he cries out (having the monitor helps, too!). Finally, my coffee percolator!  If I had to choose between coffee and food, I would choose coffee. If Aidan either has a bad night or gets up at the crack of dawn, I get up (I let his Dad sleep as he works from an office five days a week). So, coffee is ESSENTIAL! It gives me that quick boost I need to sound perky and enthusiastic on the phone, which is really important for my job!