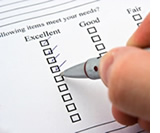 New Rating System for Child Care Services
Let us know what you think about the proposed rating system...

As part of the Government's National Quality Framework a new rating system is to be introduced with each service being rated on the standard and quality of service they provide. The new Framework will come into being on 1 July 2012.

The new National Quality Standard is divided into seven areas that contribute to the quality of early childhood education and care. These areas have been identified by research and are:
Educational program and practice
Children's health and safety
Physical environment
Staffing arrangements (including the number of staff looking after children)
Relationships with children
Collaborative partnerships with families and communities
Leadership and service management
Child care services will be assessed on their performance across the seven quality areas that make up the new National Quality Standard (as above) and given one overall rating.

All services will need to display their approval and rating information and ratings will also be available on the internet.

According to Government, the rating system will provide parents with consistent information which can be used to assist them in comparing services and will help services identify the areas they need to improve. Services rated as Unsatisfactory who fail to improve within a set period of time will be shut down.

There are five levels against which services across Australia will be assessed based on the National Quality Standard:
Unsatisfactory: indicates that a service is not meeting the standard and the regulator is working closely with the service to immediately improve its quality. If there is no improvement the centre will be closed.
Operating Level: indicates that a service is working towards meeting the standard. All new services will commence operation with an Operating Level rating.
National Quality Standard: indicates that a service is meeting the standard.
High Quality: indicates that a service is exceeding the National Quality Standard.
Excellent: indicates that a service demonstrates excellence and is recognised as a leader in the sector. Services will need to apply to be assessed against this rating.
The full Standard is detailed in the National Quality Standard for Early Childhood Education and Care and School Age Care.

What do you think about the proposed rating system?

Go to CareforKids.com.au Social Forum and air your views about this or any other aspect of child care.