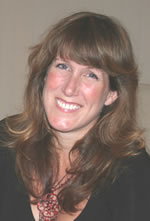 Cris Bucknall, nee Edwards, lives on the Gold Coast and is married to Jack. She has three kids: Emery 2, Kira 4 and stepson, Lewis 12.
An interior designer originally from the USA, Cris started out as a set designer in Hollywood, before travelling to Fiji and then Australia designing hotels and resorts before setting up her interior design company
MEI Mannigan Edwards International
.
This year she launched
ecochic.com.au
, a web-based retail shop showcasing eco friendly furnishings and homewares. She runs this from her home office with her colleague and friend, Paula Breckman.
Everyday Mum In Profile




Cris Bucknall



C4K: How did you come up with the idea for EcoChic.com.au?

CB: As an interior designer, I recognised that there were several gaps in the market that no national furniture company was filling:
A demand for eco friendly products and sustainable furniture
A growing population that likes to shop from home
Regional customers who simply don't have access to good quality, chic furniture stores
Eco Chic doesn't sacrifice style; it simply sells furniture and furnishings that are eco-aware. It's high time people were offered quality furniture that is also responsible!!

C4K: How do you juggle parenting and work and when did you go back to work/study after having your child/children?

CB: I always thought I wanted to keep working after having children, but everybody told me I wouldn't once it happened...wrong! I loved being with my newborn babies, but honestly they slept so much I got bored. Given a choice between doing the laundry or doing some work, I chose work!

I started back after about 6 weeks with both children and they would just sit in their little rockers at my feet happy until they were ready to be breast fed! I found the balance to be both achievable and rewarding.

C4K: What were your main motivations to return to work/study and what was the hardest thing about it?

CB: I love my work; it makes me feel energized and whole. The hardest thing is the occasional guilt that I don't want to be a stay at home mum, but then I look at my happy healthy kids who have a happy healthy mum and I think it is all as it should be.

C4K: Who looks after the kids when you're working?

CB: The two young girls go to a day care centre 5 days a week 8:30-4:30 and my stepson goes to school.

C4K: What were you looking for in your child care arrangement?

CB: I wanted to see the teachers interacting with the kids, on the floor playing, giving them cuddles and smiling...not just standing around supervising. When my kids run to their carers to give them a hug, I know I've chosen the right place.

C4K: How did you find your child care and was it a difficult process?

CB: It was extremely difficult to find five days a week! I signed up at 20 centres and was told I would have an average wait of 3 months. I just got lucky and got a call one week later with a space at a great centre.

C4K: What would you do differently if you were looking for child care again?

CB: Plan way ahead and make the job a lot easier by using CareforKids.com.au next time!!!

C4K: What are the main benefits of your child care arrangement?

CB: I get to work doing something I enjoy and the kids are getting fantastic social experiences as well as core learning skills like writing and counting to prepare them for school. They are independent and well adjusted.

C4K: Have you any amusing or heart-warming child care anecdotes?

CB: On the weekend when we drive by our daycare, my girls always wave and yell "Hi" to their carers because of course they think they live there.

I really think that child care has been a really positive experience for everyone in the family. I believe kids look to us for their cues on how to feel about something. If you find the right centre and feel good about it, your kids will pick up on that positive attitude. If you feel anxious and guilty then they will assume it is some place "bad". I tell my girls they are lucky to go to day care and play all day!