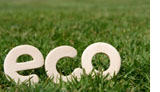 Eco Friendly Child Care


How environmentally friendly is your child care service?



Most people have the option to make an environmentally friendly decision in almost every aspect of life these days.

Among other things children are being raised with an awareness of the importance of being careful with water, recycling, reducing waste and minimising their carbon foot print.

In the USA child care providers now have the option to go green by joining the Eco-Healthy Child Care program.

Nearly 1200 providers across America have now been endorsed as eco-friendly and 46451 children are receiving care in services which are safe, healthy, free of chemicals and managed to be environmentally sustainable.

Parents are increasingly seeking environmentally friendly options to protect both the health of their children and the wider environment.

Adopting a few of the simple environmentally sustainable practices as recommended by the Eco-Healthy Child Care program could be a great way of attracting new business, educating the children about the importance of being green and helping your service 'do it's bit'.

Going Green
Green child care centres are environmentally sensitive; they take measures to ensure that the care environment offers the best for children, locally grown or organic food, non-toxic products and children are taught to respect the earth and all it has to offer.

The Eco-Healthy Child Care Program provides a Child Care Checklist which identifies 25 environmental health criteria relevant to child care providers.

Of the 25 criteria child care services must meet at least 20 to be able to describe themselves as eco-healthy, two of the 25 criteria are mandatory; the use of nontoxic techniques to control pests and no smoking anywhere on the premises or in sight of children.

You can read a summarised version of the most important categories below and then click through to the checklist for a comprehensive list of ideas you could easily introduce in your centre.

The 10 categories that child care centres should focus on in order to become eco-healthy are:


Pesticides and pest prevention
Pesticides and insecticides used to treat pests like cockroaches and ants as well as weeds, should be non-toxic whether they are used inside or outside the facility. If toxic techniques are required, a professional must apply the least toxic treatment available, parents must be notified in advance, and children cannot be exposed for at least 12 hours after application.

Air quality
This category is concerned with environmental factors that lead to mold and mildew. These factors include proper ventilation, humidity and attention to water leaks. In addition, smoking, scented candles and air fresheners must be prohibited.

Household chemicals
The chemicals in common household products used for cleaning or other domestic activities like bleach and paint can be harmful to children and the environment. The guidelines call for the use of nontoxic and biodegradable products as well as minimal bleach use. Also facilities should use low-volatile organic compound paints which have fewer odors and are less toxic than other paints.

Lead
This category is interested in reducing children's exposure to lead and among other things recommends that services use only cold water for drinking, cooking and mixing formula to reduce exposure from water lines. The guidelines also advise against the use of imported or handmade pottery for food preparation and service to avoid exposure to lead based paints.

Mercury
Switch to digital thermometers instead of mercury-based thermometers.

Furniture and carpets
Avoid wall-to-wall carpet and make sure to clean all carpets. Rugs and carpet should be vacuumed daily. Use biodegradable carpet cleaners at least twice a year to clean area rugs and carpets. Buy solid wood furniture and avoid particleboard.

Art supplies
Only use approved non-toxic art supplies and look for environmentally sound products when making purchasing decisions.

Plastics and toys
Avoid heating all plastic items in the microwave and toys constructed out of soft plastic vinyl. The safe bet is to buy toys labeled PVC free.

Treated playground equipment
When selecting playground equipment avoid items that are made of treated wood.

Recycling and garbage storage
Recycle items like glass, paper, plastic and aluminium. When storing rubbish make sure it is covered and this will reduce the incidence of pests.
These guidelines represent best practice as recommended by the Eco-Friendly Child Care program and will complement any environmental practices you already have in place. Many Australian child care services have gardens where they grow their own fruit, vegetables and herbs and most centres across the country practice recycling.

Remember, by raising environmentally conscious children we are protecting the future of the planet.


CareforKids.com.au®
© 2009 - All rights reserved
Care For Kids Internet Services Pty Ltd
ABN 55 104 145 735
PO Box 543 Balmain NSW 2041
privacy policy contact us