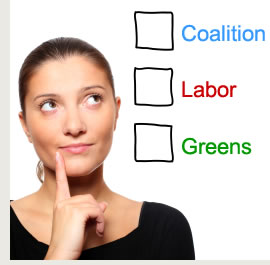 Child care is shaping up to be a huge issue in this year's election for both the early childhood sector and families.
To help you make sense of all the hot air and rhetoric the election policies of the three main parties are summarised below.
The National Foundation for Australian Women (NFAW) has collated the stated election policies of the Coalition, Labor and the Greens and broken them into categories on affordability, availability, quality and workforce.
AFFORDABILITY
Coalition:
Proposed Productivity Commission Inquiry into child care system to make it more affordable, flexible and accessible.
Terms of reference include inquiry into day care and in home services including nannies and au pairs, as well as consideration of the out-of-pocket cost of child care and the rebates and subsidies available.
Have ruled out means testing the Child Care Rebate if elected (Tony Abbott, interview 1/4/2012).
Support continuation of the Child Care Benefit. Fiscal responsibility is paramount and any funding changes will be within the broad funding envelope. (Tony Abbott, Nov 2012).
Labor
Child care related financial assistance: Means tested child care benefit CCB plus child care rebate CCR for 50 per cent of child care expenses up to $7,500 per child per year, payable, payable weekly to parents or directly to the centre.
Funding for OHSC subject to same tests and limits as Long Day Care (although note lower rate of CCB for school age children).
CCR $7500 cap to be frozen until 2017.
Jobs Education and Training (JET) Child Care Fee Assistance: additional funding to help more families on income support – and mainly mothers - to get the training and skills they need to move into work, and increased eligibility for up to two years.
Greens
Proposed a Productivity Commission inquiry to look at child care funding and how rising costs can be addressed.
Will cut the cost of child care by boosting public funding. Support a more generous and streamlined benefit/rebate payment to assist families, particularly those with special needs or in remote or regional places. Support indexation of child care assistance payments to address current high costs.
Will pay all child care assistance directly to child care centres to reduce the pressure on families who may have to pay fees up-front and claim reimbursement.
Have proposed a Capital Grants Fund to assist new services open in high-pressured areas, meaning daily fees will have to stay competitive.
AVAILABILITY
Coalition:
Proposed Productivity Commission Inquiry into child care system to make it more affordable, flexible and accessible.
Terms of reference include consideration of care in the "24 hour economy" (the hours families work or study, or wish to study); subsidising nannies and the particular needs of rural, regional or remote families, as well as shift workers.
Proposed to re-establish the Federal Planning and Advisory Commission to ensure that new services are approved on an as needs basis.
Labor
Field trials of flexible child care (including overnight and weekend care) which started in July 2013.
$190 million in training support through waiving TAFE fees for diploma in children's services, introducing a recognition of prior learning program for early childhood educators and the HECS/HELP Benefit for Bachelor of Education (Early Childhood).
Reviewing the Budget Based Funded child care program and has provided local government grants and infrastructure funding to improve the delivery of early childhood education and care in areas where child care services would not otherwise be viable.
Commissioned research into how to increase the supply of child care and reduce red tape.
$450m expansion of OSHC at schools to promote flexibility of hours and program content.
Greens
Committed to access for all children aged zero to five.
Increased financial assistance for child care services that offer flexible hours and occasional care. Enhance flexibility by expanding the number of places in the in-home care scheme.
Proposed Capital Grants of $200m over four years for community and not-for-profit services to access funds expand and build new services to reduce long waiting lists.
Proposed a three year pilot of a Micro-Care Scheme, with Commonwealth funding, to help community child care services and collectives of local businesses and workplaces, to set up a quality long day care centre on site to provide care for children of employees.
QUALITY
Coalition:
The terms of reference of the proposed Productivity Commission Inquiry includes a reworking of the current national Quality Standards framework and the needs of at-risk or vulnerable children.
Support the National Quality Framework in principle. Will work with the States to find ways to improve implementation.
Labor
Introduced the National Quality Framework to establish national standards for staffing levels and qualifications.
Supported by assistance through the Early Years Quality Fund
National Partnership Agreement on Early Childhood Education setting a goal for universal access to pre-school for 15 hours per week for 40 weeks in the year before commencing school.
$25 billion over the next four years to continue to pursue the Government's Early Childhood Agenda.
Introduced the Early Years Learning Framework (EYLF) to help children learn and develop through play and the Framework for School Aged Care to guide developmental programs in OSHC
Published the quality ratings of child care services on the Government's MyChild website.
Greens
Committed to the roll out of the National Quality Framework and have called for more support for the sector as it faces deadlines for national quality standards.
The Greens have said that quality child care includes having highly-trained and fairly remunerated staff in long day care services.
Have announced a fully costed scheme to improve the comparative conditions for educators in long day care and attract more graduates.
WORK FORCE
Coalition:
Productivity Commission Inquiry to include consideration of extending support to care provided by nannies and au-pairs.
Opposed the mechanism adopted to deliver pay increases through Enterprise Bargaining Agreements as they do not apply to all workers. Claim pay issues should be addressed through making a case to the Fair Work Commission.
Labor
$114 a week pay rise for early childhood education and care providers subsidised by Federal Government delivered through Enterprise Bargaining Agreements.
Established a Pay Equity Unit within the Fair Work Commission to look at wage levels across the whole children's services sector, including OHSC.
Funding to Child Care Industry through the Early Years Quality Fund to support employment of appropriately qualified staff.
Training support for staff set out in 'Quality' category above.
Greens
Believe educator pay rate should reflect the importance of the work they do and that lifting wages will raise quality.
Concerned that the Early Years Quality Fund wage rise does not cover all early childhood educators.
Support the Fair Work Australia Pay Equity unit for early childhood educators and expect that improving wages across the sector will be a key focus in the next parliament.
Would waive the HELP fees of recent graduates from early childhood teaching degrees, so that for every year they stay in the long day care workforce, a year of their HELP debt would be removed.
Read the NFAW's full report