The latest news, views and reviews for Australia's child care industry.
| | |
| --- | --- |
| | October, 2013 |
Kate Di Prima
B.Sc., M, Nut & Diet., APD
Dietitian, Adult and Infant Nutritionist
ABN: 50 420 368 028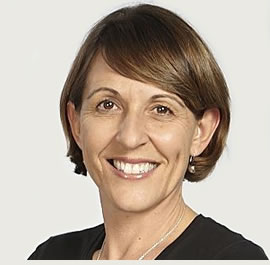 Dietitian and Media Spokesperson QLD Branch Dietitians Association

Kate Di Prima is a qualified Dietitian and Adult and Infant Nutritionist and has been working as one of the Media Spokespeople for DAA in Queensland for the past 10 years.

As an Accredited Practicing Dietitian in Queensland, Kate has private practices in Brisbane and has extensive experience across various industries including pharmaceuticals, hospitals, nursing homes and Correctional Centres.

In 1989, Kate completed a Bachelor of Science degree at the Australian National University. Whilst studying, Kate worked part-time as a diet aid at the Royal Canberra Hospital and completed her Masters in Diabetes at Sydney University. After graduating in 2002, she moved to Brisbane where she worked for both the Princess Alexandra and Royal Brisbane Hospitals as a generalist dietitian.

With her life ambition being to leave her mark in the world, Kate opened her own practice in Brisbane in 1995. As well as providing one-on-one consultations, her earlier clients included international pharmaceutical and health care companies Bristol-Myers Squibb and Novartis Consumer Health where she consulted for their adult and infant nutrition departments.

In 2005 Kate self published "The Ultimate lunchbox and dinner meals for healthy children" and established her web site ultimatelunchbox.com.au. In 2009 she established her blog site katediprima.blogspot.com which has over 1000 hits per month.

Kate has consulted to companies and been involved in the media launch of projects with companies such as Sunny Queen Farms, Subway Fresh Fit Australia, Little Tummy Tucker- baby and toddler food, Favco fresh apple slices and Gourmet Garden and also provides consulting services for organisations including the Sir David Longland Correctional Centre in Brisbane and the prison management company AIMS Corporation in Perth, BP Australia's Zip Cafes, and nursing homes in suburban Brisbane. Kate provides various services for these companies including analysing recipes to determine their nutritional value and providing advice on the development of healthy and nutritious menus. Kate works very closely with the Dietitians association of Australia offering Nutritional advice to key food group companies to promote correct nutritional messages and evidence based medicine. She has recently worked on a campaign with Australian Meat and livestock promoting healthy lunchbox ideas for school aged children.

As well as holding a Bachelor of Science degree, Kate also obtained a Masters of Nutrition and Dietetics from Sydney University in 1992. She has been a member of the Dietitians Association of Australia since 1988 and held the position of Treasurer of the Queensland Branch for two years. Kate is also a member of Nutrition Australia, Diabetes Australia and the Coeliac Society of Australia.

Kate has recently held the position of Media liaison with the Dietitians Association of Australia which requires her to consult to the media on a range of health and dietary related topics and look after a team of 14 Media Spokespeople around Australia. Kate has worked with many Media Outlets and appears regularly on Television shows including Brisbane Extra and A Current Affair and Channel 9 What's good for you?, Sunrise, the Today show, Channel 10 'First at Five' News and recently Mornings with Kerri-Anne. She writes a regular nutritional column for Practical Parenting magazine and Prevention Magazine and is interviewed regularly for the Sunday Mail Body and Soul in Brisbane and magazines, including New Idea, Woman's Day and Good Health and Medicine and the Healthy food Guide. Kate completed a TV presenting Course at the KLM Academy in Brisbane.

In 2007 Kate published two cookbooks, "Kids Meals, the whole family will love" and "Slimming and Health – low fat summer cookbook". Her third book 'More Peas Please' helping parents with fussy eaters was released in September 2009. Her most recent book "the 8 second secret' was co-authored with Dr Gail Trapp and was released in March 2010. She is currently working with her co-author on lunchbox ideas.

Kate is well recognized as an expert in Paediatric nutrition and has a very keen interest in the management in 'picky' and fussy eating practices in children. She regularly lectures to groups such as General Practitioners, Child Health Nurses, Speech Therapists, Dentists and Dental Hygienists and has been a guest presenter at many conferences providing information on diagnosing a picky eater and their subsequent management. Most recently she spoke at the AfME 2nd Expert forum Meeting held in Limassol, Cyprus, attended by Paediatricians and Neonatologists and the 2nd Annual Paediatric Summit held in Paris in March 2012. Kate has presented at the inaugural Dietitians Summit in Dubai in September 2012 and provided expert opinion in Jakarta in November 2012.

Kate is married to Paul and has an eleven year old son, Jack and an eight year old daughter Rosie.