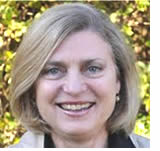 Q&A - Trish Brown


Director - UnitingCare Children's Services



As a part of our monthly newsletter for child care providers we are running a series of profiles designed to further educate our readers about Australia's most important government departments, community and industry organisations and how they work to support the child care industry, and also to put a face to the names of these organisations.

This month we feature a Q&A with Trish Brown – Director, UnitingCare Children's Services.



What is your role within UnitingCare Children's Services (UCCS) and what is your professional background?



Hi I'm Trish Brown, Director of UnitingCare Children's Services. We're the third largest provider of children's services in NSW and also have services in the ACT.

As Director, I lead UCCS' professional management team, which supports 52 education and care services, including long day care, preschool, occasional care, outside school hours care and integrated child and family centres. With over 5,000 children and families who use our services each year, we are influencing and impacting on so many lives and take pride in this responsibility.

I have worked in the education and care sector for more than 30 years in a variety of leadership roles. I am an active advocate for community based education and care, having held executive positions in the National Investment in the Early Years (NIFTeY NSW) and the Australian Community Children's Services (ACCS). I have also co-authored and presented key reports on responding to disadvantage within universal and integrated child and family centres. I am passionate about giving all children the best start in life.



How and when was UCCS formed?


UCCS has been supporting the provision of children's services since 1991. Historically, most services were set up by Uniting Church congregations as part of the church's service to their local community. Many congregations continue to play a part in the management of their community's service. 

UCCS is part of the UnitingCare Children, Young People and Families Service Group. It invests its own resources in sector leadership through its support for research, policy and advocacy and has a strong capacity to influence key public policy areas with our early childhood education expertise and on-the-ground service provision knowledge.

UCCS also takes a leadership role in the UnitingCare Australia Network, which brings together services across Australia. Through this group, we influence national policy debates on key issues that impact on children, particularly in early childhood education and care. UnitingCare resources early childhood services in every Australian state and territory – nationally we provide services to more than two million Australians, with a strong focus on children and young people.



What are the primary objectives/goals of UCCS within Australia's child care sector?


Working in partnership with families and communities, our purpose is to nurture resilient and confident children through inclusive education in sustainable services.

We want all children to have the best start in their critical formative years. We value children and advocate for positive early childhood experiences that lead to enhanced opportunities throughout life.

UCCS has a strong social justice focus, including a priority to help increase early access to quality early education and care for all children, especially those who experience disadvantage. This is supported by our Social Justice Unit, which has both advocacy and research components.

We also have a partnership with Jaanimili, our Aboriginal Services and Development Unit. Together we have put Aboriginal service delivery principles and strategies in place to improve access by Aboriginal children and families and to increase Aboriginal employment.

Our work in Winanga-Li Aboriginal Child and Family Centre in Gunnedah has demonstrated how well our strategy of building the Aboriginal workforce through capacity building and partnership can work. We like the integrated child and family centre model, for the benefits that a multi-disciplinary approach can offer.

It's a period of change in early childhood education and care, and we are actively demonstrating our capacity to the sector, as we aim to improve educational and social outcomes for children. Some of our key strengths are:
Quality early education and care
Training and management support for the community sector
Comprehensive policies that meet NQS and Regulations requirements
Inclusive services that actively promote access by children experiencing disadvantage
Aboriginal specific services
Flexible and attractive employment opportunities for staff
Management services for the wider sector
How is UCCS working to achieve those goals?


UCCS is currently starting a new three year strategic planning process. We will achieve our priorities through:
Supporting our services to implement the National Quality Framework agenda
Preparing our services for the National Quality Standard
Training and workshops to promote quality improvement and implementation of the learning frameworks – Early Years Learning Framework and My Time Our Place
Advocacy work through submissions and proposals
Building and retaining a strong and unified work force that promotes Aboriginal employment
A focus on inclusive services that all children can access
Business planning and marketing at the service level
Providing a comprehensive policies and procedures for our services
Looking for opportunities for integrated child and family services with quality education and care services as their central component
Establishing a UnitingCare National Early Childhood Network
What are UCCS's biggest challenges now?


There are many challenges of course, but there are also opportunities.
We provide a high level of support to our services so a challenge for us is to maintain this with the increased workload that comes with the NQF implementation. 

We have a big commitment to increasing access by Aboriginal children and families at the same time as building our Aboriginal workforce. We plan to do this by building capacity and investing in building qualifications. This is one of our exciting challenges, and we have the support of our Aboriginal Services and Development Unit, Jaanimili, to achieve it. We currently have 6 Aboriginal staff in our services and this is will grow when Winanga-Li opens as a long day care service.

We also want to use our advocacy and policy expertise to influence government policy and priorities, especially funding.



What do you anticipate those challenges will be in the future?


We need a united voice in the sector, yet we are in a competitive market. We believe our points of difference will attract families and staff to our services knowing they are overseen and supported by a large and well respected organisation.  Attracting funding to provide management services to the sector will continue to be a challenge. Right now we provide a high level of support to our 52 services without any funding.



What in your opinion are the biggest challenges facing the Australian child care sector now?


Our biggest challenge is balancing quality service provision with affordable fees. Services in disadvantaged or low socio-economic areas have the same operational costs but fees have to be kept low to promote access. This means that providing services in more affluent areas is more viable and potentially means community services will be less prevalent in areas of disadvantage where they are so sorely needed. 

Some other key challenges are lack of funding to support the National Quality Framework, attracting and maintaining a quality workforce, and sustaining community based not for profit services in the context of low funding and unregulated expansion of commercial services.

We are experiencing an unprecedented time of positive change and increased focus on the importance of early childhood education and care, yet the issues of affordability and participation remain the most challenging. This is especially the case for children who experience disadvantage, when research tells us they benefit the most from early access to quality education and care services.

A new report benchmarking early education across the world, Starting Well, shows Australia rates 28th out of 45 countries. Even though wealth is a major factor in a country's ability to deliver early childhood education and care services, Australia ranked poorly. I think there is widespread support across the sector for this to be addressed. There is a growing body of evidence which indicates that greater investment in early childhood education can reduce costs at later stages of education.

How the Australian government values our children's early education is reflected in the pay packets of early childhood teachers and other staff in children's services.  Despite this, UCCS has experienced a high calibre of applicants to leadership roles in our services. This is largely due to current staff giving positive messages to colleagues in the sector about the benefits of working for UnitingCare. 



Why has child care become such a hot topic in Australia over the last few years?


The research on the influence of early learning experiences and the home environment, including the educational level of parents, has been highly influential. Each year of procrastination on adequate investment in the early years means more children are disadvantaged and the gap widens. 

Whilst this should be enough to galvanise governments to action, their focus is often on meeting workforce requirements. The recent proposal to provide the Child Care Benefit for nannies emphasises this narrow focus on workforce participation rather than quality educational outcomes for children.

The reality is that both aspects are important, and it is our job to convince governments that long term investments are important, rather than the next election. 

Whilst it is great to see the increased commitment to early childhood education and care, we would like to see this strengthened with serious investment that would bring us closer to world standards.  This would mean parents can meet their workforce needs at the same time as providing the best early learning environments for their children. Some parents find there are large compromises to be made.



How can child care professionals adapt to these changes?


Early childhood professionals play a role in informing parents about quality programs, by demonstration and communication. Our staff need to articulate their philosophy and the principles of the Early Years Learning Framework in plain language.  They need to "talk the walk".

Leadership training is needed for staff to manage complex decisions about meeting the diverse needs of children and families. Leadership skills are key to managing children's services well. The early learning program for the children is one aspect. Staff management, training, relationships with families and parent education, managing budgets, strategic planning, communication processes, use of IT and rosters are some of the many skills required of our Directors. At UCCS, we provide regular leadership training for our Directors and Coordinators.



Is there anything else you can add which would be helpful for our audience, of mostly child care professionals, to know?


The staff across the 52 UCCS services tell us the support from our professional Management Team is invaluable. Having immediate access to an experienced team within a large, ethical organisation that has strong credibility means they can be confident that they can provide quality services for children and demonstrate this against the National Quality Standard. 

Investing in policy and quality roles has been a wise decision. It means we can tailor our support for services to their specific needs, and we can bring them together as a strong and united network. We would like to extend this level of support and capacity to the wider sector.

We bring a strong social justice agenda to add to our commitment to quality early education and care services.