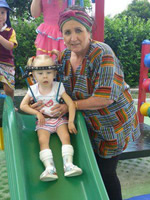 Child care professionals share a commitment to improving society by creating dynamic and nurturing care environments for Australia's youngest learners.
This month we are proud to introduce you to Lynn Afotey-Otu Director of Little Legends Early Learning Centre and Queensland Community Services Childcare Director of the Year 2010.
Interview


Lynn Afotey-Otu
Director - Little Legends Early Learning Centre
Dakabin QLD.

C4K: Which centre do you work in?

LAO: I am the director of Little Legends Early Learning Centre in Dakabin, Queensland. I have 14 staff and it is a 60 place centre with high occupancy.

C4K: What is your professional background and career experience?

LAO: I have an Advanced Diploma in Early Childhood and have worked in early childhood for 20 years, for the last 10 years as a director. Before this I worked in Melbourne as an adult treatment therapist at Odyssey House Drug and Alcohol residential facility, for nine and a half years.

I have lived and worked in Africa several times. I was hired by a large organization to teach African carers how to implement more appropriate health, hygiene and behaviour guidance strategies within orphanages I also worked with malnourished orphans and AIDS afflicted children.

C4K: What attracted you to a career in child care?

LAO: My own childhood was a big factor. I lived in a very financially and socially/emotionally challenging environment. I grew up wanting to make a positive contribution to the lives of children and to provide a safe, secure environment for them within which they can learn.

C4K: What does a 'normal' day look like for you?

LAO:
General running of a stand-alone centre; this can include fees, bookings, orientations, enrolments, staff recruitment, accounts, rosters, programs, staff management, meetings and training, parent meetings and interactions, debt collection, maintenance, seminars, workshops, conferences, network meetings,
Being available to families who, on a daily basis, are in crisis in this community by collaborating with referral services to ensure parents and children, are receiving the care and support they need and deserve. We have a large list of support services we use including; Salvation Army referrals, food vouchers, parenting help through community health centers, domestic violence/safe house referrals and other such crisis intervention services.
Guiding and supporting staff with the changes brought about by the NQF.
Working on policies, practices, and the new quality improvement plans.
Ensuring health and safety is implemented at all times.
Building, playground, furnishings and equipment maintenance.
Spending time in the rooms talking to and interacting with the children.
Plunging the toilets when they block up….ha ha!
C4K: What makes your Centre unique?

LAO: Our centre is indeed unique in many ways:
We offer a holistic and diverse program. We do not provide a tokenistic environment. We have families from many different countries here and we celebrate the festivals of the families in our centre.

We carry babies in African slings to encourage attachment and a feeling of security in infants and we loan these slings to families when they need them.

We have a staff member who is profoundly deaf. She teaches Auslan to both children and staff and helps us to support one of our families who are deaf.

All music played in the centre is world music, the DVDs the children watch are documentaries and we offer a range of musical instruments from different countries. We do regular physical movement and dance to African drums.

Flags of all countries adorn the centre walls. Genuine artefacts from different countries hang on the walls alongside children's own artwork.

We network with centres such as the Chinese Kindergarten, where we took Chinese children in our care for regular visits to mix with children of their own culture and we donated vegetables from our centre's garden to their centre for cooking.

We support the community through raising awareness of White Balloon Day,  (child sexual abuse), SIDS awareness, Daniel Morcombe Day, Autism Day, Daffodil Day, Naidoc week and Harmony day, all programs which are relevant to our families.

We celebrated Harmony Day in March with children dressing in cultural costumes. Parents came for lunch bringing food to share from their countries and staff joined the festivities in cultural dress also.

We have weekly family dining where the whole centre's children and staff eat together. This ensures quality sibling time and encourages interactions between all ages and staff. This in turn ensures a smoother transition from room to room.

We have a vegetable garden and teach sustainable living. We compost, recycle and encourage water conservation.

Our centre staff has sponsored a child from World Vision as a team building exercise for the past eight years. I visited this child in her village, with World Vision when I was last in Africa.

We have a staff member who we originally employed as a School Based Trainee from the Special Education Unit of Dakabin State High School. She won the title of 'Quest Business Achievers, School Based Trainee of the Year 2010'. She completed Year 12 and her Certificate 111 in Children's Services in 2011. She is now a permanent and valued staff member.

We have a large, productive Mum's Hub; a gathering of mothers who come together to discuss issues at hand either relevant to the centre, to their children or just to get to know each other. Many friendships have formed from these evenings and many ideas have emerged. Currently around 30 mums attend including mothers whose children have moved on to school but still like to come. We are now establishing a Dad's Den for the fathers.

Yearly we have a centre outing/picnic. Last year it was to the Steam Trains and more than 100 parents and children attended this wonderful day.

We have a huge, secured, social networking site with over 62 photo albums where families can share their child's day and see what they are exploring and learning as they play (with written permissions from parents). We post information regarding nutrition, child safety, food safety, storage and handling, recipes of the world, first aid, kid safe fact sheets, activities to do at home and many other sites of information for families. We have posted the EYLF and many other areas of information such as the local community health drop in-centre hours of operation and provisions of support such as their multicultural playgroup. Currently all families access this site.

We are proud of our contribution to the environment by banning plastic bags for soiled clothing in our centre. Parents happily purchase a 'Smelly Bag'. A brightly coloured, lined, water proof, washable, odour proof, zip top bag that is a more healthy and hygienic way in which to send home wet or soiled items. The children and parents love these (Web site is 'www.smellybag.com.au) and we highly recommend them.

My staff members are consistent and dedicated. Most of us have worked together between eight-16 years. We have featured as a team in many child care publications such as Childcare Australasia, Small Wonders magazine and several local newspaper stories about our inclusive practices and events. Our accreditation status at the last validation was 100% HQ in every area. We are currently awaiting a status under the new standards. We are not due until 2013.

C4K: What are some of the advantages of working in the child care sector?

LAO: Coming to work on a daily basis and having fun. Seeing a child learn and/or experience something new and exciting. Having a great rapport with my parents, and working collaboratively with them to ensure their children receive high quality care based on our knowledge of their backgrounds, interests and abilities.

C4K: What are some of the biggest challenges facing the child care sector?

LAO: This industry is in crisis. We suffer staff shortages due to low pay, long hours, too much paperwork, and un-realistic expectations of staff. I believe the government's lack of planning when implementing too many changes too soon is having massive ramifications in this industry.

Regulations and Standards are only as good as the staff that implement them. Poor quality staff will deliver poor quality care regardless of the guidelines. Recently I made the statement, "I cannot find a teacher to employ despite several expensive and long running advertisements."
I was told "it's mandatory." Of course, I know this but sometimes the impossible is not able to be achieved.

There is no problem-solving in: 'Do it because it is regulated'. That is because no one has the answer. The same as myself telling staff who are only obliged to work their 7.5 hour day, that they only way for them to do all that is required is to work at home and weekends. Their award says they don't have to, but if they don't they are not doing what is required under the regulations. So what is the solution to all this?

C4K: How has your centre changed to deal with these challenges?

LAO: We ensure our staff get the programming time they are entitled to, that they are treated with respect, that their stress levels are addressed and that they get the training they need, but this will do little as time goes on to ensure quality educators stay in an industry that is not seen to value the work they do. You get what you pay for.

All of our staff will attend the Listening Tour meeting in Brisbane on 28 April with Karen Curtis from ACECQA, who will head the conference for Directors, Educators and any other interested parties, to hear what challenges are being faced, the frustrations, the stress levels and what is not working. You cannot expect a change in structure of this magnitude; expecting long hours and extra commitment, higher qualifications, change of titles to educators to give a more professional image to this industry, and expect high quality care when you are paid peanuts.

C4K: How does the industry need to change to adapt to these challenges?

LAO: The government must acknowledge the pressure placed on early childhood staff particularly since the NQF, acknowledge that 180 educators a week are leaving the industry and that the mandatory ECT by 2014 are in low to no supply. Many centres are finding it impossible to recruit ECT. We have had several ads in papers with only a couple of results. These applicants were unsuitable. Again the expectations of hours, work and study that is being placed upon early childhood educators is unrealistic, stressful and there is no incentive for quality staff to stay in an industry that is so underpaid. I recently spoke to an educator who left the industry, despite loving it, when earning $18 an hour, for a job packing shelves for $24 an hour. People's mortgages, rent, cost of living is not being met as prices rise but wages do not.

C4K: What advice would you offer someone thinking about a career or looking for a promotion in child care?

LAO: Early childhood is a worthy and fulfilling career. If you are prepared to work hard, commit to study and are dedicated there are many opportunities to further your career in this industry.

As the early childhood industry moves into this new era of change it is important for centres and directors to network with each other, to support each other with ideas and time and to support any move to seek an increase in wages, to ensure we can begin once again to recruit and retain high quality staff that children now and in the future so deserve.


---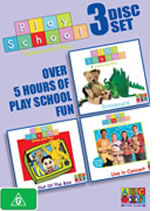 If you or someone you know deserves to be featured in this section drop us a line at editor@careforkids.com.au.

Each child care person we profile will receive a selection of DVD's for their service courtesy of Roadshow Entertainment.