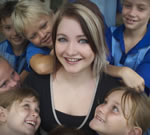 Time to Upgrade your Skills?


An Early Childhood Degree from James Cook University could be the answer



From 2014 most long day care and kindergarten services will be required to employ an early childhood teacher. This change to the National Quality Framework may create thousands of jobs nationally, so it's a great time to upgrade your skills with a professional qualification.

If you already hold a Certificate III, Diploma or Advanced Diploma in Children's Services, you may be eligible for up to 24 credit points towards your Bachelor of Education (Early Childhood) with James Cook University (JCU).

At JCU you can study a Bachelor of Education (Early Childhood) online from anywhere in Australia. In your final year, students are required to attend a 5-day intensive professional orientation program at either the Townsville or Cairns campus.

The JCU Bachelor of Education (Early Childhood) will qualify you as a teacher of children from birth to eight years of age in childcare centres, kindergartens, preschools and schools.

During the degree you'll study across a range of disciplines including child development and psychology, theories of learning, curriculum and assessment and understanding the diversity of learning needs within the early years.

JCU students enjoy professional experience in schools from the first year of study. This practical, hands-on approach builds confidence and understanding ensuring you're work ready upon graduation.

Teaching is a portable qualification and teachers are in high demand throughout Australia and overseas. Many JCU graduates have taken the opportunity to travel and teach in Europe, the UK and North America.

Jemma Regan studied externally with JCU. "I like the flexibility of being able to study when and where I want to", says Jemma. "I've met some amazing people and made good friends and support networks."

Having undertaken a placement within a rural school of just 52 students, Jemma has discovered the direction she'd like to take her career. "I would love to work in a school like this. You can form close relationships with your students and give them the time and attention they need."

Now in her final year, Jemma is really optimistic about the future. "Education is the most interesting and versatile degree. It can take you almost anywhere."

Apply now to start your Bachelor of Education (Early Childhood) with James Cook University mid-year. Applications are made through QTAC www.qtac.edu.au.

To find out more about the degree go to www.jcu.edu.au/courses/education or contact JCU on 1800 246 446 or study@jcu.edu.au.