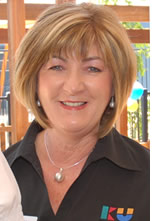 Q&A Chris Legg


CEO KU Children's Services



Over the next few months CareforKids.com.au will be profiling some of the people running the key organisations in Australian child care. This month we feature a Q&A with the Chief Executive Officer (CEO) of KU Children's Services Christine Legg.

Christine was appointed as the CEO of KU in April 2011 and is responsible for the operations of the whole organisation she works closely with and reports to a voluntary Board of Directors.

Christine has a background in early childhood education and undertook her first early childhood teaching qualification in South Australia. She has worked as a teacher and director in long day care and preschool, as an educational consultant, a professional development trainer and in various early childhood education managerial roles within KU over the last 30 years.

Christine is currently a member of the National Board of Early Childhood Australia (ECA) and is a member of the Executive Committee for ECA NSW Branch.

Please tell our readers a little about KU's background and history.
KU is Australia's leading provider of not for profit, community based early childhood education.

Established in 1895, KU is Australia's oldest early childhood education provider and has always been at the forefront of the early childhood education reform and practice.

The Early Years of the NSW Kindergarten Union
The groundswell for the kindergarten movement began in Australia in the late 1800s. At that time great concern was held about the many young children living with their families in very poor conditions, who were often neglected and had no access to appropriate education. The worsening of these conditions by a major strike in 1890 and the depression of 1893 resulted in widespread destitution in the slum areas.

Social reform was linked to the education and welfare of these young people. In August of 1895, a meeting of kindergarten enthusiasts was held and those present formed themselves into a provisional committee of The Kindergarten Union. They were led by the well known feminist and educator Maybanke Anderson. The stated objectives of this committee were to:
Set forth kindergarten principles
Endeavour to introduce those principles into every school in New South Wales and
Open Free Kindergartens wherever possible
The first Free Kindergartens
The first Free Kindergarten was opened in January 1896 in a Mission Hall in Sussex Street. This site did not prove suitable, as there were not enough families in the area so the kindergarten was moved to Charles Street in Woolloomooloo. Enrolments increased but the premises proved to be inadequate and the kindergarten was finally moved to Dowling Street in Woolloomooloo, where it remained for 21 years.

The Kindergarten Union Teacher Training College
In the first ten years of establishment, the Kindergarten Union founded a teacher training college (with over 200 students trained there during that time) and opened five kindergartens in Sydney, three in Newcastle and one in Bowral. As the Kindergarten Union developed, there were three main areas of operations:
The administration of the organisation
The establishment of kindergartens/centres
The training college
KU Today
KU has gone on to become the leading not for profit provider of early childhood education in Australia, with over 150 services now operating in the ACT, New South Wales, Victoria and Queensland. During this time, KU has built a solid reputation for leading the field of early childhood provision and enriching generations of young children's lives.

What are KU's primary objectives/goals within Australia's child care sector?
KU has a Strategic Plan "Making the KU Difference" and our vision is that "Every family is able to access affordable, high quality early childhood education and care for their children".

Our three main objectives are for KU to:
Become the most preferred provider of early childhood education and care services
Become the most trusted and respected adviser to families, communities, educators, the media and policy makers on early childhood education and care
Become the "employer of choice" in early childhood education and care
How is KU working to achieve those goals?
We evaluate our strategic plan formally on a regular basis and have a number of strategies and measurements in place which are realised by the work our early childhood professionals do on a daily basis with children and their families.

Over the last 117 years since our foundation, KU has continued to evolve and grow and many families choose to send their child to a KU early childhood service. We currently cater for more than 15,000 children from 12,000 families in our services in long day care, preschool, family services, early intervention services, vacation care, out of school hours care and our adult migrant education programs.

KU is represented on more than 30 external advisory groups including national and state governments, tertiary training institutions, national and state advocacy groups and many community groups and are often contacted by the media to give our position of various issues pertaining to early childhood education and we see our advocacy role as being important.

KU has a large number of staff who stay with us for many years and our staff retention rates are higher than the average in the sector. Staff say they appreciate the professional support they receive from our team of Early Childhood Education Area Managers and our Education Support and Family Programs Team as well as the support provided by our central office teams that include human resources, finance, property, child well being, marketing and publications, IT and our extensive professional development and learning program.

What are KU's biggest challenges now?
The introduction of the National Quality Framework for early childhood education is an exciting and challenging time to be in the sector. I believe the changes these reforms are bringing will ultimately benefit young children across Australia. KU has long advocated for consistency across all jurisdictions; the ability for all early childhood service types to participate in a quality improvement system; and the importance of having university qualified early childhood teachers as the pedagogical leaders in early childhood services.

One of our biggest challenges with the new reforms is to support our staff through these changes, as they come to learn the new National Law and Regulations as well as engaging in the new National Quality Standards. We are also aware of the particular challenges this brings to our long term experienced but unqualified child care workers who are required to hold or be in the process of gaining their Certificate III by 2014.

As the Productivity Commission reported, there is a shortage of qualified early childhood teachers and the early childhood sector still loses a large number of new university early childhood graduates to the school sector.

Like all new systems there will be some teething problems and some general misinformation circulating in the sector, so we see that KU has a responsibility to distribute up to date and accurate information to our staff and to families and to provide professional support and leadership throughout this process.

I also see that KU and other organisations have a role in providing genuine feedback to government and the newly formed Australian Children's Education and Care Quality Authority (ACECQA) in all matters relating to the new reforms.

What do you anticipate those challenges will be in the future?
Despite the new reforms, the early childhood sector does not receive the status and standing in the community it deserves. This gives us the challenge of educating the wider community about the importance of the early years and to move it beyond a "child minding" and "industry" concept to the recognition of a legitimate profession.

I have long advocated for pay parity and equal status between early childhood teachers and our teaching colleagues in schools. As parents, we do not question why we need teachers in school settings and yet, throughout the formation of the National Quality Reform Agenda this has been an ongoing debate both within the early childhood education sector and the wider community.

In an effort to inform families about the National Quality Standards and how to select a high quality early childhood service for their child, KU has produced a booklet for families: Understanding quality in early childhood education – A guide to the National Quality Standards for parents and carers of young children. This booklet is being distributed widely for free to families through our own network and the wider community.

What is your vision for KU?
My vision for KU is that our organisation will continue to evolve to meet the changing needs of families, communities and society in general; provide thought leadership to the sector and most importantly we continue to keep children and high quality early childhood education as the focus of our work.

Why has child care become such a hot topic in Australia over the last few years?
In practical terms, the number of women returning to the workforce and the absence of extended families has highlighted the need for early childhood education services in the wider community and we have seen the growth in long day care, family day care, work based care and out of school hours care to accommodate this need.

However, the research on children's brain development has also highlighted what early childhood professionals have known for a long time, and that is a child's early experiences are fundamental to their success in later life. In early childhood education we promote children's dispositions to life- long learning through a play based curriculum with a strong emphasis on the importance of relationships rather than on "content" that we know is ever changing at a rapid rate in our world.

What, in your opinion, are the biggest challenges facing the Australian child care sector now?
There are several challenges facing the sector now including:
Embracing the new reforms;
attracting and retaining qualified staff – particularly in rural and remote areas;
balancing the tension between providing high quality early childhood education programs and
keeping fees affordable for families – particularly for families with lower incomes;
lack of capital funding to upgrade old buildings; and
the increasing move towards commercial rents for early childhood premises from landlords.
How is Australia's child care sector changing?
The National Quality Framework aims to provide consistency of standards across all Australian States and Territories and inform families of quality early childhood education. This will bring about many changes and some jurisdictions will be able to meet these changes quicker than others. It is particularly challenging for rural and remote communities where there is a huge shortage of qualified staff.

The introduction of improved staff to child ratios particularly for children under two years of age, the requirement to have qualified staff and participation in the National Quality Standards and rating system will inform the community at large of the complexity of early childhood education.

What do you think about the changes and how they are being managed?
The sector has known about the introduction of the National Quality Framework for a few years now, however, some of the details within the documents were not finalised until late last year so this has created a need for up to date information being circulated regularly to all those involved.

Introducing a new national system will always produce some angst in the sector and there will be some inconsistency and conflicting information for a while. We are looking forward to ACECQA forms being available on line and having a few services undergo the new NQS process so we can share these experiences with our other staff and families and learn how better to support them through the process.

How will these changes impact child care professionals?
Initially, the new system has created more work for early childhood professionals as they learn the new law, regulations and requirements. For a large organisation such as KU, it has required us to review all our existing policies and develop new policies and resources to support our staff. The large volume of polices to be reviewed and our extensive consultation process with our staff and families has impacted on our staff's workloads as we strive to gain their feedback, collate their comments and finalise the policies and resources.

It has also given us opportunities to share ideas, form learning communities within our organisation, and use this new system as an over arching tool to discuss and reflect on our practices – not just from a compliance perspective but from the perspective of what is right for children.

How can child care professionals adapt to these changes?
Early childhood professionals with a commitment to their own ongoing professional development and learning constantly engage with reflective thinking, evaluation and looking forward.

With any new system, it is better to fully embrace it, reflect on its impact and question its effectiveness.

As services will be assessed through the National Quality Standards, so too will the system assess itself through feedback from the sector and the overall results the new system will bring.
I would expect that the system will be adapted over time to reflect the current thinking and research about high quality early childhood education.

What, in your opinion, are the most important factors to ensure Australia has a world class early childhood education system?
We need a commitment from the whole of the Australian society. The provision of early childhood education is not just a workforce issue, (although clearly it is needed). Early childhood education needs to be recognised for its importance in its own right and then funded appropriately. This would result in early childhood education being available to all children across the country no matter where they live and early childhood professionals being recognised and paid at the same level as their school colleagues.

It is only when we reach this "whole of a nation" valuing of early childhood education that Australia will become world class.

Final word…
I would like to say the following to all the early childhood professionals who are currently working with children and learning the new requirements - you are a dedicated group of people who are not generally motivated by monetary rewards but by the intrinsic rewards you gain by knowing you make a difference to the lives of young children.

For the first time in Australia's history we have a whole of government agreement to improve early childhood education and you are part of this historic moment in time. Embrace it – reflect on it and stand proud of your work.



If you'd like to nominate a key child care organisation or someone you'd like to see profiled please drop us a line at editor@careforkids.com.au