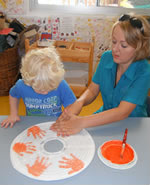 Child care professionals share a commitment to improving society by creating dynamic and nurturing care environments for Australia's youngest learners.
This month we are proud to introduce you to Lee Sadler – Lead Educator & Assistant Director Star of the Sea Catholic Child Care Centre.
Interview


Lee Sadler
Lead Educator & Assistant Director Star of the Sea Catholic Child Care Centre

C4K: What is your name?

LS: My name is Lee Sadler (sometimes Lee-Lee) and I am 37.

C4K: Which centre do you work in? How many staff and children are in the centre?

LS: I work in Star of the Sea Catholic Child Care Centre which has 25 staff and 120 families.

C4K: What is your professional background and career experience?

LS: I was a late starter to child care at the age of 26 but once in, was hooked. My experience started in the UK where I worked from an assistant level up to room leader. I gained a Foundation Degree Arts in Early Years (translated to an Advanced Diploma) while I was working full time then moved to Australia four years ago.

I worked in a number of centres doing casual cover for a while until gaining full time employment on the Gold Coast where I first moved to.  I had a great time looking after the toddlers and even got offered the director's position but turned it down as I was moving too far away for me to continue working there. 

Once I moved to my current home I gained employment as a Kindergarten Group Leader until moving to my present employers where I am a Kindergarten Lead Educator, Workplace Health and Safety officer and Assistant Director for Centacare Child Care Services – Star of the Sea.

C4K: What attracted you to a career in child care?

LS: I was bored of doing the 9-5 office work I was previously doing, saw an ad, and thought it would be great to be overworked and underpaid!!! Now that I've had my joke...I wanted an interactive workplace and love getting down to the children's level and going on a journey of learning with them.

C4K: What does a 'normal' day look like for you?

LS: Well, it depends which hat I'm wearing on that day.  I could be following the kindy room routine - playing with children, writing learning stories.  I could be doing WH&S checklists and implementing new requirements. Or, I could be based in the office.

C4K: What makes your centre unique? 

LS: I work with an amazing team led by a dynamic director who strives to bring out the best in all of us and to make us a leading example of quality long day care.

We follow an emergent curriculum that centres its program on the interests of the children.  We work closely with parents to gain as much information about the children and their families, and their likes/dislikes, so we can offer the best curriculum suited to their needs.

It is important to us that parents are made to feel welcome and valued and we offer many opportunities for them to be involved within the centre.  This is through parent partnership meetings, orientations, activity involvements, parent committee meetings, parent input forms, care plans, and meet and greets on an everyday basis.

We are located by the sea and are working very hard to increase the amount of natural influence for the children. This also impacts upon our decision to work towards conservation and sustainability. We have a vegie patch with many of our plants donated by our involved parents. In the near future we are going to be extending this by having some raised garden beds. 

In our kindergarten rooms we have 'The Cooking Club' and, once a week, we have a learning experience centred around food.  This could be making dips, sushi, muffins, smoothies, cookies, or biscuit decorating.  We often use fruit, veg and herbs from our garden.  We are also influenced by the cultures and heritages of our families as to what we might make.

We are lucky to have an on-site chef who cooks and prepares a wonderful range of dishes for morning and afternoon teas and for lunch.  The children are always provided a hot lunch and they love what Paul cooks for them. 
Through the holiday experiences of some of our educators to Bali we have now affiliated ourselves with a Balinese orphanage. Our vision is to teach our Star of the Sea children about caring for others that may be less fortunate than us and to find ways in which we can help.

C4K: What are some of the advantages of working in the child care sector?

LS: To be surrounded by the positive energies of young minds; to work with people who endeavour to bring out the best in children; to always be learning.

C4K: What are some of the biggest challenges facing the child care sector?

LS: Within the child care sector we are heavily regulated and each educator has to have certain qualifications. The Government is even making sure that these qualifications are constantly upgraded which means more study for people. I feel this amount of education is not recognised as monetarily as other professions of the same level of education. This means there is a lack of people thinking it is a worthwhile career that offers plenty of opportunities for growth – both professionally and monetarily.

C4K: How has your centre changed to deal with these challenges?

LS: Our educators are paid above award wages.  We have constant professional development courses (both in-house and with outside organisations) that empower us with our learning.  We attend bi-annual conferences held by Centacare and we often attend in-house professional conversations.

C4K: What advice would you offer someone thinking about a career or looking for a promotion in child care?

LS: If you are thinking about a career in child care I would advise you to think about aiming high with your studies (even if this means working your way up the educational ladder) as the higher the level of educational the more opportunities you will have to diversify within the child care sector.

If you are looking for a promotion, talk to your director – see what opportunities may be available to you within your organisation; research what you want to do and find the right path to achieve this.


---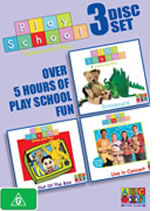 If you or someone you know deserves to be featured in this section drop us a line at editor@careforkids.com.au.

Each child care person we profile will receive a selection of DVD's for their service courtesy of Roadshow Entertainment.