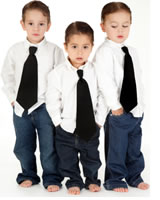 Child Care Summit


What's your opinion?



A hastily convened child care summit hosted by Prime Minister Julia Gillard and Minister for Child Care Kate Ellis and attended by key stakeholders in the child care industry has signalled further change in the already tumultuous child care sector.

The Prime Minister met with child care providers and industry groups in early June to talk about rising fees, costs of providing care and possible changes to improve affordability.

A range of options were put to the Prime Minister including capping child care fees and direct funding for centres to lower fees in lieu of paying parents the child care rebate and child care benefit.

The Prime Minister was non-committal about the proposals discussed and said that the government will take its time to make any changes around child care funding.

Speaking to the ABC after the talks Ms Gillard said there is lots of work to do but that the government is determined to eventually make changes:

"What's clear from today's meeting is if we are to make further headway on child care and early education that we all need to be working together.

"We discussed a number of potential ideas for the future. We talked about how we could get the best out of existing government assistance and make sure that parents are getting everything that they're entitled to.

"Working with Minister (Kate) Ellis over the next few months, we will be considering what has been put to us. We will be continuing the conversation," she said.

Goodstart Early Learning was one of the providers invited to attend the meeting. Goodstart's CEO Julia Davison said the meeting was a welcome opportunity for child care providers and key stakeholders to collaborate on critical issues.

"The first five years are incredibly important in a child's development so we must ensure early learning programs are of the highest quality while still being affordable for families and thus available to all of Australia's children.

"We're incredibly sensitive to the cost pressures facing families and we are of the view that our workforce must be remunerated in a manner that reflects their critical role in educating our children.

"We believe the Government, providers such as ourselves and families have to work together to see if we can improve the funding model, for affordability for families and appropriate wages for our workforce," she said.



What's your opinion? Click here and tell us which of the proposed options put forward at the summit (if any) do you think would help balance the educational needs of children, affordability for parents, fair wages for workers and financial viability for providers?