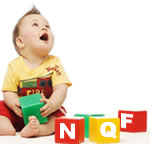 Life Under the NQF


Mini-poll results



Happy New Year and welcome to life under the National Quality Framework (NQF) for Early Childhood Education and Care.

The Australian Government says the NQF will give the children in this country the best possible start in life and we are interested in hearing how life is for you in light of the new requirements.

As you know, the NQF sets a new National Quality Standard for providers of long day care, family day care, outside school hours care and preschools.

The National Quality Standard has introduced significant changes including:
increased carer  to child ratios
new qualification requirements
a new quality rating system and
the establishment of ACECQA, the national body set up to implement the NQF.
Last year we ran a Mini Poll to see how you felt about the new staffing requirements imposed by the NQF and whether your service will be ready. The results are summarised below.

An impressive 91 per cent of you said you would have qualified staff in place ready to meet the requirements of the new reforms effective 1 January 2012.

Fee increases
Nearly 70 per cent of you said you would be increasing fees this year as a result of requirements imposed by the NQF.

Of services raising prices 50 per cent said the fee increase would be between $6-$10 per day and 44 per cent of services said their fees would increase by $5 or less per day.

2 per cent said their fees would increase by $11-$15 per day, 2 per cent said by $16-$20 per day and the remaining 2 per cent said prices would go up by more than $20 per day.  

The final question in our Mini Poll 'What do you think about the reforms and how have they have impacted your service?' provoked some stimulating comments and we have included a few here for your consideration:

"It is good to have quality child care for families and children but I still have to wonder if forcing people to be qualified is the only answer."

"Reforms are pricing lower income families out of child care and this has a major impact in remote areas on the ability of centres to operate cost effectively."

"Where are the finances going to come from to fund changes and upgrades, especially in small individual centres that do not have the financial support of a company group. Already just to print required materials the cost has been over $325 and some centres do not even profit this daily."

"As a standalone issue I support these reforms HOWEVER, they should NOT be introduced until the Government, not parents, can afford to pay for them."

"I can see the benefits of what the reform is trying to achieve but I believe having early childhood trained teachers in every centre will prove almost impossible particularly in small country towns."

"As a Family Day Care Educator, I will lose 20 per cent of my income in 2014, so it will impact my service greatly. I will have more time to spend with the children in my care, but for some FDC Educators it will be a great financial burden for their business."

"I am from a 39 place private centre, and am selling so hopefully it won't affect me too much. I can't stand the red tape anymore. I am an EC and DIP myself but I won't be returning to the industry in a hurry."

"Finding qualified staff is a major issue in this area and it will not improve until wages increase to a much higher level."

"Happy to see the new reforms come into play. Our centre has been on a 1:4 ratio for the past two years our fees are not going to increase due to the reforms."

"I think the reforms are long overdue and acknowledge the importance of early childhood education and care. However the cost of implementing the reforms - including developing and implementing change management programs to ensure staff and families are comfortable and supported during the changes is extensive. Policy and procedure review is just one of the "hidden" costs of this change and without government funding my personal fear is that some providers will be simply unable to manage a quality transition."
Go to CareforKids Social to offer your opinion on these comments and your experiences under the NQF one month in.