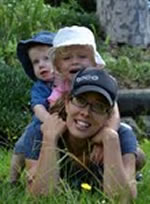 Child care professionals share a commitment to improving society by creating dynamic and nurturing care environments for Australia's youngest learners.
This month we are proud to introduce you to the
2012 Early Childhood Educator of the Year
Ms Kerry Hennessy
who works as part of the Coastwide Child and Family Services family day care service on the NSW central coast.
Interview


Kerry Hennessy
Coastwide Child and Family Services
Central Coast NSW
2012 Early Childhood Educator of the Year

C4K: What is your professional background and career experience?

KH: I completed a College Diploma in Community Recreation and Leadership training. I then moved on to work for YMCA in Montreal. I worked for a Disney Cruise Line with children aged five to eight years old.

I moved to Australia and worked for the Caringbah YMCA as a Coordinator for one of their after school services. I then moved to the Central Coast and registered as a Family Day Care Educator for Gosford Family Day Care. In September I will have been an Educator for eight years. I have completed a Certificate III in Children's Services and in February I completed my Diploma in Children's Services. I am now undertaking training in a Certificate IV in Community Services.

C4K: What attracted you to a career in child care?

KH: I have always loved children, from babysitting to a summer camp counselor. When I was younger, I found new ways to challenge myself, by working with the children. It has always been a passion of mine. Family Day Care just brings it all together, as I can watch my own child grow while still being involved in educating other people's children!

C4K: What does a 'normal' day look like for you?

KH: Is there a normal for Educators in any sector?? Depending on the day, different parents arrive, at different times with their children, they arrive to free play, craft time, explore outside and have circle time where we all come together to read a story. Afterwards we have news and do music and then it is rest time. During this time, I do the required paperwork, and when the children are up, we have more free play before parents come back to collect!

C4K: What are some of the advantages of working in the child care sector?

KH: The connection you make with the children and families! This is especially true in Family Day Care where you tend to be with the children from a young age until they head to school. The different ages are all combined, so you truly get the feeling of an extended family. All the parents interact, not only with me but the other children and parents as well! Watching the children hit milestones and getting almost as excited as the parents to see them happen.

C4K: What are some of the biggest challenges facing the child care sector?

KH: I see the biggest challenge coming up will be the decrease in ratio's from 1:5 to 1:4 in Family Day Care. Most Educators have at least one child in care of their own, so by lowering the ratio it will either be the parents getting the raw deal with fee's rising or it will make being a Family Day Care Educator no longer a viable option which would be a huge detriment to the industry.

C4K: How has your place of work changed to deal with these challenges?

KH: For myself, I have increased my skills thus enhancing my service so that if fees do have to rise, it will justify the increase. I have been proactive in educators receiving child care benefit for their own children in care. This would take off some of the pressure, that will happen when those ratio's change.

C4K: How does the industry need to change to adapt to these challenges?

KH: By allowing Family Day Care Educators to receive child care benefits, for their own children. Educators own children, are provided with the same service, no favouritism is shown and in turn should be seen as a child receiving child care, the same as the other children in care.

C4K: What advice would you offer someone thinking about a career or looking for a promotion in child care?

KH: It is an amazing profession and a massive responsibility! Your actions, not only what you plan, but how you act towards the children in your care, will make a huge impact on how that child sees themselves and who in turn that child becomes. Not many professions can say that! Also it is very easy to become stagnant in our profession after a few years, just doing what needs to be done, I would encourage all Educators to continue training, even if it is a workshop here or there, as it is through these trainings that the opportunity for networking and to be inspired happens.

Family Day Care is unique, we are self-employed, have flexible working arrangements, and we are set our own fees and working hours. We are supported from the Coordination Unit, through professional development and assist with the understanding and implantation of all our regulatory requirements and policies.

If you ever had a thought of working for yourself and love the industry, take some the necessary time to look into Family Day Care and becoming an Educator. It is also very exciting, now with the National Quality Standards coming into effect, that all children services is under one banner and framework.


---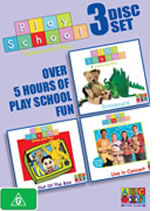 If you or someone you know deserves to be featured in this section drop us a line at editor@careforkids.com.au.

Each child care person we profile will receive a selection of DVD's for their service courtesy of Roadshow Entertainment.