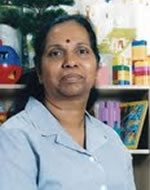 Child care professionals share a commitment to improving society by creating dynamic and nurturing care environments for Australia's youngest learners.
This month we are proud to introduce you to Jayanthi Balendra owner and director of four centres Lidcombe Pre School Kindergarten, Regents Park Pre School Kindergarten, Auburn Pre School Kindergarten and Toongabbie Pre School Kindergarten.
Interview


Jayanthi Balendra or "Aunty Bala" Owner/Director of four centres in Western Sydney NSW

This month we are proud to introduce you to Jayanthi Balendra owner and director of four centres Lidcombe Pre School Kindergarten, Regents Park Pre School Kindergarten, Auburn Pre School Kindergarten and Toongabbie Pre School Kindergarten

C4K: What is your name?

JB: My name is Jayanthi Balendra and I am 61 years old. I am fondly known to children, parents and others as Aunty Bala.

C4K: Which centre do you work in? How many staff and children are in the centre?

JB: I am the owner/director of four centres: Lidcombe Pre School Kindergarten, Regents Park Pre School Kindergarten, Auburn Pre School Kindergarten and Toongabbie Pre School Kindergarten. I have 24 staff in all, including part timers. The centres are licensed from 28 children up to 35 children.  

C4K: What is your professional background and career experience?

JB: I have been an early childhood teacher from the age of 20 and have more than 40 years in this field starting from Sri Lanka, Indonesia, Singapore and finally in Australia. I started my first centre, Lidcombe Pre School Kindergarten in 1987 and over the years due to my passion in early childhood I started the other schools. I am a degree holder in Early Childhood Education and a diploma holder in Montessori education.

C4K: What attracted you to a career in child care?

JB: I am the eldest in a family of seven children. I suppose looking after my siblings gave me confidence and started me off at a younger age. I operated my own Montessori school in Sri Lanka at the age of 20, and continued ever since with the support of my husband and children.    

C4K: What does a 'normal' day look like for you?

JB: There is no normal day; every day is different with new challenges. One day I may drive at 6.30am to substitute a teacher who reported sick at one of my centres. Another day I may meet with a parent who wanted to discuss about his/her child or meet with the department or other agencies or I may get a call from my daughter to look after her sick child for the day etc.

C4K: What makes your centre unique?

JB: All my centres are in Western Sydney, as such I have a variety of children from different ethnic backgrounds. My centres are like mini United Nations, our children are from all different parts of the world, from Africa, Middle East, Europe, South East Asia etc. We have a number of children from refugee parents with other social issues and we also have children whose parents have never been to a school.

To meet these needs I have a multicultural staff who can speak the children's native languages. Cultural, religious, language and their different eating habits are other issues that we deal with on a daily basis. We also assist and counsel the parents with their domestic, social and settlement issues.

Our programs are catered to the needs of the children and parents and to meet their cognitive and emotional development.

C4K: What are some of the advantages of working in the child care sector?

JB: As an Early Childhood Educator it is fulfilling to see young children are nurtured and assisted to progress in their life as responsible citizens of this country. I feel working with young and tender aged children helps keep me young and learn about new developments in education, technical, medical, social cultural and other changes in the modern world. A number of children from my centers have excelled in their tertiary education and career as professionals, doctors, accountants and teachers. This gives me sense of pride and satisfaction. 

C4K: What are some of the biggest challenges facing the child care sector?

JB: With the new national curriculum there are a number of issues that affects our industry. The new staff qualifications, additional paper work for child care workers takes away the quality care, learning and supervision that are essential in bringing up young children at an early age. Staff have to juggle their quality time with extra paper work to meet the requirements of the new National Quality Framework.

In the long term, I believe that child care centres will become Early Learning Centres as part of the formal education system. 25 years ago, these centres were mainly used as child minding centres, in the last 15 years or so they took the current form and in a few years we will be faced with new challenges to cater to the needs of modern society.

C4K: How has your centre changed to deal with these challenges?

JB: 25 years ago when I started my centre I operated with only three staff and parents were happy that their child was being looked after when they were at work. Child care is a dynamic industry and changes take place all the time and I grow with the changes in the industry.

Changes in the type of parents and children and their cultural, social and educational values have changed. The demand for child care, the cost of operating a centre, the amount of bureaucracy involved have all made it difficult to operate the centres. Unlike earlier the parents are more demanding of the centres and are more focused on children's education at very early ages. To meet these challenges I employ qualified, multicultural and dedicated staff, a number of whom have grown with the centres. Staff training is an integral part of my centres so that the staff are on top of changes in the regulations, improvements etc.

C4K: How does the industry need to change to adapt to these challenges?

JB: Some of the politicians and professionals have lost touch with the day-to-day mums and dads who need to know their child is nurtured in a safe environment and cared for by dedicated staff. I think we have put over-emphasis on qualifications forgetting the dedication, experience and maturity that are paramount in looking after children in their early years.

C4K: What advice would you offer someone thinking about a career or looking for a promotion in child care?

JB: The child care industry is in a major changing phase, anyone who looks for a career in the industry needs to start with the minimum qualification and should be able to progress with the challenges and work, training, further education and experience.  

I started my career at a very early age and have progressed through changes in the industry over the past 40 years. I think child care centres are over regulated and have lost their uniqueness and traditional values. The current emphasis on degree qualified staff will not help in retaining experienced staff. Young qualified staff will choose child care as only a stepping stone and move on to other areas where they can earn better salaries. The cost of operating a child care centre should not outweigh the benefits and service that is provided.

Centres should offer children the opportunity for education and play and should be a safe and healthy environment where children are looked after by warm, caring and dedicated staff. A mutually supportive relationship between the centre and a child's family is crucial in providing quality care and education. 

Jayanthi Balendra was a finalist of the 2011 Small Employer of the Year category at the NSW Training Award.

---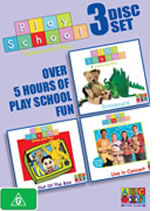 If you or someone you know deserves to be featured in this section drop us a line at editor@careforkids.com.au.

Each child care person we profile will receive a selection of DVD's for their service courtesy of ABC Kids and Roadshow Entertainment.

Courtesy of Roadshow Entertainment.