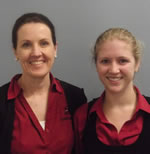 Child care professionals share a commitment to improving society by creating dynamic and nurturing care environments for Australia's youngest learners.
In this month's Child Care People we speak to Leah Kruger and Simone Gee from Ladybug Early Learning Centre and Kindergarten in Kilsyth Victoria.
Interview


Leah Kruger and Simone Gee from Ladybug Early Learning Centre and Kindergarten in Kilsyth Victoria.

This month we are proud to introduce you two inspirational child care professionals from the Ladybug Early Learning Centre and Kindergarten in Kilsyth, Victoria.

Simone Gee and Leah Kruger were nominated by Michelle Thomas who described them as living proof of the excellence and possibilities in the child care sector:

"They provide a stimulating and wonderful program for our children and are great role models who make the early child industry something for others to strive towards, they are inspiring and passionate people who are adored by both children and staff," she said.

C4K: What is your name?

LK: My name is Leah Kruger and I am 22 years old.

SG: My name is Simone Gee I'm 43 years of age.

C4K: What is your professional background and career experience?

LK: I have been working in the early childhood industry for three years, I completed a Certificate III and Diploma of Children's Services and am currently studying for a Bachelor of Childhood Studies through Monash University.

SG: I am a qualified primary and kindergarten teacher with 16 years experience.

C4K: What attracted you to a career in child care?

LK: I was initially attracted to working in child care, after helping my Mum, who also works in the industry, with her end of year Christmas preparation. I enjoyed working with the children and that is the first time I decided I wanted to study to become an educator in the industry.

SG: Being able to help lay the foundations for a love of learning in the early years.

C4K: What does a 'normal' day look like for you?

LK: Everyday is a new day in child care: Children making new discoveries, experiencing new interactions with others and challenging themselves in new ways. Walking in to a wonderful atmosphere of children learning through play creates a huge sense of family community.

SG: Busy, busy, busy! Always different, lots of laughs, learning new things from children and colleagues.

C4K: What are some of the advantages of working in the child care sector?

LK: There are endless advantages to working in child care. What drives me is the passionate community working together: children, families and educators. This collaboration in all areas has such an impact on the children throughout the day.

SG: Children are keen to learn and explore and working with the passionate staff and caring families.

C4K: What are some of the biggest challenges facing the child care sector and how have you changed to deal with these challenges?

LK: The biggest challenge in the child care sector is giving children everything that I can provide throughout the day, from experiences through to communication. I continuously persist in providing rich interactions with as much as I possibly can. 

This is something that doesn't need to be changed in an educator, I believe that it is the frame of mind and how each person values early childhood and the qualities that educators and children bring.

SG: Helping parents understand that play is learning and that we are educators. To deal with this we offer parents snapshots of what we do on a daily basis and try and teach them that children learn through play.

C4K: What advice would you offer someone thinking about a career or looking for a promotion in child care?

LK: The advice I would offer to someone thinking of a career in child care and/or looking to further their education or win a promotion would be to push yourself and continue with your passion, as when you get there the rewards are endless and you will find yourself fulfilled.

SG: Make sure you are passionate about children and ready to work hard. There are many benefits for children attending kindergarten and long day care; I know that together with other educators supporting children to have good feelings about themselves and by providing an environment that gives them choices about their learning can only benefit a child's development.

I can only encourage others to take the leap into further education and be part of the journey of life.

---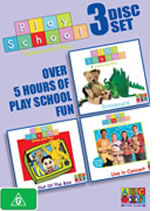 If you or someone you know deserves to be featured in this section drop us a line at editor@careforkids.com.au.

Each child care person we profile will receive a selection of DVD's for their service courtesy of ABC Kids and Roadshow Entertainment.

Courtesy of ABC Kids and Roadshow Entertainment.