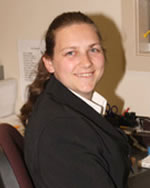 Child care professionals share a commitment to improving society by creating dynamic and nurturing care environments for Australia's youngest learners.
In this month's Child Care People we speak to Rebekkah Figura at Nipperville Early Learning Centre in Watson ACT.
Interview


Rebekkah Figura
Centre Manager
Nipperville Early Learning Centre

C4K: What is your name?

RF: My name is Rebekkah Figura (Bek) and I am 25 years old.

C4K: Which centre do you work in?

RF: I am the centre manager of Nipperville Early Learning Centre in Watson A.C.T, we have 31 dedicated staff members looking after 120 children.

C4K: What is your professional background and career experience?

RF: I have a diploma in children's services and I am in the final year of my Bachelor's Degree in Teaching (zero-five years). I started off in after school care and then moved into long day care and from there I progressed from assistant through to centre manager over the course of my six years working in the industry.

C4K: What attracted you to a career in child care?

RF: I love spending time with children and watching them learn. I spent a lot of time looking after my cousins when I was younger and then babysitting children as I grew older, so I joined the child care profession so that I can help children grow and learn in their important early years.

C4K: What does a 'normal' day look like for you?

RF: Most of my days are spent ensuring the centre is running as smoothly as possible, communicating with staff, parents and children. Meeting everyone's needs to the best of my ability and of course filling out the paperwork.

C4K: What makes your centre unique?

RF: Our centre is one of the largest centres in Canberra; we offer a French language program which is delivered by qualified teachers twice a week to the children.

We also have a gardening program in which Margaret Brewer, one of our dedicated green-thumbed staff members, teaches the children all about growing our own produce, recycling and of course the importance of looking after the environment.

Our staff were carefully recruited and are one of the centre's biggest assets. We encourage and support our staff through their ongoing training.

Another of the centre's best assets would have to be our big playground with real grass and our tree with the lovely bench seat around it which just adds to the feel of the yard.

C4K: What are some of the advantages of working in the child care sector?

RF: The joy and satisfaction that comes from working with children and watching them grow and learn and the experience gained from working alongside the parents while providing a nurturing and caring environment for their child.

C4K: What are some of the biggest challenges facing the child care sector?

RF: Keeping good qualified staff within the industry and recognising staff for the important role they play in the life of young children.

C4K: How has your centre changed to deal with these challenges?

RF: Our centre has always encouraged staff to study and gain their qualifications from as soon as they start with us. We recently introduced rostered days off and I think this will help us keep our staff. However, I am sure there will always be challenges to face with staff retention in this sector.

C4K: How does the industry need to change to adapt to these challenges?

RF: I think that everyone needs to be more aware and more informed about what we do at child care centres. People coming to work in the child care industry do not seem to know how challenging it can be to work with children and don't seem to understand that there is a lot of hard work involved.

Some people seem to think we just sit down and watch them all day, but we do way more than that, we teach them vital skills on a daily basis for example, motor skills, social skills and how to deal with their emotions.

C4K: What advice would you offer someone thinking about a career or looking for a promotion in child care?

RF: The early learning profession needs committed passionate people to ensure consistency for children. Look into what will be required of you, think about how long you would like to stay in child care, research the industry and look at the different child care centres around as part of your research.