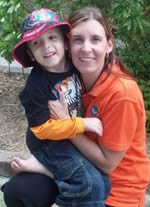 Child care professionals share a commitment to improving society by creating dynamic and nurturing care environments for Australia's youngest learners.
In this month's Child Care People we speak to Monique Atack, owner / director of Hunny Pots Early Learning Centre in Glenwood NSW.
Interview


Monique Atack
Owner/ Director of Hunny Pots Early Learning Centre - Glenwood NSW

C4K: What is your name?

MA: My name is Monique Atack and I am 34 years old.

C4K: What is your professional background and career experience?

MA: I was a nanny, a preschool authorised supervisor, I assisted in setting up new child care centres, I was a room leader in the three – five years, I was also an authorised supervisor of four long day care centres, a validator for the NCAC and I am now owner/ director of Hunny Pots Early Learning Centre in Glenwood NSW.

I completed a nanny course first then went on to do my Diploma in Children's Services. I then continued to do my Early Childhood Degree. I also trained to be a validator.

I enjoy studying and continue to do in-service training to build and refresh my professional development. I am also a mother to three precious children – Ellesha seven years, Madeline five years and Luke four years.

C4K: What attracted you to a career in child care?

MA: I tried out a different job when I first left school and my little brother was two years at the time. However, I found I was always interacting with children and gained a lot of enjoyment from being around them. Early childhood is an amazing industry to be involved in and I am a very passionate early childhood teacher!

C4K: What does a 'normal' day look like for you?

MA: A 'normal' day involves being in the office and supporting our families and staff. I enjoy going into the playrooms to see the children and to chat to staff. I enjoy motivating them and getting to know our children.

My role within our management team is to make sure our centre is always operating at a high level and to ensure policies and procedures are in place. I implement staff rosters, ensure staff have time out for programming and make sure interest projects are being implemented.

I am inspired by our highly motivated staff; they come to work every day ready for teaching their group, they are all valued and I love letting them know that.

C4K: What are some of the advantages of working in the child care sector?

MA: Working in child care has so many options and I have been fortunate enough to experience the many different areas of child care. These different opportunities enabled me to continue working part time in child care while I had our children.

Child care is a very rewarding industry to be involved in and there is something that makes you smile every day. We also have the opportunity to meet new people and form friendships with staff and care for our families – it's such a big responsibility looking after someone else's child and I love the fact that families see us as a high quality service.

C4K: What are some of the biggest challenges facing the child care sector?

MA: Child care has a few challenges but nothing that can't be dealt with. This year we had to put up our fees to cover extra staff for the new ratio of 1:4. This is an extra burden for our families and we kept our fee structure as low as possible to assist families.

I worry that child care will become unaffordable to all families – the Government needs to assist families and services where possible and also ensure services are meeting regulations.

We have a lot of working families who need full day care (7am – 6pm) therefore our ratios need to be constantly checked as we are very busy in the morning and afternoon with high numbers of children. All families are entitled to using our service for any amount of hours and know that their child is well looked at all times.

I have also seen a lot of staff burn out at other centres and this is important to address.

C4K: How has your place of work changed to deal with these challenges?

MA: We are fortunate to have found a teacher to work a split shift in the morning and afternoon to cover the ratios and we have also employed another staff member to have four staff in our zero-three year old room. Myself and our two other management members (also owner/directors) also assist in the rooms to ensure ratios are maintained.

C4K: How does the industry need to change to adapt to these challenges?

MA: I think the government needs to continue consulting with people actively on the floor of centres to see what it is like with these new changes. Directors and teaching staff have very valuable opinions and they are also realistic. If they were all listened to early childhood would have a very loud voice!

C4K: What advice would you offer someone thinking about a career or looking for a promotion in child care?

MA: If you are looking for a career in child care be you need to be passionate about children. If you don't LOVE children it can be difficult at times. But with a lot of love, laughter, initiative, enthusiasm and a caring nature you are a suitable candidate.

If you are looking for a promotion let your director know what you do every day and not just some of the time. If you are fulfilling the requirements of your job description and maintain this then your director should recognise your contribution and do what is necessary to keep you as part of their team.

The only advice I would offer other colleagues is to stay motivated, passionate and enthusiastic. Remember why you started your child care career. Enjoy the children and learn from them everyday – they always ask questions and we can learn so much from their inquisitive natures! Get involved in the Early Years Learning Framework – it has motivated our staff immensely! Have fun everyday and enjoy every moment.