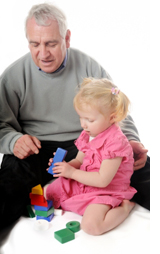 Adopt a Grandparent programme


Children engaging with seniors



These days it is fairly common for families to be dispersed across the world, and for many people the implications of living away from close family become all the more acute when children arrive on the scene.

Marketing strategy manager and mother Carolyn Hyams experienced a strong sense of isolation after the birth of her daughter Ariella (now two and a half). The majority of carolyn's family live overseas or interstate and Ariella has no grandparents in Australia.

Apart from the moral support offered by having grandparents close by Carolyn is concerned that Ariella is missing out on valuable life experiences which can be gained from engaging with older people.

'What Ariella is really lacking is senior role models in her life that she can communicate with and form a close bond to. I'm embarrassed to say that she's even scared of our older generation and doesn't know how to interact with them,' said Carolyn.

Carolyn took a proactive approach to the problem at hand and after completing a little research on Adopt-a-Grandparent programmes decided to talk to the director of Ariella's preschool about the possibility of starting one there.

After her idea was met with a resounding 'yes' Carolyn has made it her mission to promote the benefits of Adopt-a-Grandparent programmes to as many child care centre directors, parents and seniors as she can.

Where did the idea for Adopt-a-Grandparent originate from?
I'd wanted to get involved in a community project for a while now, and once I figured out what I was really passionate about — bringing our generations closer — I did a Google search on 'adopt a grandparent' and was amazed to see how many wonderful programmes there are out there that try and bridge the generation gap and create a sense of community.

The one that really caught my eye and made me skip a breath was the Adopt A Grandparent programme at The Tree House Early Childhood Centre which is connected to the Revesby Workers Club.

I called the centre director and programme pioneer Kym Cole and asked her a million questions. Kym told me she wanted some way to connect the older generation at the Revesby Workers Club with the young children at the centre and she approached the club to ask for volunteers. That is how the programme started.

The programme has been running for five months now and has been very successful. Kym told me she has a wait list of volunteers who want to come and spend time with the children.

I was so inspired by this programme that I decided to approach Ariella's pre-school to ask if they'd be willing to take on the Adopt-a-Grandparent programme, explaining that it would involve inviting grandparents of the children at the pre-school, and other local seniors to visit the children on a volunteer basis.

They would read to them, assist with creative activities, play musical instruments, share their skills and what I love most — tell their story about how life was for them as a child.

They were absolutely thrilled with the idea.

I then spoke to other parents about the programme and every single one of them said that they would like to approach their child's daycare about implementing it there, and so the programme has grown wings…

To help those who are interested in the programme my husband and I built a website adoptagrandparent.com.au which explains what it is about and how to get involved.

How do child care providers stand to benefit from the Adopt-a-Grandparent programme?
Senior citizens have a lifetime of experience to offer a child care centre. Their wisdom and life experience alone speaks for itself. In today's society the typical family unit is constantly changing and unfortunately children and grandparents do not always have the opportunity to enjoy the special bond that can be formed.

In addition, child care providers would have a chance to give back to the community that supports them and do something that would really make them feel good about themselves — from a management and carer's perspective.

From a business perspective, by adopting the programme and promoting the fact that they include it in the curriculum, they would certainly improve their centre's reputation as a child care centre that is family and community focused — a big plus for parents who are seeking child care for their treasured children.

The amount of research that parents do before choosing a child care centre is quite unbelievable. Anything extra that a centre can offer to show that it is family oriented would be well received.

Last but not least, under constant supervision an extra pair of hands for a cuddle, or to help with art and craft is invaluable and always appreciated when looking after young children.

How could the programme be beneficial for children?
Between issues like divorce, or family rifts, disbursement of families around the world, and the ageing population; the generation gap between our littlies and our elders is becoming wider and wider.

I'm sure everyone would agree that it is important for all children to have access to mature and experienced people in their lives. Children without grandparents could only benefit from having a role model from an older generation to form a close relationship with and learn from.

In fact, research commissioned by the federal Government called Growing Up in Australia: The Longitudinal Study of Australian Children, says that time spent with grandparents plays an important role in a child's physical, cognitive and social development. It also found that children between three and 19 months scored better on most learning tests when they had been cared for by family and friends other than their parents.

Through the Adopt-a-Grandparent programme, young children would certainly benefit from learning from and communicating with mature and experienced senior role models. In addition, the "grand friends" would benefit from being in a nurturing environment, with a sense of added purpose and perhaps feel less isolated from their community. Not to mention how much fun they'd have!

Would providers need to obtain permission from the parents of the children in their care?
Yes definitely. Providers should write a letter to all parents of the children in their care explaining what the programme is, what the benefits are for the children and seniors, and when they'd like to start it. Most importantly, they should allay the parents' fears about the safety of their children and tell them that volunteers are under constant supervision and security checks are done on everyone.

The letter could also provide an opportunity to ask if any of their children's grandparents would like to volunteer. I've seen grandparents who drop their grandchildren at school... they never want to leave!

Directors should always ask for feedback so that any issues are resolved before the programme starts.

How would the grandparents participate in the centre?
There are numerous activities that 'grandfriends' could do with the children. They can read to them, help with puzzles, get involved in creative activities like painting, crafts and music time and outdoor play. They would interact with the children, promoting conversations and be a willing listener. The child care workers can also ask the grandparents to sit in on particular activities or to help a shy or new child settle in.

Some seniors might tell their story about how things were when they were a kid — something that most children love to hear about.

Centres might even like to tie in their lessons with the grandparents' story. For example, if the grandparent rode to school on horse and cart, they might like to teach children about different modes of transport.

Kym from The Tree House tells me that they are only in the early stages of this programme at her centre and are hoping to use the grandparents' skills in activities such as demonstrations of cooking, knitting, pottery, woodwork etc. in the future. How fabulous does that sound! The possibilities are endless.

At the moment, their 'grandfriends' come on a set day and are assigned a room. The room that they are assigned to is discussed with them prior.

Depending on the rostering system in each pre-school, seniors could volunteer once a month, once a fortnight, or even more frequently, it is up to the child care centre and the grandparent involved.

At this age, childrens' attention spans aren't very long, so centres might like to limit the activities to half an hour, with the option of having the 'grandfriend' stay and play afterwards, always under supervision.

How would grandparents and child care providers interact?
The child care directors should interview the 'grandfriend' for suitability and assess their ability to interact physically and communicatively with the children. They should also ask for references.

Once a centre has decided that a person is suitable for volunteering with children, there are security forms they would need to fill out. Most centres should already have these documents on file as they are the same checks permanent staff need to go through.

Though not compulsory, the child care centre might also like to conduct a police check or ask the 'grandfriend' to provide one for reference. This would allay any parental concerns about security.

Would the same volunteer come week after week or would they change?
It is up to the centre as to how often they'd like to roster the volunteers and up to the volunteers themselves to say what their preference is. Young children thrive on consistency and routine, so the centre might like to have the same four volunteers for a whole term, for example.

Kym from The Tree House Early Childhood Centre adopts the approach of fitting in with the grandparents as to when they'd like to come.

She also keeps a waiting list of volunteers as well. This is also beneficial when there is illness, or absence due to other commitments.

What measures are in place to ensure the safety of the children?
According to Community Services (formerly DoCS), child care centres are not required to do police checks on senior volunteers as they are under constant supervision. Some child care centres may choose to have police checks done as an extra precaution.

In NSW, the Commission for Children and Young People provides a 'working with children check' form for volunteers in child-related employment to fill out. Other Australian States have similar guidelines.

Where can child care centres find volunteers besides the attending children's grandparents?
Apart from asking the parents if any of their children's grandparents would be interested in volunteering, there are many places child care centres can source volunteers.

Seniors in communities in the area/suburb of the daycare centre could also be approached and invited to participate. Child care centres could talk to people in:
RSLs
Worker's Clubs
Retirement Villages
Aged Care Facilities
Libraries
Bridge Clubs
Bowling Clubs
The seniors that frequent the places above could be ideal for this sort of programme. They might benefit from being in a nurturing environment, with a sense of added purpose and perhaps feel less isolated from their community.


This says it all:
When asked how difficult it is to implement the Adopt-a-Grandparent programme, child care director Kym Cole says: "We have had no problems implementing this programme. The evidence that it works is displayed by the children running to the grandparents on arrival for a cuddle and by the smile and happiness spread all over the grandparents face."

What could be better than that!

If you would like more information about the programme visit www.adoptagrandparent.com.au or email Carolyn directly at carolyn@adoptagrandparent.com.au. You can join Carolyn's discussion page on CareforKids.com.au/Social
CareforKids.com.au®
© 2010 - All rights reserved
Care For Kids Internet Services Pty Ltd
ABN 55 104 145 735
PO Box 543 Balmain NSW 2041
privacy policy contact us